Flash to HTML Conversion: The Millennials Are Waiting!
Wondering how Flash to HTML5 conversion will benefit the new generation workforce? It makes mobile learning a reality, offers immersive learning experiences, and more. Keep reading to learn more!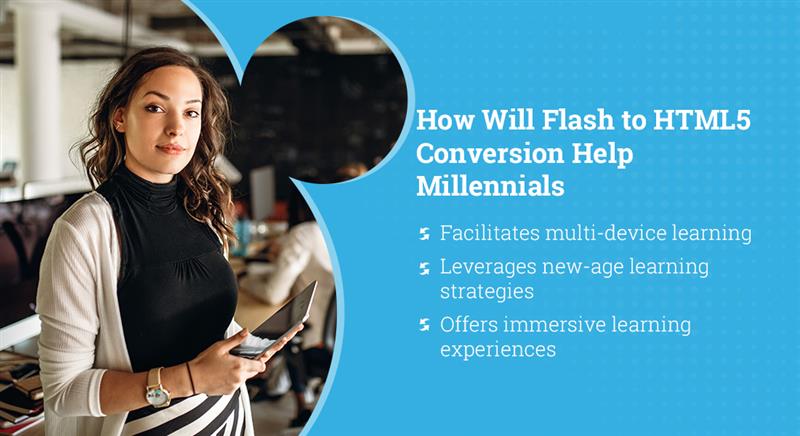 Steve Jobs was right when he predicted that Adobe Flash will soon be dead. That prediction led to the realization that courses developed with HTML5, with its multiple benefits, will replace Flash-based courses by the end of 2020. According to Pew Research Centre, the Boomer work force is shrinking. They are all retiring and guess who is taking over? You're right, it's the millennials! The new generation, of course, will benefit the most from the Flash to HTML5 conversion since HTML5 is compatible with mobile devices and supports various innovative forms of eLearning.
Benefits of Flash to HTML5 Conversion for Millennials
Paves the path for multi-device learning
Leverages new-age learning strategies
Keeps up with constantly updating mobile technology
Supports games on mobile devices
Offers immersive learning experiences
Make the Most of the Millennial Mind!
Today, millennials have become an important part of organizations. To ensure your organization makes the most of this young workforce, you need to create learning environments they can easily adapt to. They are enthusiastic, quick learners, who can help the achieve the goals of your organization, but only if they are given the right kind of support. That means that you need to train them in the best possible manner, using the best methods of learning.
Remember, these new-age workers were born with a mobile device in their hands and are never found without one. So, take advantage of this preference and give them courses that can be accessed on their favorite mobile device with Flash to HTML5 conversion!
Since eLearning is the best way to learn while we're all working from home and maintaining social distancing (coronavirus, unlike Flash, is not going to die anytime soon!), organizations need to make sure they provide engaging eLearning courses that grab the attention of learners. And though Flash courses were very engaging and used complex animations and interactivities, it's common knowledge that it had many issues with security, battery life, and user experience.
So, what do we do? We convert our existing Flash courses to HTML5.
Flash to HTML Conversion for 'Screenagers'
Flash to HTML5 conversion of eLearning courses is the right way to go because it:
1. Paves the Path for Multi-Device Learning
Anytime, anywhere learning has become the need of the hour, especially due to the COVID-19 pandemic. The new-gen workforce prefers learning that is easily accessible, without limitations of time and space. Today we have modern technology that provides them access to eLearning on mobile devices. No wonder they are referred to as 'screenagers'!
Flash-based courses that were mostly compatible with PCs have to be relooked at to make sure they work on mobile devices also. For example, the drag n' hover activity, so good when used in PCs, becomes useless when the course is accessed on a mobile device. Similarly, courses need to be remade to fit mobile screens. This problem can be avoided if the course is made in HTML5 format.
Apart from being accessible on the computers and mobile devices, HTML5-based courses are compatible with most modern-day operating systems, such as iOS and Android, without any additional software support, making remote learning or 'learning on the go' much more flexible for the screenagers.
It also allows offline learning, which means learners can access courses even when they don't have access to the Internet. That's one more reason for the Flash to HTML5 conversion of legacy courses right away!
2. Leverages New-Age Learning Strategies to Grab the Millennials' Attention
Millennials have short attention spans – not because they are lazy or incompetent, but because they are hard-pressed for time. They are very quick to learn and prefer targeted and relevant information.
While your Flash-based courses might have been very engaging and effective, they will not impress the current generation of learners. There are many new-age learning strategies in L&D now that ensure learning is fun, engaging, and impactful. Converting your Flash-based courses to HTML5 allows you to incorporate new-age learning designs to engage the millennial learners.
So, what are these new-age learning strategies?
Personalization
Personalization makes learning relevant to the target audience. It can be done through avatars that learners can relate to or a GUI that is appropriate to the content. Personalization can also include creating blended learning based on learners' requirements. Collaborative learning can also be used to help learners work with and understand their colleagues/fellow learners.
Storytelling
Storytelling in learning can be in the form of scenarios and comic strips that captivate the learner. It can also include narration in the form of a video.
Edutainment
Edutainment, a concept that originated from the classroom, is now being used in the corporate setting to help employees learn while having fun. Game-based learning (courses in the form of games) and gamified learning (with game elements) are two popular ways to train gaming-mad millennials.
Microlearning
The best way to teach millennials is through short, easily digestible chunks of information, microlearning, rather than a long, tedious course. Flash to HTML5 conversion allows you to reconfigure lengthy Flash-based courses into small microlearning nuggets, making learning quick and easy.
3. Keeps Up With Constantly Updating Mobile Technology
In an article written for Forbes, Michael Plummer perfectly describes the ever changing modern day technology saying, "Improvements in technology have a way of sneaking up on people". Technology today is difficult to keep up with – it is evolving so rapidly! We see new versions of mobile devices every year, each claiming to be better than the previous one.
Screenagers are always looking for the latest trends in technology, and so eLearning course formats too need to be constantly updated to keep up. Unlike Flash that is a closed platform owned by Adobe, HTML5 is an open flexible platform, ready to adapt to new technologies. That makes it the ideal format to keep up with the constantly updating mobile technology for the millennials.
Now that Flash is being phased off at the end of 2020 (quick reminder – the end of the year is almost here folks!), all Flash-based courses will soon become useless unless they are updated or rebuilt altogether for them to work on the latest devices. So, what do we do? Convert all Flash courses that are still relevant to HTML5!
4. Supports Games on Mobile Devices
Gaming is something we all enjoy, but millennials are obsessed with it! Now that gaming has moved to the mobile platform, there is a rising demand for game-based learning on mobile devices because it is fun and also offers anytime, anywhere easy access. Game-based learning combined with mobile learning is no doubt one of most innovative and convenient ways of learning.
Flash-based courses cannot support gaming on mobile devices. They need to be converted to HTML5 to make them compatible with any mobile device. Flash to HTML5 conversion ensures that learners don't have to look for a computer to access their game-based learning courses.
5. Offers Immersive Learning Experiences
Immersive learning puts your learners in a highly interactive learning environment (either physical or virtual) that mimic real-life scenarios to teach specific skills. It enables learners to completely immerse themselves in the learning process. Augmented Reality (that adds digital elements to a live view), Virtual Reality (a replica of the real world), and simulations (that mimic real-life situations) are becoming very common in L&D today, especially because the millennials love them!
Flash cannot support courses with AR and VR. But authoring tools can be used to create these courses in the HTML5 format – Adobe Captivate has inbuilt features that support AR and VR. Immersive learning is becoming more and more popular among the new-gen workforce, and you can use it to ensure minimum distractions and maximum results!
It's a Wrap
Apart from benefitting the millennials, Flash to HTML5 conversion can benefit the organization as well. HTML5:
Futureproofs eLearning since it is recognized by W3C (World Wide Web Consortium). That means you will not have to replace your existing courses once they are converted to the HTML5
Does not require additional plug-ins and minimizes security threats.
Saves the memory of the device and ensures a better battery life.
Is easily customizable since it does not have accessibility limitations.
Allows offline access to courses using mobile apps or authoring tools (such as Storyline and Lectora).
Promotes a learning culture in the organization since learning becomes truly anywhere and anytime, thanks to mobile compatibility.
2020 is almost coming to an end. So, hurry up and convert your Flash-based courses to HTML5 before it's too late!