Collaborative Learning – Here's Everything You Need to Know!
Planning to formalize a collaborative learning environment in your organization? This blog offers details on the various aspects of collaborative learning.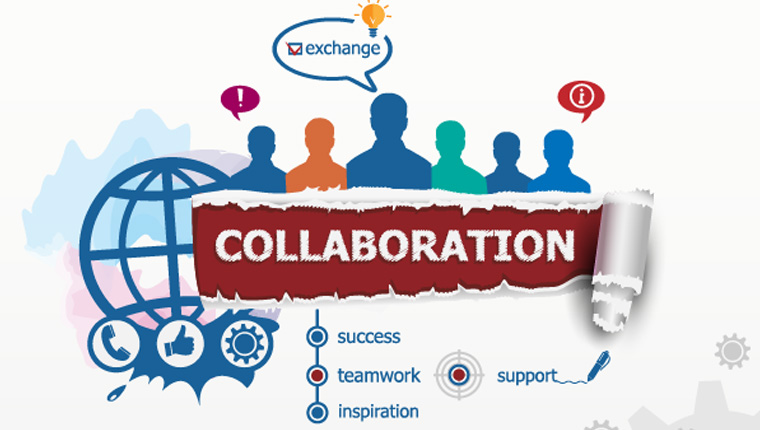 According to a study, 86% of employees and executives cite lack of collaboration or ineffective communication for workplace failures. So why not make learning collaborative to improve the overall learning experience? Collaborative learning is just the right way to increase collaboration between learners. The term 'Collaboration' is derived from the Latin terms 'col' which means 'together' and 'labor' meaning toil. And Collaborative learning is all about learners, and (at times) an instructor, jointly performing tasks, discussing, and sharing their ideas to enhance learning.
All You Need to Know about Collaborative Learning
Collaborative learning is a method in which learners come together to learn, discuss, and share ideas, leading to an enhanced learning experience.
Why Collaborative Learning?
Enhances learner participation and engagement
Facilitates peer feedback
Offers fresh perspective on subjects
The Top 4 Tools of Collaborative Learning
Discussion Boards
Chats and Instant Messaging
Whiteboards
Polls
Why Collaborative Learning?
Enhances Learner Participation and Engagement
Let's go back to our school days. Remember the days when our professors used to divide us into groups and assign tasks? How enthusiastically we engaged in those tasks! Well, obviously more enthusiastic than when performing the task all by ourselves.
Collaborative learning instills the same spirit. Each learner can participate, sharing their views while being heard by the rest of the learners, giving the feeling of importance and value, eventually leading to higher engagement levels.
Facilitates Peer Feedback
In collaborative learning, as learners post their views, assignments, and more, besides the instructor providing his/her feedback, they also receive inputs from their peers. This will allow them to identify the areas in which they have to improve, leading to an effective learning experience.
Offers Fresh Perspective on Subjects
This technology facilitates the coming together of socially and culturally diverse learners beyond all geographical limits. Every single individual will have their own point of view on a subject. Since collaborative learning enables learning in groups, it exposes learners to fresh perspectives, leading to better understanding. Also, instructors and experts can share their views with learners and clarify doubts/misconceptions, which will enrich learning even more.
4 Tools of Collaborative Learning
Collaborative learning is no more restricted to face-to-face interactions. All thanks to the forever-emerging technologies and how they completely redesigned the idea of collaboration through online collaboration tools.
For an effective collaborative learning experience, it is essential to choose the right tool. These tools can be incorporated either during the training (for example, within virtual instructor-led sessions), or after training sessions. Let's check how four popular tools can be used to facilitate collaborative learning in the workplace.
1. Discussion Forums
Discussion forums are one of the oldest, simplest, and yet one of the most used forms of collaboration mechanisms. They are usually integrated within the Learning Management System (LMS) through which learners can log in and participate in the discussions.
An individual, usually the course mentor, poses a question which learners read and post their opinions. The replies form a 'threaded discussion'. This allows identifying the knowledge levels of learners.
Discussion forums can be moderated or non-moderated, depending on the training audience. In case the learners are new hires or juniors, a moderated discussion forum can be used. However, if the eLearning course is being disseminated to a bunch of experienced learners, a non-moderated discussion forum is preferred. The moderator can be an individual well informed on the subject, usually the instructor or the Subject Matter Expert (SME).
When to Use Discussion Forums?
To Facilitate Learner Interaction
Discussion forums are the perfect mechanism to use when you want your learners to interact with each other or when your employees are spread across the globe and can't meet synchronously. Incorporating discussion forums in your training strategy will encourage learners to respond to a particular thread as and when they can, thus being able to share their views and experiences.
To Encourage Learner Participation
As a training manager, you might have come across learners who are too shy to talk in the class, who have limited language skills, or those with speech impediments or dyslexia. Discussion forums are just the right thing to encourage them to participate and share their views.
To Discuss a Wide Variety of Topics
It is almost impossible to discuss every single topic of interest in a classroom. But in a discussion forum, all it takes is two mutually interested learners to ignite a discussion. Anybody interested can join or be a mere spectator gathering views.
Best Practices to Implement Discussion Forums
Allow Sufficient Time
You should keep the fact in mind that online discussions are not as fast as face-to-face discussions. In an online discussion forum, learners need to see the question posed, read what is being discussed by others, and then respond. Hence enough time should be allowed for everybody to respond and discuss. According to William Horton, the author of the book 'E-Learning by Design', a general 10-minute face-to-face conversation will take 1-2 days in a discussion forum.
Set Up Necessary Threads
Ensure learners do not find the discussion forum empty when they arrive. Post a welcome message where you provide details on the discussion forum and any other instructions, if necessary. Provide a place within the discussion forum where they can request for help – both regarding content and technology.
In case the discussion forum is moderated, here are a few things that need to be taken care of to ensure an effective flow of discussion.
Keep the conversation lively to ensure learners talk effectively. A few proven techniques according to William Horton include, initiating new threads by posting interesting questions, recruiting guests to add a fresh perspective, responding to inquiries that are left unanswered for a few days, and wrapping up tired discussions.
Challenge shallow thought by 'prompting learners to provide the evidence and logical thought behind their opinions'. William Horton also suggests playing the devil's advocate in case every learner agrees with an opinion by responding "But what if…?" or "I claim the opposite. Can you prove me wrong?'
2. Chat and Instant Messaging
Chat and instant messaging are like real-time discussion forums as they are usually immediate and spontaneous. Learners can finish up taking a training program and then participate in a group chat to share their ideas and opinions. Also, instructors can share their feedback, if any.
When to Use Chats and Instant Messaging?
To Personalize Learning
Chat can be used to encourage learners to communicate with their peers or the instructor, as part of learning. In case of eLearning, each time a doubt creeps up in a learner's mind he/she can instantly post a message in a chat room or privately to another learner or even the instructor. In case of classroom training, particular time slots can be set on the chat server when learners can utilize it. Alternately, chat windows can be made available after class hours and learners can schedule their own chat sessions.
To Share Thoughts, Spontaneously
"Do not ever use chat for lectures, OK," warns William Horton in his book. While discussion forums are to share deep ideas, chats and instant messaging is to share short, crisp, spontaneous ideas. Nobody would want to scroll through a long narrative that shares extremely deep ideas within a chat window.
Best Practices to Implement Chat and Instant Messaging
Monitor Chat to Ensure Professionalism
Since chatting is one of the main ways individuals communicate socially, it is quite normal for them to slip away from the professionalism they need to maintain when it comes to learning. Hence it is extremely important you help learners maintain a professional attitude. One of the easiest ways you can do this is by letting them know the chat is being monitored.
Save Transcripts
The best part about chats is that a written transcript of the entire chat will always be available. You can save the transcript and post it in the discussion forum so that learners would not have to make notes of all that had been discussed in the chat. This way, the entire focus can be shifted to the online discussion forum, rather than going back to the chat and searching for the ideas discussed.
3. Whiteboards
According to William Horton, a whiteboard, or rather an online whiteboard, is a collaborative tool that stimulates the process that occurs when an instructor draws or shares ideas on a whiteboard and then invites learners to share their thoughts. As the instructor draws something on this online collaborative tool, participants with whom the whiteboard is shared with will immediately be able to see everything that is being drawn. In fact, they can simultaneously participate and contribute to the session too.
For example, whiteboards such as Web Whiteboard allow learners to quickly login and invite guests to share their ideas or explanations visually with each other. Whiteboards such as Conceptboard are developed with more focus on visual projects where employees can drag and drop images and files onto the board, after which the others can draw, write, and collaborate.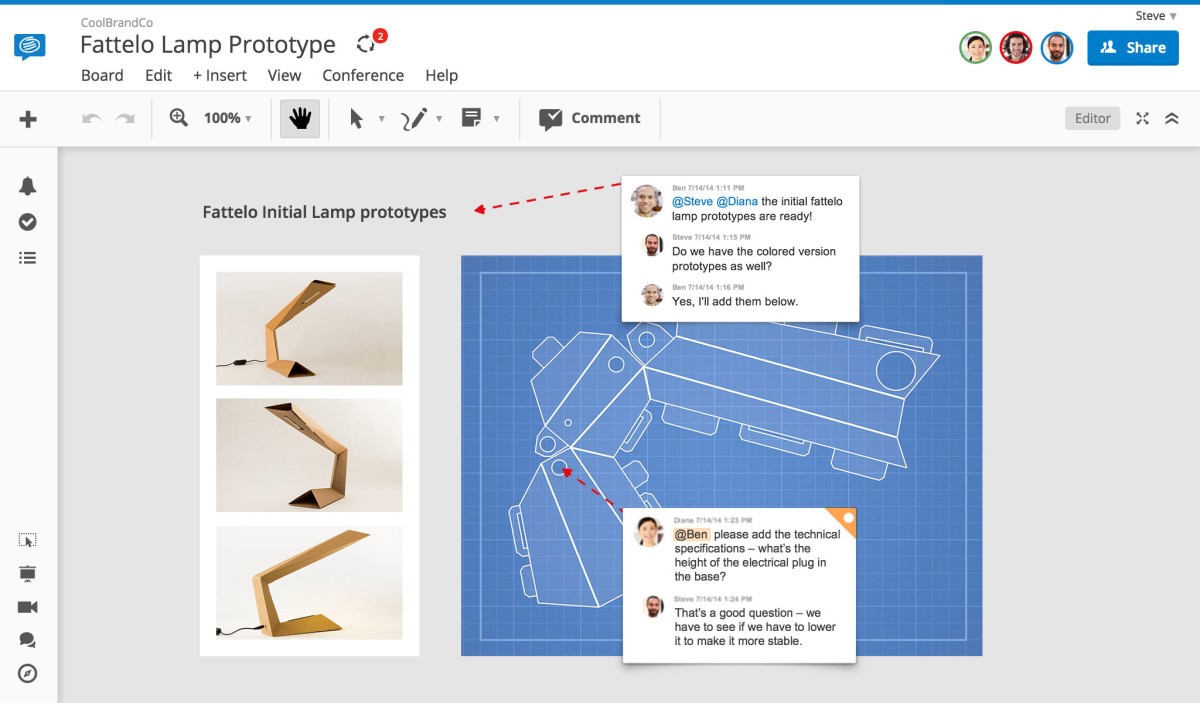 Source: Conceptboard
When to Use Whiteboards?
To Provide Visual Information
Whiteboards are the perfect mechanism to use when you are dealing with subjects that are more visual. They facilitate the ability to showcase ideas and content that cannot be expressed in words but rather by sketches.
For example, instead of merely providing an image of a chart in an eLearning course or in a classroom, the instructor can collaborate with the learner and explain each aspect of the graph. Or let us imagine you want to explain the intricate details of a product. A whiteboard would be an extremely effective mechanism to use.
To Assess Learners
Whiteboards are not just about the instructor presenting content. Instructors and learners can simultaneously present content. Wondering how the assessment part fits in? Well, it is pretty simple and interesting.
Let's say you want to test your learners' knowledge on the parts of a product. You can ask a learner to circle or point out each of the parts. Or you can pose several questions and draw a grid on the whiteboard and assign a square for each learner to answer. Matching test items can also be used to assess learners using Whiteboards.
Best Practices to Implement Whiteboards
Assign Color Codes to Learners
Collaborative learning using whiteboards will include the instructor and also a lot of learners. Imagine all of them putting in their inputs on the whiteboard. How will the instructor identify the inputs of each learner, among the sea of inputs? Well, that would be one hell of a task.
The way to make this easier is by assigning color codes to learners. When a certain color is assigned to a learner, the learner will put in his/her input in that color, thus making it easy for each contribution to be recognized.
Define Appropriate Behavior
Working simultaneously on whiteboards can turn out be clumsy at times. With every single learner keen on expressing their idea or input, it really can clash. Hence it is highly essential that learners know they need to wait for their turn to contribute their inputs. Situations might arise where they can all contribute at once. When such situations arise, let them know so that they do not fear interrupting other learners.
Summarize the Session
Once the session is done, there might be a lot of unwanted content on the whiteboard. Prior to concluding, ensure you clean all the unwanted content and let the relevant content remain. Thus learners will be provided with a summary of the entire session that had taken place.
4. Online Polls
Instructors always love to know what their learners are thinking. Polls can indeed be your best friend, if that is the case. Online polls allow learners to voice their opinions, allowing them to make choices. Once polls are closed, result are displayed to everybody. They are the perfect mechanism to help learners realize their own thinking as they get challenged by the opinions of the rest.
There are two types of Polls:
Synchronous Polls: Synchronous polls enable learners to choose from a list of options and then see the results of the real-time choices.
Asynchronous Polls: Asynchronous polls enable learners to vote over a certain period of time. This facilitates voting as and when they prefer.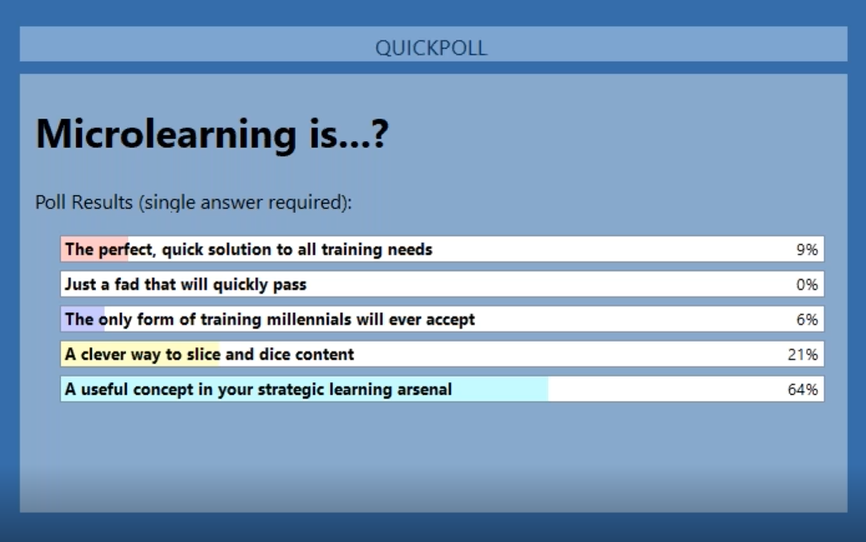 When to Use Polls?
To Collect Opinions
Polls can prove to be the perfect mechanism to collect opinions from your learners. For example, make your learners participate in a poll where they are asked to share which subject they would be like to be trained on next. This will ensure you know what exactly they require, leading to the bridging of the knowledge gap by delivering the required training.
To Assess Learners
Formative assessments are known to keep the learner engaged throughout the course. Imagine using polls as formative assessments. It will not just effectively assess learners but also raise the engagement levels. Polls based on the content covered until a particular point can be placed in the course.
Best Practices to Implement Polls
Provide Enough Time to Choose
Learners might need some time to think and analyze a particular question before answering it. Hence never force them to vote immediately on posing the question.
Encourage Answers Beyond the List of Choices
Most polls only provide a set of choices from which learners can choose. Instead, give learners the opportunity to think beyond the choices listed in the poll and share their answers. Other than the choices, include a "Other (enter in chat)" option too.
How do you incorporate these collaborative tools into your training programs? One of the ways to do this is by using the Learning Management System, an application that facilitates hosting, managing, and tracking of training programs effectively. LMSs allow the easy integration of all these tools in just a few steps and connect with other collaborative learning sites. Incorporating collaborative learning in your training strategy will definitely help you meet your expectations and pave the way for an extremely effective learning experience.