Corporate Training Problems Solved by Effective Learning Solutions
Training managers, check out this blog to know how online learning solutions can solve corporate training problems.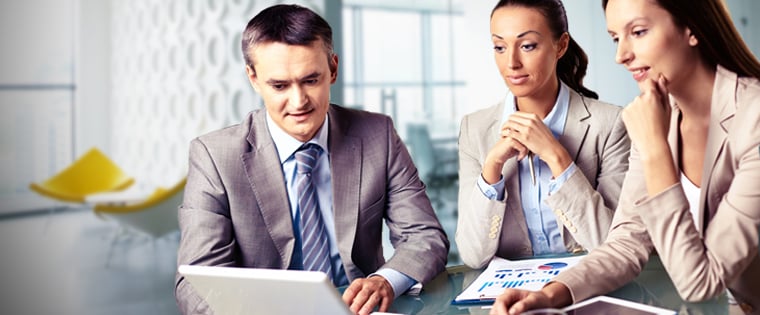 There was a time when many organizations struggled to provide training that their employees needed to perform their jobs effectively. Not any longer, as online learning solutions have changed the face of corporate training. Read on to know more about how online learning can solve corporate training problems.
Onboarding New Employees
Interesting Tidbit: 90% of new hires decide whether to stay in a company within the first 6 months of starting the job. The theory of making a good first impression holds true in onboarding as well.
Onboarding new employees is a challenging task for the HR and training departments in organizations.
According to a survey by Bamboo HR, 45% of HR managers surveyed accepted that over $10,000 a year is wasted on ineffective onboarding. What today's workforce wants is to fit into the organization's culture, learn how to do their job and start contributing to the company. This expectation of new hires is not met by a traditional onboarding process because traditional employee orientation programs have a brief introduction to the company, factual information on benefits offered by the company and a whole lot of paperwork. Unfortunately, this does not work well for today's workforce.
Efficiently aligning onboarding training content is possible through an online learning solution. Each new hire gets the same introduction to the organization's goals and culture. Additionally, learning is personalized to cover department and role-specific training.
Skillset Upgradation
Interesting Tidbit: Half of an individual's digital skill set becomes obsolete in 2.5 years.
A big problem that training and L&D teams face is that they need to constantly train employees to upgrade skillsets or learn a new skill. Existing tools are continuously replaced by new versions, or in some cases, new products.
It would be very difficult to implement classroom training sessions whenever there is a change in skillset requirements. The main problem would be to get the training rolled out at a time that is convenient to employees and decide the frequency at which these training sessions need to happen.
This barrier in corporate training can be brought down by offering customized learning solutions according to the skillset requirement. Micro learning is an effective way to keep up with changing technology. In short, online corporate training offers employees a chance to build their skillsets at their own pace and convenience.
Providing Training Resources for Employee Growth
Interesting Tidbit: 22% of millennials rank training and development as their most desired job perk.
Long term development of an employee is key to workforce engagement. Employees need to gain professional, managerial and leadership skills to progress to new roles within the organization.
It becomes very essential to provide training resources to employees in order to help them perform their job well. They need to be trained on their roles and responsibilities. After all, you wouldn't want them Googling and picking up information that's contradictory or irrelevant to your organization.
Training and L&D teams need to look at creating resource libraries to develop valuable professional skills like leadership and communication. Promoting employee growth through continuous learning is a top priority in corporate training and online learning offers the perfect solution to meet this need.
Providing Compliance Training
Interesting Tidbit: Training that includes scenarios that are relevant to the job and organization leads to 47% less misconduct than training with unrealistic scenarios.
Boring compliance training sessions where learners are not involved, is the main reason for its failure. Non-compliance can damage a business' reputation. An online learning solution that incorporates real-world scenarios and case studies is the best way to make learners aware of the importance of compliance training. What's more? Adding a dose of humor helps to keep the learner engaged.
If the problems listed above sound familiar to you, then online learning solutions are just what you need to revamp corporate training in your organization.