Why Make Discussion Forums Part of Your Online Courses?
Discussion forums are integral to collaborative learning. Find out why you need to make them an integral component of e-learning courses.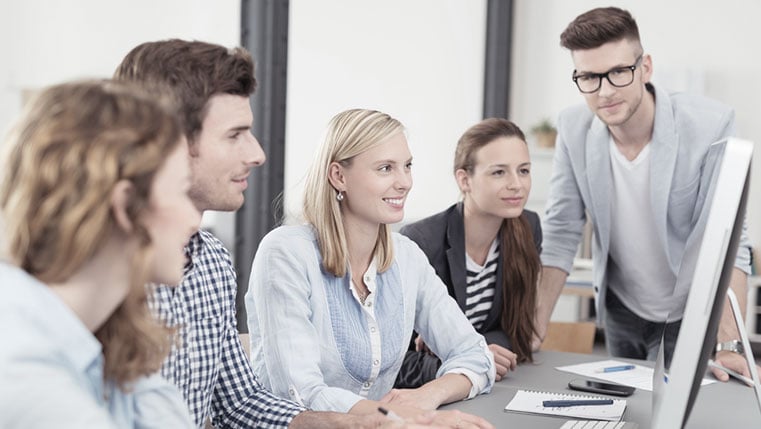 Discussion forums can be a powerful medium for online training because they promote interaction between the instructor and learners, and among learners. They become a valuable platform to share thoughts and ideas. Discussions lead to deeper insights on the subject and help learners uncover new aspects of it.
Discussions promote collaborative learning that can add a new dimension to your learning. Thanks to advances in technology, it is possible to create an online collaborative learning experience through an LMS. With an LMS, it is possible to create a discussion forum for each course in a few, easy steps.
The very nature of a discussion forum is that it is user-friendly, making it easy for learners to participate. Some LMSs also connect to social and collaborative learning sites, which allows for a greater level of interaction.
Advantages of Discussion Forums
Free Exchange of Ideas: These online discussion forums through an LMS, can serve as a learning hub for your online learner community. Most of these forums permit learners to start their own message threads or respond to others' posts. This helps in a free exchange of ideas and experiences.
To keep discussions on track and to avoid any inappropriate comments, detailed guidelines to follow when engaging in online discussions can be shared with participants right at the beginning.
Better Quality of Dialogue: Discussion forums promote a creative spark and make ideas flow. When learners are aware that their peers or instructors will read their posts, they will think twice before they post and work on their responses to facilitate better understanding.
And because they can post whenever they want to, it gives them additional time to think and reflect on a given topic. This exchange of ideas is bound to improve the quality of dialogue in the forum and generate new ideas and thoughts.
Facilitation of Self-Learning: Learners facilitate their own learning through these forums because they learn how to pose relevant questions and also respond appropriately to their peers. If a learner is stuck or finds it difficult to understand certain parts of a course, he need not wait for the instructor to respond, but can access the responses of his peers for help. The learning process becomes quicker this way.
Participation in Multiple Discussions: Today's LMSs come with software that allows learners to participate in multiple discussions at the same time. This helps them enrich their learning and encourages constructive discussions.
Fodder for Future Courses: The discussions in these forums create user-generated content that can be the fodder for new courses or content for the Learning and Development team.
Discussion Forum Guidelines
The topics in the forum have to be connected to the course objectives if they are to have an impact. As an instructor, think of what you want learners to gain from the discussions; this will help you post related online discussion activities.
Online discussions should be regularly used as they help maintain the learning momentum.
Discussions should be held either weekly or fortnightly, which will prompt learners to check the discussion board and contribute to the discussions.
To make learners participate in the discussion, make it mandatory by giving grades for participation. This will motivate them to participate because they see a benefit in it.
Clearly state the grade you will give for participation, based on the quality and number of postings. However, use this judiciously – only for courses where there is a clearly demonstrated benefit in additional discussions. Don't do this for every course – some may be at a very basic awareness level and may not warrant a discussion.
Discussion forums can be beneficial if they move beyond a mere response to standard course material. They should have probing questions that will encourage learners into critical thinking. Online debates, sharing case studies, or framing open-ended questions can help in this and encourage better learner participation.
Some of the discussion questions should urge learners to relate to their personal experiences so that their responses build a sense of community among learners. It will encourage them to apply what they have learned to scenarios they faced or will encounter in the future as part of their job.
Subject matter experts or industry experts can be invited to participate in the forum discussions, which will add new insights to the topic and enrich the quality of learning.
As an instructor, stay in the background and be a silent participant in the discussions and allow the learners to take over. However, you need to look out for discussions going off-track and intervene if they turn argumentative.
Discussion forums, if used well, can work wonders in online learning and are the key to knowledge sharing and collaborative learning. Given the value they add to online training, they should be made integral to important online courses. Choose an LMS that can provide this functionality. What do you think of online discussion forums? What was your experience when using them?