5 Rapid Authoring Tools for Seamless eLearning Development
Choosing a rapid authoring tool that is just right for your specific requirements is a crucial step to be taken after much consideration. This review of the top 5 rapid authoring tools will give you a glimpse of what each can offer corporate training.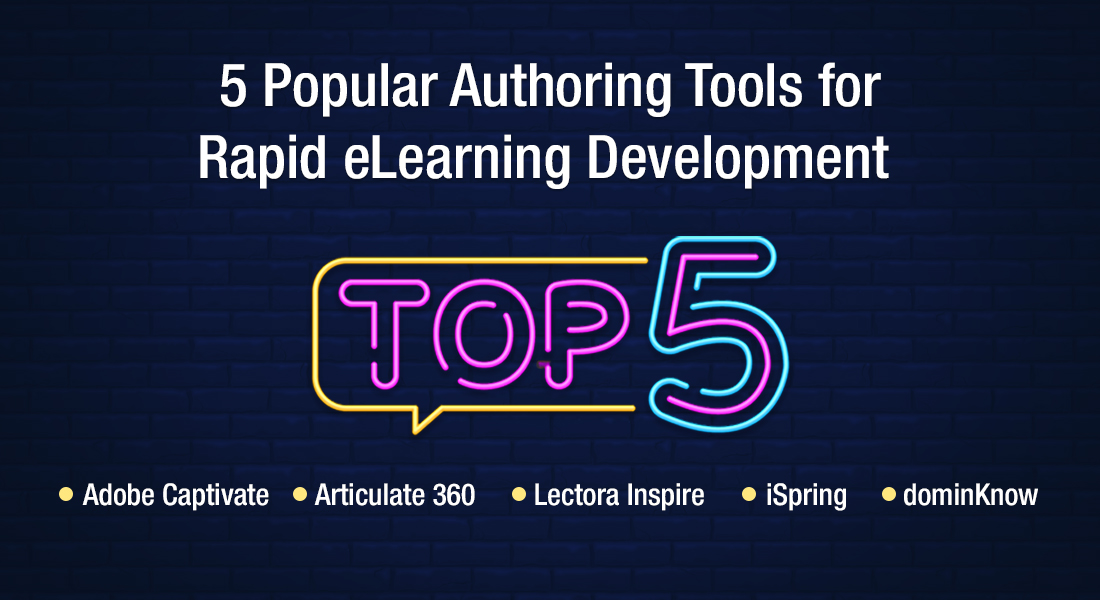 With corporate training now being implemented within the confines of employees' homes due to the pandemic, eLearning has received a significant boost. But if employee training continues to be done in the same old conventional fashion, Jack will forever remain a dull boy. Enter rapid authoring tools.
5 Popular Authoring Tools for Rapid eLearning Development
Adobe Captivate
Articulate 360 – Storyline and Rise
Lectora Inspire
iSpring suite
dominKnow (Claro and Flow)
Authoring Tools: The Hero of Rapid eLearning Development
Packed with interesting features and templates to design effective and interactive courses speedily, rapid authoring tools can be your new best friend, helping you and your team of designers develop and roll out courses that appeal to your learners. Keeping that in mind, this article presents a list of the top five rapid authoring tools to look out for in 2020.
An authoring tool (as you already know) is a software that comes with pre-programmed features that help develop interactive multimedia content.
Authoring tools make redesigning or rebuilding of your eLearning courses quite simple. Each tool offers a distinct set of features that suit the specific requirements of different types of eLearning courses. Plus, rapid authoring tools can be used to develop mobile-friendly courses in HTML5. This comes in very handy, not only because the mobile learning industry is expected to grow by $60.7 billion by 2020, but also because old Flash-based courses will soon become obsolete given the imminent end of support for Adobe Flash at the end of this year.
What Are We Reviewing?
In this blog, we'll talk about five major authoring tools:
Adobe Captivate
Articulate 360
Lectora Inspire
iSpring
dominKnow
But wait, which one of these do you actually need? While most authoring tools have a lot of similarities, it's the proprietary differences that make organizations think twice before going in for a particular tool, mainly because the different training strategies of organizations are complemented differently by the variety of authoring tools. Therefore, selecting the right rapid authoring tool can make all the difference for the training initiatives of your organization.
So, back to the five top rapid authoring tools.
2020's Top 5 Rapid Authoring Tools
1. Adobe Captivate
Adobe Captivate presents a generous library of features for developing truly responsive and interactive eLearning courses. It is also well known for its ability to develop software simulations.
An intriguing feature of Captivate is its HTML5 Tracker. The tracker identifies and dynamically lists objects which are not supported in the HTML5 output, such as texts, Shockwave Flash (.swf) extensions, slide transitions and backgrounds, and certain object effects. Keeping track of these incompatibilities will help you decide whether to remove those features or redo them from scratch.
Starting from its 2017 version, Adobe Captivate also includes a feature known as a fluid box. The fluid box enables the displayed content to expand or shrink according to the display orientation, size, and resolution of the device being used to access courses. The latest 2019 version has also added a host of other features that make Adobe Captivate even more attractive to designers.
In addition to a library of ready-to-go slide templates for compliance and soft skill courses, Captivate 19 has the ability to:
Record existing PowerPoint courses, and add interactivities and overlays on videos
Create virtual reality walkthroughs and tours for onboarding sessions
Create a screencast by recording both webcam and on-screen content, side-by-side. This makes building application simulations easier by capturing all on-screen content, including cursor motion and keyboard functions.
Divide courses into multiple microlearning modules for a more organized learning experience
Even with such a robust feature list, there are some limitations to Captivate as well.
Captivate falls short when it comes to the translation and localization of eLearning courses.
It has only a limited stock of animated effects unlike other authoring tools.
2. Articulate 360
Articulate 360 helps in the seamless development of highly interactive courses that hook your learner from the word go. Courses with minimal text and a high level of interactive content are best developed with Articulate 360. Articulate also has a library of pre-built templates that can be used as they are or customized as per need.
Articulate 360 has two major tools under its banner – Storyline and Rise.
a. Storyline is the flagship Articulate 360 authoring software. The robust list of features of the latest Storyline 360 includes:
Enhanced support for incorporating interactivities
The freedom to manipulate data and slide content using on-screen intuitive dials
Creating mini games with triggers and motion path attributes
Publishing high quality multi-compatible courses that fit all major and minor screen types (works even better with the Articulate 360 player)
b. Rise is a lightweight web application offered via an Articulate 360 subscription. Its key features include:
Lack of dependency on a dedicated software
Perfect functionality on any browser
Creating responsive courses using a template course creation builder
Yet, like most other major authoring tools, Articulate 360 also has certain shortcomings.
Content developed in Articulate works better with the proprietary Articulate Mobile Player than natively in browsers.
Articulate Rise is only available with an Articulate 360 subscription, which automatically gives you access to Storyline, even if you plan on using Rise as your primary tool.
3. Lectora Inspire
With its cloud authoring capability along with the major features like responsive course designing, Lectora Inspire comes out as a strong addition to the market. Lectora Inspire makes improving or converting previous swf (developed in Adobe Flash) courses to HTML5 extremely easy. It too can publish courses which work well with SCORM compatible LMSs, thus facilitating quick content distribution and tracking of learner progress.
In addition to enabling responsive course design and publication, Lectora Inspire offers an impressive feature list that includes the following:
Enables collaborative authoring using ReviewLink that facilitates easy feedback communication between SMEs and the development team
Allows you to write your own scripts and embed custom libraries, fonts, and Cascading Style Sheets (CSS), thus giving you autonomy over course design
Allows you to track and react to learner behaviors using variables, actions, conditions, and triggers. Conditional branching and event sequencing allow you to build more personalized experiences for learners.
Allows for anchoring positions where objects maintain their positions on the screen even if the page is being scrolled
Enables creating scenario-based eLearning with its new feature BranchTrack
Lectora boasts of two major products, Lectora Online and Lectora Desktop.
Lectora Online is a cloud-based authoring tool that lets you "share resources, collaborate on course development, and streamline your workflow" (Trivantis).
Lectora Desktop is the main software used to develop and design courses. Unlike the cross-tool incompatibility of Articulate, courses developed in Lectora Desktop can be seamlessly imported and used in Lectora Online.
Despite such a robust variety of attributes, Lectora Inspire has some drawbacks, the most obvious of them being the higher price.
Lectora Inspire is priced higher than most of its competitors, even though a yearly subscription also gives you access to TechSmith's screen capture and screen recording tools, SnagIt and Camtasia Studio.
Lectora Inspire falls short in the domain of simulation creation.
4. iSpring Suite
iSpring takes a slight detour by relying entirely on PowerPoints for its course creation. Besides designing new courses, this also paves a path for classroom materials to be converted to eLearning output in HTML5, for mobile learning. Courses developed on iSpring are also adaptable to different screen sizes and orientations. Even the navigation is customized to adapt to a mobile touch screen.
Some of the most eye-catching features of iSpring Suite include:
PowerPoint integration – iSpring Suite integrates itself into the native Microsoft PowerPoint software (2007 – 2019 and Office 365) and appears as a toolbar on the top ribbon. It even supports the conversion of 189 PowerPoint animations, transitions, hyperlinks, buttons and styles, as well as SmartArt objects.
Template Library – iSpring Suite offers a large repertoire of readymade templates for quick course production and roll out. It comes with customizable layouts for title slides, content tables, timelines, and adjustable template colors to meet branding specifications.
Character Library – iSpring contains over 67,000 photos of characters of different ages, ethnicities, and professional backgrounds. Each character comes in about 400 variations with different poses and facial expressions for use within the templates.
Visual Assets – iSpring Suite also offers more than 2000 royalty free visual resources like locations, interior objects and supplies, icons, buttons and many more, for scaling up course design.
Audiovisual narrations – iSpring allows you to record, integrate, synchronize, and edit, both audio and visual narration, with the slides, using its in-built Narration Editor.
In-built assessment design tool – iSpring Suite's QuizMaker allows you to easily design interactive quizzes, surveys, drag and drop assessments, etc.
Flip book design – This innovative feature of iSpring allows you to convert existing Word, PDF, and PPT files into eBooks that can be customized with realistic page flip animations and made responsive across devices. eBooks can be shared with learners on the LMS which can provide detailed data about reading progress.
Despite its rather impressive feature set, iSpring falls short compared to other authoring tools mainly because it relies and works only on PowerPoint. This means that if you are planning for Flash to HTML5 conversion, your Flash courses cannot be converted with iSpring – unless you have the storyboards in PPT format.
5. dominKnow (Claro and Flow)
dominKnow is a cloud based authoring tool that offers the user flexibility to work collaboratively during the course design process. It is similar to iSpring in that it is also capable of converting PPT to HTML5. dominKnow has two authoring tools namely Claro and Flow.
Claro, dominKnow's flagship eLearning authoring tool, is a highly popular choice for HTML5-based course development. It comes with a fixed layout or fixed pixel approach to designing. This means that pages designed on Claro will have objects with fixed dimensions and will only change size depending on the device being used.
Flow, on the other hand, is specifically known for being a robust responsive eLearning authoring tool. Besides simply shrinking the content, it also adapts to the resolution, size, and orientation of every device. This means that not only will the object size on the page adapt to the screen, but also the entire layout.
Apart from that, dominKnow also includes almost all the features that other authoring tools provide, including a generous library of customizable templates for creating engaging eLearning courses and outputting content in SCORM, AICC, xAPI, as well as standalone web-pages.
One interesting feature dominKnow offers is collaboration, using which designers, developers, and SMEs can communicate with each other and also with you and your team. This makes reviews much easier.
Here are some of the major limitations of dominKnow:
Claro's fixed layout course design makes it difficult to experience truly responsive learning, something Flow offers better.
When it comes to animations, Flow is a weaker alternative because the same responsive learning which entails objects moving around on the screen, makes animations practically useless.
Some assessments like drag and drop assessments are difficult to do on a mobile screen and hence may not be the best solution.
It's Your Turn Now
Choosing the authoring tool that is just right for your specific requirements is a crucial step that should be taken after much consideration. That being said, the sheer number of learners using mobile devices to access learning is increasing every day. This is why rapid authoring tools have come out as life savers for course designers and training managers, ensuring the vitality and future proofing of eLearning courses.