Authoring Tools to Migrate Flash Content to Responsive HTML5 E-learning
What are the authoring tools that help migrate from Flash to HTML5? This blog explores 5 rapid authoring tools that ease Flash to HTML5 conversion.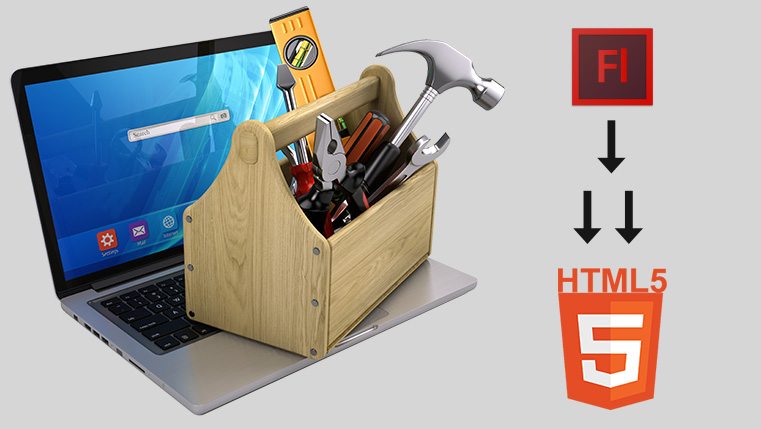 More and more organizations are using authoring tools to switch from traditional delivery methods such as PowerPoint presentations and outdated Flash-based eLearning to HTML5-based eLearning. This is due to its functionality on modern browsers and ability to run online modules seamlessly across devices. Thanks to HTML5 technology, learning on mobiles is now a reality, lending support to video-based eLearning without any download or compatibility issues. How do authoring tools help migrate from Flash to HTML5?
5 Rapid Authoring Tools to Migrate Flash eLearning Content to HTML5
Articulate 360 for HTML5 output that's as good as Flash
Adobe Captivate for engaging simulations
Lectora Inspire for translating Flash content to multiple languages
iSpring for mobile-friendly learning
Claro to speed up conversion
With the apparent rise in its popularity, Hypertext Markup Language 5 is fast becoming the go-to option for companies who want to make learning appealing and useful to the modern learner. Now the actual question arises, how to make online learning courses HTML5-ready?
In other words, if an organization has Flash-based courses and wishes to convert them to HTML5, what are the authoring tools available that support this conversion? In this blog, let's discuss five such rapid authoring tools and their extended capabilities that make Flash to HTML5 conversion less cumbersome.
5 Authoring Tools to Migrate from Flash to HTML5
1. Articulate 360

Articulate 360 is one of the best authoring tools to migrate Flash to HTML5 . When Flash-based courses are converted using Articulate, the HTML5 output is as good as the Flash output. More so, it easily manages to run on modern browsers and offers mobile-friendly playback controls which is a huge advantage for mobile learning.
Converting Flash courses to HTML5 using Articulate 360 also means publishing responsive eLearning. Courseware designers build the course like they normally would and publish. The responsive player then optimizes the courses for seamless access on tablets and smartphones. As a result, the course fluidly adjusts to the screen size and orientation of any mobile device for the best viewing experience.
Articulate 360 is best suited for short, text-based courses with simple interactivities. Also, the performance of HTML5 content on iPads is slower and the only way to ensure a smooth playback is if learners access the course on Articulate Mobile Player.
2. Adobe Captivate
Known for its prowess of creating software simulations, Adobe Captivate has emerged to be one of the front runners in the list of Flash-to-HTML5 conversion tools. An interesting feature of this rapid authoring tool is the HTML5 Tracker. HTML5 Tracker lets the designer know which parts of the Flash files are not HTML5 compatible. For example, text animations created in Flash will not work in HTML5 and the HTML5 Tracker will highlight this for the designer to either delete it or build it from the ground up.
Unlike its older versions, Adobe Captivate 2017 now makes responsive learning fluid through a feature aptly named 'fluid boxes'. Fluid boxes enable designers to create online learning courses that are compatible with any device. These fluid boxes help in converting legacy, Flash-based non-responsive courses to fully responsive ones.
However, Captivate for all its strengths does fall short in some areas:
Translating eLearning is not its strongest suit; if translation or localization is your immediate requirement, Articulate or Lectora is a much better option.
Offers few animation effects when compared to other authoring tools
3. Lectora Inspire
Using Lectora Inspire to enhance or convert old SWF courses to HTML5 is far less cumbersome than the other tools in this list. In fact, Lectora Inspire publishes eLearning as HTML5 by default. Like Articulate 360 and Captivate, Lectora's support for HTML5 output and its Responsive Course Design (RCD) allow designers to create mobile-friendly and browser-friendly courses.
What makes Lectora Inspire different from other tools is the amount of robust features included:
Ability to handle and convert text-heavy courses such as compliance and regulatory courses into engaging eLearning courses
Translating eLearning into multiple languages; lets developers quickly export all text to be translated with the single click of a button using the translation manager feature.
Scenario-based learning for delivering experiential and application-based learning
Camtasia and Snagit video editors, and ReviewLink collaboration service
Where Lectora falls short is in the department of creating simulations and it also lacks good audio and video recording capabilities. Lectora allows designers to create their own templates and import them into multiple courses.
4. iSpring Suite
Although it relies entirely on PowerPoint, iSpring's PPT conversion engine has empowered organizations to rekindle their instructor-led training materials into mobile-friendly, HTML5-based eLearning courses for quite some time now. HTML5 content created using iSpring flexibly adapts to different screen sizes and adjusts to the changing device orientation. Navigation throughout the course is tailored to meet a mobile device's touchscreen interface requirements and gestures.
Apart from providing a cost-effective solution to PPT-to-HTML5 eLearning conversion, iSpring adds value to eLearning courses by offering support for:
Creating video narrations and synchronizing them with eLearning slides
Creating interactive knowledge checks with rich media, video, and drag-and-drops
Delivering effective communication skills (for sales training) through dialogue simulations, and experiential learning (for software training) through screen recording features
Making eLearning courses look visually appealing with readymade templates for glossaries, references, FAQs and much more
Nine types of customizable knowledge check types
5. Claro
With Claro, everything designers create is HTML5-compatible. It is one of those HTML5 eLearning authoring tools that does not limit its capabilities to just authoring. It provides built-in layouts for all popular devices to speed up the content development time. Similar to iSpring, domiKnow Claro also doubles as a PPT-to-eLearning converter as well.
This cloud-based authoring tool is also endowed with nifty collaboration features, allowing designers to combine forces and co-author content. Also, developers can keep different stakeholders involved throughout the development process by exchanging and receiving constant feedback from subject matter experts (SMEs) and reviewers.
Claro is designed for fixed-layout learning. Opt for dominKnow Flow when you require truly responsive learning.
Here is a quick look at what we have discussed so far:
Tool
Advantages
Challenges
Articulate 360

HTML5 output as good as Flash on desktops and mobiles
Ability to create mobile-friendly courses
Supports responsive eLearning
Team collaboration possible

Performance of HTML5 content on iPads is slower

Adobe Captivate

Create high-quality simulation-based learning
HTML5 Tracker highlights Flash elements in the source file that are incompatible
Ability to create device-specific eLearning (Responsive learning)

Offers few animation effects when compared to other authoring tools

Lectora Inspire

Good for converting text-heavy courses to engaging eLearning
Responsive Course Design (RCD)
Supports multilingual translations
Snagit, Camtasia video editors
Collaboration with stakeholders using ReviewLink

Lack of support for creating quality simulations

iSpring

Convert pre-existing PPT to HTML5-based and mobile learning modules quickly on a deadline
Create engaging video narratives and dialogue simulations
Make eLearning look visually appealing with ready-made templates
Create once, learners enjoy playback on all mobile devices and tablets

Relies and works only on PowerPoint

Claro

HMTL5-compliant output
Built-in layouts that speed up development time
Can convert PPTs to HTML5-based eLearning
Good collaboration and reviewing tools

Claro is designed for fixed-layout learning. If you require truly responsive learning, opt for Flow.
The numbers of mobile devices through which learners access learning content has been and is increasing at a phenomenal pace. Developing different versions of online learning courses for different devices is time consuming. Learner engagement is extremely important and integrating courses with the relevant technology is needed. This is where HTML5-based rapid authoring tools come handy. These tools offer readymade templates, and produce responsive courses that are easily accessible.