Convert Flash to HTML5 with Storyline 360: 4 Reasons to Opt for It
Do you have Flash-based eLearning for conversion to HTML5? Here's how you can convert Flash to HTML5 using Storyline 360.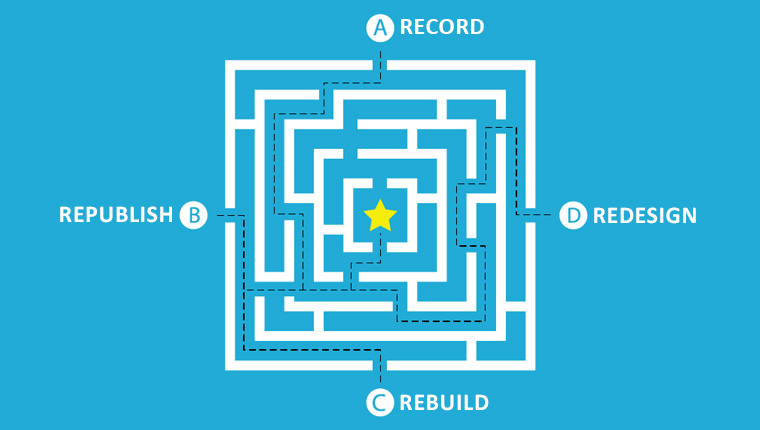 With Flash phase-out by 2020, I am sure your organization must be looking for ways to reuse and convert your Flash-based eLearning courses to HTML5. In my previous blog, I talked of how to utilize Adobe Captivate for Flash course conversions, here I am with another. This time I'll brief you about another popular eLearning authoring tool – how you can convert Flash to HTML5 using Storyline 360.
Why Convert Flash to HTML5 with Storyline 360?
Hers' how Storyline 360 can be used to convert Flash to HTML5, in 4 scenarios:
Record: Capture Flash-based courses for HTML5 output
Republish: Upgrade eLearning courses developed in former versions of Storyline
Rebuild: Ensure cross-platform functionality of converted Flash-based courses
Redesign: Revamp existing Flash-based courses instructionally
While no two organizations are alike, your conversion needs will vary as well. For instance, your organization have Flash courses without source files or courses which were developed in obsolete versions of authoring tools and much more. So, there are 4 ways to convert Flash to HTML5, and Storyline 360 caters to all four conversion needs. Let's explore the conversion strategies and how you can convert Flash to HTML5 using Storyline 360.
4 Ways to Convert Flash to HTML5 Using Storyline 360
1. Convert Flash to HTML5 Using Storyline 360: Record Courses without Source Files
The 'Record' conversion methodology comes into play when your Flash-based eLearning courses have:
No source files
No significant learner interaction
Low level of learning difficulty
How do you get HTML5 output in such cases? Your existing Flash-based eLearning courses will be played and recorded using a screen recording program to get an MP4 output which is HTML5 compatible. So, when you convert Flash to HTML5 with Storyline 360, what's in store for the 'Record' conversion methodology?
The screen recording option in Storyline 360 can be used to capture the slides of your existing Flash-based courses as a video. All that is needed to be done is inserting your existing course into a slide and you're good to go! You can also choose between different modes such as assessment, demo, and trial.
You can add captions, zoom-and-pan effects for important content; add characters to make the course relatable and to enhance the final eLearning course.
Once the existing course is recorded, it can be published as a single MP4 video file format. You can use the MP4 video by inserting it in another eLearning course or use it as a standalone module.
Additionally, Storyline 360 also allows for fixing mistakes, making edits as well as changing the first and the last frames of the screen recording. And all this without needing to re-record and impact the quality of the video output.
2. Convert Flash to HTML5 Using Storyline 360: Republish Courses Developed in Former Versions of Storyline
The 'Republish' conversion methodology comes in handy when your Flash-based courses are developed in older versions of Storyline and need to be:
Upgraded to a newer version
Made compatible with mobile devices
Improved visually
For instance, if your eLearning courses were developed in Storyline 1, they won't be compatible with Android devices since it failed to produce HTML5 output. Hence, in such a scenario, opting for the Republish method of conversion is the best option if you want to save training dollars on re-developing HTML5-compatible eLearning courses. How's Storyline 360 competent to republish Flash courses?
Storyline 360 can be used for the easy development and delivery of responsive eLearning courses that do not restrict your learners to desktop-only courses. Publish your Flash-based eLearning courses to HTML5 with a single click and without any cinch!
You can use the Articulate Mobile Player app to publish your eLearning courses for iPads as well as Android tablets.
For alignment, use the option of Modern Text Rendering – the new text-rendering engine by Storyline 360. Using this will allow the text to flow beautifully with consistent spacing as well as readability on every device.
If your existing Flash courses have text-heavy slides, you need to chunk content for easy comprehension. Storyline 360's Text Editing option allows for easy customization of size, text spacing, alignment, and color. You can even insert the preferred font characters and present the content in bulleted lists.
With Object Editing Enhancements, you can easily size and position objects on the screen. As the mouse is moved, you will get visual cues that will dynamically update with exact dimensions, rotation values, and coordinates of the objects, enabling faster development.
3. Convert Flash to HTML5 Using Storyline 360: Rebuild Courses Built in Obsolete Software
The 'Rebuild' conversion methodology can be opted when you realize your Flash courses are failing to make an impact because:
Existing courses were developed in obsolete software or authoring tools
Monotonous eLearning content is devoid of interactions
Existing courses are incompatible with browsers and mobile devices
In such situations, you can convert Flash to HTML5 using Storyline 360's range of features. When you convert Flash courses built in obsolete authoring tools to HTML5 using Storyline 360, you can make them responsive and also include new interactive elements (as needed).
Cross-Platform Functionality
The new Responsive Player of Storyline 360 can be used to obtain dynamic output that can automatically adapt to various mobile devices such as smartphones and tablets. You can have an optimized view of your converted courses on every device, without having to go through manual tweaking.
The responsive player also allows for fluid responsiveness to different screen sizes, orientations, hiding sidebars, mobile-friendly device playback, and much more.
The Responsive Preview allows you to view how your course will look and function in different devices and orientations, even before the final publish. This enables fixing glitches in the development stage rather than final course rollout, leading to additional time and resources.
Storyline 360 also extends support to all HTML5 gestures such as dragging, swiping, and pinch-to-zoom in all mobile devices.
Learning Interactions
When converting Flash to HTML5 with Storyline 360, to take interactivities a notch higher than in your Flash courses, leverage the interactivities available in Storyline 360, such as random number variable (game-like interactions), dial interactions (for cause-and-effect relations, navigations etc.), and slider interactions (to let learners manipulate data).
To make learning more personalized and interactive, you can use Slide layers that allow the display of additional content on the same screen, triggered by learners' actions. Any sort of interaction in an eLearning course can be created by assigning one or more triggers to any object on the screen depending on the action you want.
You can also make objects on the screen change states according to learners' action. This implies changing the color of a button when clicked or changing the expression of a character. You can change states as you wish.
4. Convert Flash to HTML5 Using Storyline 360: Redesign Flash-based Courses for Instructional Updates
Coming to the 'Redesign' conversion methodology, when should you opt for it? Go for it when:
Flash-based eLearning courses require content updates
Existing courses require new instructional design perspective or translations
Most of the media elements are available but not the source files
In such situations, apart from HTML5 compatible courses, you would want rapid eLearning development since additional development time will imply additional cost and time. How does Storyline 360 help in the Redesign conversion methodology when converting Flash to HTML5?
Slides Templates in Storyline 360 provide access to an ever-growing library of templates that are beautifully designed and can be customized according to your unique needs. Having a content library with pre-built assets enables easy and faster development and eLearning course conversion.
The new content library 360 has more than 3.5 million photographs, videos, buttons, icons, and illustrations, which are royalty-free. This implies reduced development time since developers need not look for media elements from scratch.
To ease the process of review and feedback cycle, Storyline 360 offers Review 360. This web-based app can be used to easily get in-content feedback from your subject matter experts, and reviewers without any downloads.
Additionally, the media library can be used to manage all the assets in one place for your eLearning curriculums. This enables easy addition, removal, reusing, replacing, and exporting of media elements such as videos and audio clips.
Coming to assessments in eLearning courses, Storyline 360 offers a range of predefined question types to ensure effective learning evaluation. For instance, freeform questions, form-based questions, multiple quizzes, and more. More accurate testing can be enabled by leveraging negative scoring which deducts points from a learner's score when they answer incorrectly.
This is how the features of Storyline 360 can be leveraged for Flash to HTML5 eLearning conversion in 4 different situations. Compared to other authoring tools such as Lectora and Captivate, Storyline 360's learning curve is lesser, which sets it apart. This implies easy and faster updates. In case you are looking for more in-depth knowledge on how to convert your Flash courses to HTML5 – the process, other eLearning authoring tools that can be used and more – don't miss this eBook.