The ABCs of Responsive Mobile Learning
This post discusses what responsive design is, why it is the need of the hour for mobile learning, and how to implement it.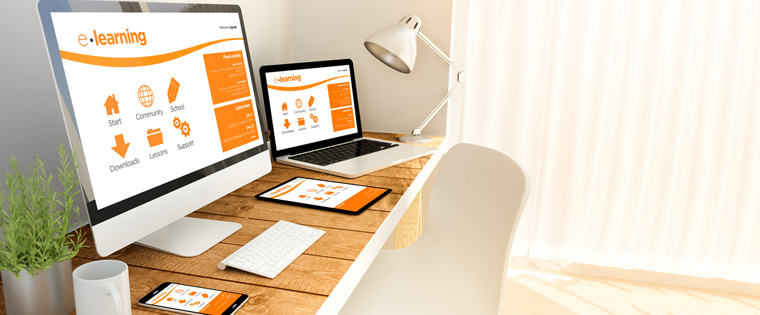 Are you a training manager looking to implement mobile learning in your organization? How can you make online training courses compatible with multiple devices? Is a separate version required for each device?
If you are struggling with these questions, you need to know about responsive design, THE solution.
Responsive web design is becoming increasingly crucial as mobile traffic now accounts for more than half of the total Internet traffic. Forrester's survey on mobile adoption has revealed that a staggering 66% of employees use two or more devices every day, including desktops, laptops, smartphones, and tablets. A smaller, but notable 12% use tablets at work. Propelled by today's widespread use of multiple mobile devices, crafting mobile friendly e-learning courses has become mandatory.
What is Responsive Design?
Responsive Web Design (RWD) is an approach focused at crafting web content to provide an optimal viewing and interaction experience across multiple digital devices, ranging from desktops to smartphones. Easy reading, navigation with a minimum of resizing and scrolling is possible in RWD. This facilitates the development of online courseware that is "responsive" to the varying screen sizes of various digital devices and provides an optimal viewing experience.
Responsive m-Learning is the application of RWD to mobile learning. This facilitates the development of mobile learning courses that could be efficiently accessed on multiple gadgets. Thus, a single version of an eLearning course automatically adjusts its Graphical User Interface (GUI) according to the screen size of the devices from which the course is accessed.
7 Compelling Reasons for Responsive Mobile Learning
Responsive mobile learning helps bring learning into the palms of the learners by providing seamless access to the online course on their mobile devices. This indeed makes learning mobile, and mobile learning goes wherever the learner goes! Here are the seven compelling reasons you need to choose responsive mobile learning.
1. Use of Multiple Devices
As per a research conducted by Smart Insights, Internet users in the US spend approximately 2.8 hours a day accessing digital media on their mobile devices. In comparison, this figure drops to 2.4 hours per day on desktops. These figures attest that people are using smartphones and tablets to search for necessary information. If this is the case, e-learning and online training should be mobile friendly. This is only possible through responsive design.
2. Various Screen Sizes & Browsers
Mobile handset manufacturers are releasing new models year after year in various sizes, calling them smartphones, tablets, and phablets. The screen sizes of these devices range from 3 inches to 12 inches. The native browsers installed in these devices also differ. Responsive design is compatible with all native browsers and automatically adjusts to the screen sizes of all mobile devices.
3. Cost Savings on Devices
Since responsive design is compatible with multiple mobile devices, organizations need not provide specific devices that support their applications. They can load their applications on the mobiles/iPads/tablets of employees, so that they can access the learning/training content from their own devices. This results in substantial cost savings for organizations.
4. Supports Offline Browsing
Responsive design is HTML5 compatible. This supports offline browsing. Learners need the Internet initially to download the course content onto their devices. Once downloaded, they can view and read the content offline.
5. Facilitates Sequential Screening
Responsive design enables sequential screening. In this, learners can pause the online course on one gadget and resume it on another device, exactly at the point where they had stopped. This makes learning highly flexible and user-friendly. For example, an online course is assigned to a busy executive. He accesses the course on a desktop during working hours but completes only a part of the eLearning program due to time constraints. He completes the unfinished part at home by accessing the course on his mobile.
6. Enhanced User Experience
As responsive design is flexible and adapts its layout based on the size of a user's screen, it will enhance the user's experience. Learners get the same viewing experience with different browsers across different devices.
7. Cost Effectiveness
Developing one base version of an e-learning course to train workforce is much economical than preparing multiple versions for various gadgets. Responsive mobile learning is highly cost effective, as it facilitates the efficient adaption of the base version to various devices
7 Tips to Design Responsive Mobile Learning
Designing responsive mobile learning requires a different approach than designing an e-learning course. Here are seven tips to design responsive mobile learning.
1. Choose a Mobile-friendly Layout
All e-learning course layouts may not fit well in small screens. That is why you need to select a layout that suits various devices and native browsers. Your learners need to have the same experience regardless of whether they view the e-learning courses on their tablets or smartphones. It's all about how simple you can make your layout. Avoid Java Scripts and Flash elements that make your mobile learning design complex. Instead of that, developing a HTML code makes your layout much simpler.
Helpful aspects to create mobile-friendly layouts:
Keep the GUI a minimum.Don't clutter the screen. Ensure users can navigate with their fingers, easily. You can use the vertical scroll bar, but avoid using the horizontal scroll bar.
Use scalable vector graphics. Scalable vector graphics ensure an optimal viewing experience on all mobile devices.
Avoid background images, patterns, and sounds to prevent learner distraction.
Shun using fancy fontsto ensure text is clearly visible. Using fancy fonts could at times, be irritating.
Be mindful of the resolution and frame Size.
Publish courses in HTML5to make them compatible with all mobile devices.
2. Minimize the Loading Time
No one likes slow loading content or frequent interruptions in streaming while viewing a course. Compressing the content in a zip file helps you deliver heavy content in a very less time. This will minimize the size of the course and learners with limited bandwidth will also be able to access the course. Back-end coding and using certain scripts will also reduce the loading time. Avoid unnecessary graphics, borders, and other elements which serve no purpose but make your mobile learning heavy.
3. Chunk Content
In e-Learning, one module divided into many chapters and each chapter is in turn, divided into many topics, which many run into 1-2 pages. For responsive mobile learning, presenting just the need-to-know content, restricting it to a single screen can ease navigation.
4. Use Easy Interactions
Do not add complex navigations and high interactions, as mobile devices differ in screen sizes from desktops. They can be used sparingly and interactions such as rollovers can be converted to click-on tabs.
5. Use Simple Navigation
You should have simple navigation in responsive design. Ensure the course is easy to access and easy to understand. Keep your design simple to operate and since most of the mobiles are touch phones, the clickable area should be big enough for an adult's finger.
6. Add Pictures Cautiously
In Responsive design, you should exercise great caution while scaling and cropping images that have to adjust their sizes depending on the device size. Images can be scaled dynamically using Cascading Style Sheets (CSS) script.
7. Select Fonts Instead of Image Icons
Image icons occupy more memory space, so choose fonts for mobile friendly learning. Vector icons may appear too large on iPads and very small on laptops. Fonts can adjust easily and fit the screen in responsive design.
In the End
We are in the era of multi-devices and multi-screens. Designing online courses for desktops won't work any longer. Thus, designing online courses which are compatible with various mobile devices is the need of the hour. The prominence of responsive mobile learning has been growing over the years and it's only going to soar in the future.
Now that you know about responsive mobile learning, how it helps employees, and the tips to be kept in mind to develop effective mobile courses, why don't you give it a try for your training activities and help your employees utilize their dead hours optimally?