6 Compelling Reasons to Adopt Mobile Learning for Corporate Training
Mobile learning is definitely an important aspect of a well-rounded L&D strategy, and this is a reason why I think that organizations need to adopt it right away! To give more perspective, I have listed out 6 compelling reasons to adopt the modality.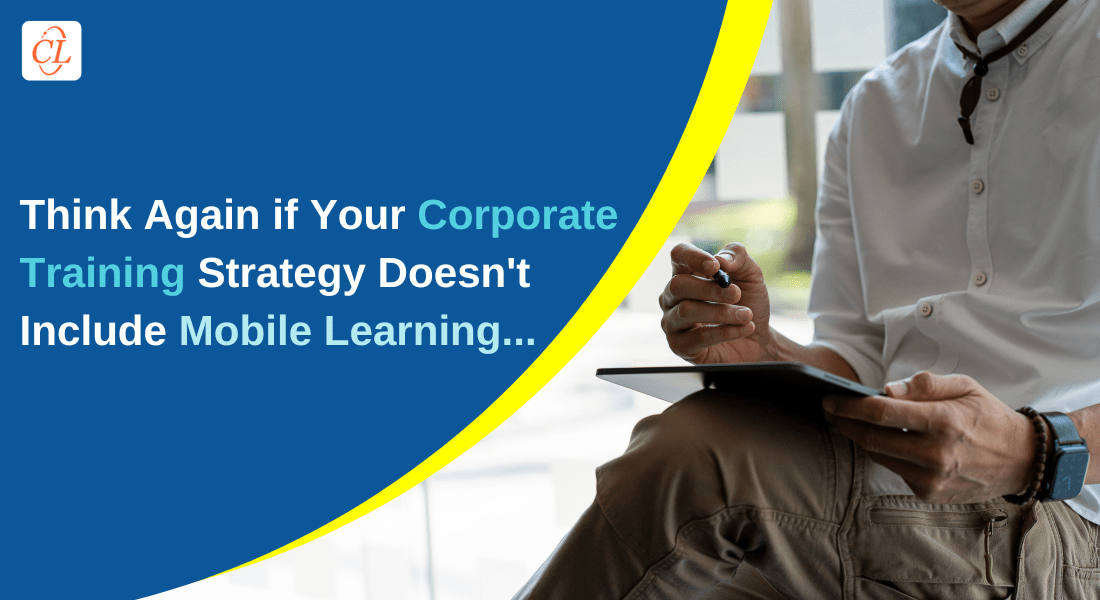 Almost all organizations, irrespective of the industry they operate in, are showing an inclination towards mobile eLearning for their Learning and Development (L&D) initiatives. The organizations that have already adopted mobile learning solutions, are coming to see it as an impactful solution for reaching out to and engaging their employees with respect to corporate training.
However, there are a few organizations that still need a significant nudge so they can see the positive impact that mobile learning (mLearning) can have on their corporate eLearning training programs.
If you are among the organizations that are confused about whether or not to adopt mobile learning for your corporate training, this article can serve as a guide and help you see why you should adopt it…
Not Sure Whether or Not to Adopt Mobile Learning for Corporate Training?
Here is what mobile learning can do:
Boosts productivity during training
Increases learning hours
Leverages on FOMO
Read on to know more…
Why Adopt Mobile Learning for Corporate Training
Boost in Productivity
Breaking the principle of 'save the best for the last', I am giving you the best reason in just the first pointer. You must know that numbers never lie. Stats have clearly shown a relation between mobile learning and increased engagement and productivity. A global market study done by Economic Intelligence Unit (EIU) showed a visible link between the mobile-first work environment of organizations and the increase in employee engagement ratio. The study showed that the pioneers of mobile learning witnessed a 16% boost in the levels of productivity, creativity, and loyalty of employees. Do you need any other reasons? Keep reading!
Increase in Learning Hours
The era of 9 to 5 jobs is ending rapidly. With the growing culture of 'work shifting' and working from home, employees are more eager to work on their own time. In a way, this trend is beneficial for organizations too because the employees, owing to the flexibility, tend to be more accountable and focus on performing their tasks rather than on time.
Mobile learning offers similar flexibility where your employees can learn whenever they want to. As the eLearning courses are available on their mobile devices, they can access them in their downtimes. With this flexibility, the learners tend to spend more time on learning and are also willing to extend the hours.
At the same time, adding visually appealing and engaging elements such as interactive videos and animations, you can easily keep your employees engaged and thus increasing their learning hours significantly.
Diminishing the Effects of Forgetting Curve
It is a human tendency to forget learned lessons unless regularly repeated. When employees are trained offline in a classroom-type setting, they have limited sources to reinforce the learning in their minds. This can be solved with mobile learning. In this online learning approach, the learners are in constant touch with their learning material. They can revise their module as and when they feel like it. The more an employee revises, the better they develop the understanding. With a mobile learning, organizations have the power to regularly send reinforcing materials to employees in various formats such as tests and assignments. This constant reinforcement means that employees will retain the maximum of their learned lessons from the training and course module.
Explore more ways to beat the forgetting curve in online learning
Leveraging the Benefits of the Feeling of FOMO
You might know that the entire digital marketing strategies are banking upon people's Fear of Missing Out (FOMO). Today, everybody is glued to their mobile devices because they don't want to miss out on anything. It is this psychology that is the driving force behind all digital marketing strategies. You too can leverage the benefits of FOMO to keep your employees on the toe to work for the organization. Employees will be proactive in completing their eLearning assessments and assignments when they are linked with their colleagues through mobile and know everybody is seeing each other's progress.
Reaching to Remote Workforce
Mobile learning not only makes it possible for organizations to reach out to their remote workforce but let them do it at no extra cost. It is much cheaper to reach the remote workforce through mobile applications rather than arranging offline training programs for all remote workers at a certain location. Organizations having remote workers or offices at different locations can keep their training program unified through mobile. Every employee will be getting the same training and development program. This will also provide employees based at different locations to connect and feel like a team.
Quick Updates
Another great advantage of mobile learning is that it allows quick updates. Due to the advancements in technology, training programs nowadays require frequent updates. Mobile applications make the entire process quick and hassle-free. Moreover, every concerned person can be notified about the update instantly. The same cannot be possible with the traditional method of training and development programs. Be it the updation of a course module or updating learners about any changes, mobile devices are ideal for communicating these things almost immediately.
Words of Wisdom
Mobile learning is an ideal eLearning modality for the rapidly changing needs of corporate training and development initiatives of business organizations. From boosting the productivity of employees to reducing the cost of training to reaching remote locations, mobile learnings have multi-dimensional benefits. Any organization wishing to take its training programs to the next level to leverage full benefits can no longer afford to miss out on the advantages of mobile learning.
Watch this free webinar recording to explore more about mobile learning and how it accommodates different types of corporate training programs.
Editor's note: This post was originally published in January 2023 and has been updated for comprehensiveness.