MP4 in Flash to HTML5 Conversion: 5 Reasons to Seal the Deal
Looking for Flash to HTML5 eLearning conversions? Read this blog to know 5 reasons the MP4 format makes so much sense for Flash to HTML5 conversions as well as eLearning.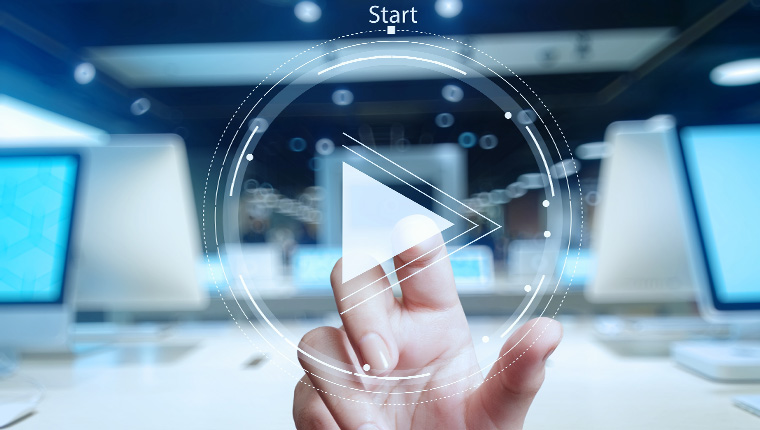 We all know MP4 is a digital multimedia file format used for storing video and audio files. But there are other facts that I bet you are unaware of. For starters, did you know MP4 stands for MPEG-4 Part 14? Created by the Moving Pictures Experts Groups (MPEG), the file format is basically a container designed to store digitally encoded audiovisual data in a single file. Although MP4 has only one official file extension, i.e., .mp4 (audiovisual), there are various other extensions that show what kind of content is stored in the file. To name a few .m4a extension is for audio-only MPEG-4 files, .m4p denotes audio files encrypted by FairPlay Digital Rights Management and sold through the iTunes Store, .m4b extension is for podcasts/audiobooks. However, MP4 in the form of videos is becoming quite the rage in the training world right now, especially when it comes to Flash to HTML5 eLearning conversions.
Advantages of MP4 for eLearning videos
Convert Flash courses without source files to HTML5
Keep up with the popularity of videos
Make courses mobile-compatible
Share user-generated content
Develop multilingual videos
Apart from restoring your legacy courses, there are other reasons you should choose the MP4 file format for online training. So, to clear the air, here are five reasons to help you seal the deal on why MP4 makes sense for eLearning.
MP4 File Format for Flash to HTML5 eLearning Conversions
1. To Restore Flash-based eLearning Courses
With the 2020 Flash phase-out just around the corner, converting your existing Flash courses to the MP4 format is one way to make them HTML5 compatible. HTML5 makes it possible to develop courses that are device-agnostic and allows learners to access eLearning courses on multiple devices. Hence, learners are not restricted by either time or place for accessing the courses.
Moreover, Flash-based courses relied on plug-ins that require learners to download them every time they access multimedia elements in the eLearning course. HTML5, on the other hand is an open web application that doesn't need any plug-ins to run its applications. If you want to move over to low power, open web standards and, a touch-based interface – aspects where Flash falls short, recording your courses in the MP4 format is a handy option you should consider.
What exactly entails in the conversion to MP4? This basic level of Flash to HTML5 conversion is known as Record where existing online courses are played and recorded using a screen-capture program which provides an MP4 output, making them HTML5 compatible. There are three circumstances when the Record conversion methodology can be opted for converting Flash to HTML5 eLearning.
No Significant Learner Interaction: If your existing courses are self-running and do not contain any interactive elements, and learners have to simply sit back and watch the course, the 'Record' method is appropriate.
No Source Files: If the source files of your Flash-based courses are unusable or unavailable, the 'Record' conversion method is indeed the most suitable. This saves time and resources on manual extraction of content for the HTML5 version of the course. When it comes to manual extraction, course developers have to take screenshots of each slide and extract content using programs such as Microsoft OneNote or Online OCR software. This method is tedious and time-consuming, which makes 'Record' method a better option for rapid legacy course conversions.
Level of Learning is Easy: According to Bloom's Taxonomy of Learning Domains, the simple recall or remembering of facts is the lowest level. Identify, list, find, and recognize are some of the action verbs that can be associated with this level. If the main objective of the eLearning course is to help learners recall or remember facts and comprehend basic concepts, recoding the course into MP4 becomes a handy option.
MP4 File Format for Online Training
2. To Keep Up with Popularity of Videos
Have you noticed how videos have started to commandeer a majority of our social media posts, be it Facebook or LinkedIn? This is not surprising considering the need to consume content quickly and visually. According to Cisco.com, videos will be the reason for 80% of Internet traffic in the world by 2019. Hence, making videos part of your training strategy is not an option anymore. But, why should you opt for videos in the MP4 format? Why not MOV, WMV, AVI, or FLV for that matter?
This is because MP4 videos offer support for many different operating systems and run on all major media players and sound card drivers, making it a highly reliable format that boosts wider content distribution. Be it iOS, Windows, or Android, MP4 files will run seamlessly across all platforms. Comparatively, other popular formats such as MOV which is developed by Apple cannot be accessed across many platforms. Moreover, because MP4 files occupy less disk space, it is used widely for online video streaming and developing web-compatible video content.
3. Make Learning Mobile-Compatible
When it comes to the rise of smartphones and the popularity of video-based learning, the correlation between the two cannot be denied. According to a report by Google.com, more than 60% smartphone users watch videos regularly, thereby marking a behavioral shift over the decades. Being the standard video format, MP4 file formats are almost used everywhere. A majority of mobile platforms even use MP4 as their default file format.
The MP4 file format can give higher levels of compression with less loss of quality. High-quality translates to a more pleasurable learning experience for learners and high-compression implies smaller file sizes allowing less storage space and easy loading on mobile devices. And if you wish to develop eLearning content that has high-level of motion, MP4 is a great choice considering the clear, sharp, and precise imaging for optimal view across devices.
4. Encourage User-Generated Content Sharing
The trend of user-generated online training videos is slowly gaining momentum with the ease of making videos in smartphones and the rising strength of millennials and Gen Z in the workforce. According to Cisco, over 60% of executives record their own business videos and share it in their organization's content-sharing portal. User-generated video content is more authentic and relatable that addresses employees' exact learning needs.
With MP4 videos providing a combination of multi-platform support, small file size, and exceptional quality for optimal screen view and easy sharing, collaborative learning is no more a herculean task. Employees are encouraged to capture, share, and store clips of the tasks they perform with their colleagues, making it an affordable and effective way for learning. And with added social media features such as voting, discussions, and comments, MP4 videos foster a higher level of engagement, knowledge retention, and follow-up than a conventional eLearning course.
5. Develop Videos for Multilingual Learners
Although MP4 is often associated with only audio and video, it can store other kinds of data as well. For instance, it can hold still images and subtitles. For global organizations that often face the challenge of training their dispersed workforce, the MP4 format can be used to developed online training videos for multilingual staff. This is because, the MP4 file format allows to store subtitles in eLearning videos, helping learners comprehend the video even when it is presented in a language other than their own.
For instance, if you want to avoid the cost of multiple audio narrations for videos, the MP4 file format allows you to include subtitles in the intended language, without having to go through the scripting and recording process.
While other multimedia media formats might work for specific needs, the MP4 file format fits like a glove for all your online learning requirements. Especially when it comes to Flash to HTML5 eLearning conversions, recording your existing online courses in the MP4 format is one handy and quick option to give them a new lease of life.
Although MP4 is one format to revitalize your training, HTML5 is equally powerful when it comes to restoring your Flash-based eLearning courses. There are four ways you can convert from Flash-based courses to HTML5 and if you want to know the whole gamut of conversion, download this free eBook Flash to HTML5 eLearning Conversion: The 4 'R's That Matter.