The 4 'R's of Flash to HTML5 Conversion: Can Lectora18 Do It?
Are you aware of the 4 'R' strategies for Flash to HTML5 conversion of eLearning? Find why Lectora 18 is one of the best bets for Flash to HTML5 conversion.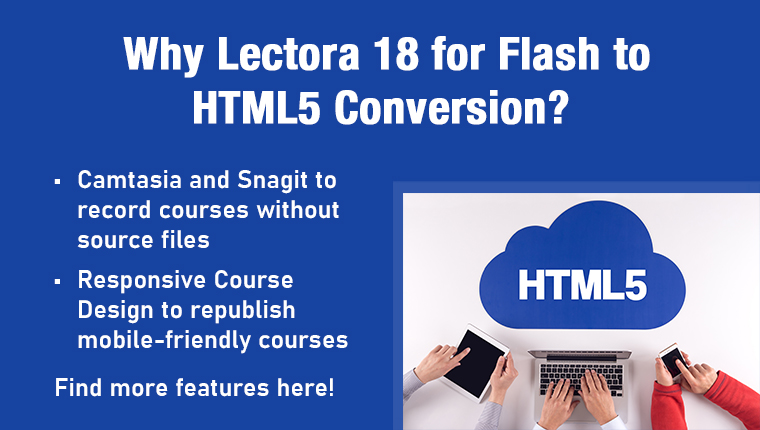 We are about to complete the first quarter of 2020 and I really hope you're done hitting the snooze button on Flash to HTML5 conversion of your eLearning courses. By end of this year Flash will stop functioning, which is bad news for all your Flash-based eLearning courses as they will lose their browser functionality. This means all that repository of legacy courses you have will turn obsolete and there will be no going back. If you consider how great an impact it will have on your employee training and business productivity, the only questions that you should ask yourself now are 'how?' and 'how fast?'
Features of Lectora 18 for Flash to HTML5 Conversion
Camtasia and Snagit to record less interactive courses
RCD to republish multi-device friendly courses
Template library to rebuild courses rapidly
Single user interface to redesign translation-friendly eLearning
Moreover, with training disruptions due to COVID-19, it's better to get done with Flash to HTML5 conversions right away to ensure smooth, uninterrupted training.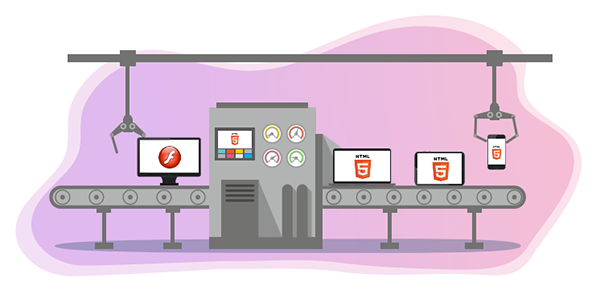 Flash to HTML5 conversion usually involves large-scale projects involving hundreds of legacy courses developed with multiple eLearning authoring tools. These courses are often outdated with missing source files. Because of these complications, choosing the right authoring tool and employing the right conversion strategy becomes important for the success of the conversions.
Lectora Inspire 18 is one of the popular rapid authoring tools that can convert Flash courses to HTML5 using the 4 'R's strategies.
What are the Four 'R's of Flash to HTML5 Conversion?
Record
This Flash to HTML5 conversion strategy involves recording Flash courses to the MP4 format with the help of recording software and publishing to HTML5.
Record when:
Source files are missing or unusable
Legacy courses do not require significant learner interaction
Republish
The 'Republish' strategy is appropriate for Flash to HTML5 conversion when Flash-based legacy courses developed in rapid authoring tools need to be republished to HTML5 using newer versions of the same tools.
Republish when you need to:
Upgrade to a newer version of the software quickly
Give a new look to the old content
Make courses compatible with mobile devices
Rebuild
The 'Rebuild' Flash to HTML5 conversion methodology involves reusing relevant media elements from the original courses to recreate Flash-like interactivities and redevelop courses, ensuring compatibility across Learning Management Systems (LMSs) and browsers. Rebuild when courses need to be accessed on different browsers and devices.
Redesign
The 'Redesign' strategy is used in Flash to HTML5 conversion when you need to completely revamp the course content and instructional design.
Redesign when:
Original content needs to be updated
Courses require a complete makeover in terms of instructional strategy
Courses need to be translated or reconfigured as microlearning
Flash to HTML5 Conversion Made Easy with Lectora Inspire 18
1. Camtasia and Snagit to Record Courses
The Lectora Inspire 18 suite comes with the latest versions of Camtasia and Snagit (tools for screen recording and screen capturing). Flash courses with missing source files can be played in the authoring tool, recorded using Camtasia and Snagit, and saved to the MP4 format. This file can then be published in Lectora Inspire to the HTML5 format. And there you have your revived HTML5-compatible eLearning courses ready to be rolled out.
2. RCD to Republish Multi-device Friendly Courses
When organizations decide to go through with Flash to HTML5 conversion they would most likely want the courses to be accessible on Android smartphones and tablets, iPhones, and iPads as well as on laptops and desktops. The Responsive Course Design (RCD) feature of Lectora Inspire enables easy conversion and republishing of Flash courses into device-agnostic HTML5 courses, catering to the new-age learner's preference for on-the-go learning.
RCD depends on two features – Page Layout and Scalable Vector Graphics (SVG). The Page Layout feature allows organization of the content and flow as per different devices. Each Page Layout in the tool is specifically designed to provide the best look on each device. You can create your own custom page layouts for better flexibility.
SVG technology allows published content to remain crisp and scalable despite the changing screen size, orientation, and resolution.
3. Template Library to Rebuild Courses Rapidly
Despite the many security loopholes and proprietary problems that were associated with Flash, it still managed to remain quite popular because it offered unparalleled scope and ease of developing nuanced interactivities. These interactivities often cannot be converted to HTML5.
However, to retain Flash-like interactivities, Lectora 18 provides a library of ready-to-use interactive templates which come as a part of the suite. The templates help in the creation of:
Courses with non-linear navigation (branching scenarios, for example)
Interactive video-based learning courses
Pre-assessment/final assessment – the tool offers a total of 12 assessment types
Accessible courses for a wider reach
If your legacy courses were designed using an tool now obsolete, but the multimedia assets are available, they can easily be used to rebuild a new course in the HTML5 format using these interactive eLearning templates.
4. Single User Interface to Redesign Translated eLearning Courses
Flash courses are usually not translation-friendly. For many organizations, this Flash to HTML5 conversion process can provide the opportunity to make these courses ready for eLearning translation and rolled out to their globally dispersed workforce.
Lectora Inspire 18 allows the conversion of Flash courses to any language you want – even languages with right-to-left scripts or double byte character sets. It has a single switchable user interface where the learner can switch the language at any given point during the course.
This feature will come in handy if your legacy courses need to be translated into multiple languages to cater to a global workforce.
Summing It Up!
So… are you ready to finally take the leap from Flash to HTML5? Do not miss out on this opportunity for eLearning course conversion because by end of this year, you would have lost your chance, and it'll be too late. Leverage these awesome features of Lectora 18 which will easily revamp your eLearning courses alongside the conversion process.
If you want more information on Flash to HTML5 eLearning conversion, here's an eBook for you.