The Changing Face of Learning Management Systems: 5 Must-Haves
Are you satisfied with your current LMS? Get to know what modern Learning Management Systems have to offer to improve your training programs.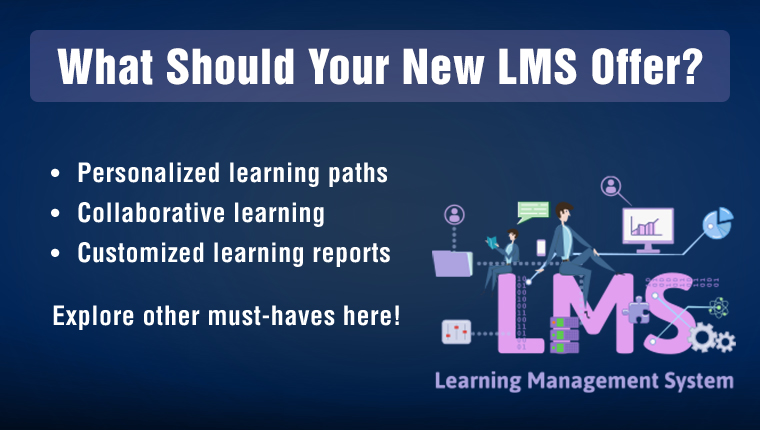 When Learning Management Systems (LMS) were first introduced, they were primarily meant to serve as a repository of eLearning courses that were earlier hosted on an organization's intranet. Today, LMSs perform many more tasks – hosting, tracking, analyzing, and reporting learning activities. And yet, according to a Brandon Hall research (quoted in Docebo's eLearning Trends report), 37% of organizations are looking to replace their Learning Management Systems. The important question here is 'why?'.
What do Modern LMSs offer that Traditional LMSs Don't?
Personalized learning paths
Collaborative learning features
Native mobile apps
Customized learning analytics reports
Multiple software integration
The fact is traditional LMSs were never known for being learner-centric. They were 'management' systems for learning, focusing more on business rules and compliance than on usability and accessibility. Moreover, traditional LMSs were not able to keep up with evolving learning practices and new-age training methodologies. LMSs today are no longer mere catalogs for eLearning courses; they are the primary platform for planning, delivering, and measuring the impact of training experiences (both online and offline).
So, is it time to let go of the traditional LMS and embrace a more modern learning platform?
Absolutely!
Here are a few things to look for while choosing a modern LMS.
5 Features to Look for in a Modern LMS
1. Personalized Learning Paths
When it comes to adult learning, especially corporate training, a one-size-fits-all approach won't work because learners prefer learning at their own pace, based on their learning needs and interests.
The modern LMS makes it possible to personalize online training as it offers learners individual learning paths that are tailored to their requirements and preferences, instead of just assigning courses according to their job role.
Modern LMSs also allow integration with adaptive learning engines that can track learners' activities and responses in real-time and offer highly customized learning paths.
Taking a key from streaming platforms like Netflix and Spotify, LMSs today offer course recommendations to learners by tracking their areas of interest, thereby opening up more opportunities for learning.
2. Built-in Features to Support Collaborative Learning
Learning is no longer just about completing courses; it needs to be fun, engaging, interactive, and experiential. And the modern LMS comes equipped with features that support new-age collaborative learning practices like gamification and social learning.
Gamification engages learners with three elements –points, progression, and competition. These can be in the form of leaderboards, points, badges, progress bars, and more. Rewards can be customized to reflect various achievements of each learner throughout the learning journey.
Unlike elements like 'Progress' and 'Levels' that are only visible to individual learners, leaderboard scores (displaying a ranking of learners) can be seen by everyone. This fosters friendly competition among learners, motivating them to do better. A whopping 89% of the LMS users report that they would be more engaged with their eLearning if it had a point system.
The boom in social media allowed social learning to break away from the confines of the 70:20:10 model and become part of formal learning. LMSs now have in-built chatrooms and online forums, giving learners the opportunity to interact with peers, mentors, and experts.
Discussion boards are also a source of user-generated content which often help learners get instant information and answers to queries. Many LMSs also allow learners to post content from their social media accounts directly once they log into both platforms on the same device. Uploading content onto the LMS is so easy that learners can easily shoot and post videos for everyone to see.
3. LMS Mobile Apps for Anytime, Anywhere Learning
While on the topic of modern learning platforms, there's one thing you can't afford to miss – mobile apps. From ordering food, clothes, and cabs to monitoring your sleep and physical activities, we have an app for it all. So why should your learning lag?
Most LMSs now are mobile compatible to keep pace with the mobile learningrevolution. Moreover, LMSs like Adobe Prime Captivate, Lectora CourseMill, and iSpring Learn come with their own native apps that take remote accessibility a notch further.
These native apps are dedicated mobile applications that enable access to the entire LMS on your learners' devices.
They allow learners to stream, save, and download eLearning courses within the app – across mobile devices.
And the best part – once you download a course, you can easily access it even in the offline mode.
4. Customized Learning Analytics Reports
The need to measure training effectiveness has never been this urgent. With frequent budget cuts, it's all the more important for you to justify every penny you spend on training. That makes the learning analyticsreports generated by your LMS very important. They help evaluate learners' progress, find opportunities for interventions and support, and also provide compliance data.
But the fact is, it is no longer enough to just produce reports on completion. For you and your organization to make informed L&D decisions, your LMS needs to offer actionable insights for decision-making. Customizing the LMS to generate custom reports — that focus on specific metrics — is something you should definitely look for in a modern LMS.
Here are a few metrics a customized LMS can report on:
Courses currently in progress
Courses yet to be accessed
Course access time logs
of unique learners who have completed the course/s
Average view/learning time (individual/division/company)
Breakdown of assessment attempts and responses
List of most-accessed courses
Learner reports across countries (all learners/individual learners)
Moreover, the LMS should present all this information in an easy-to-read and visually-rich dashboard. This allows LMS administrators to easily find relevant information to make data-driven decisions.
5. Multiple Software Integration
The modern workplace is all about digitization – multiple software working in sync to build an uninterrupted and seamless workflow. Modern LMSs offer the 'Single Sign-on or SSO' feature, allowing users to access and control multiple related, yet independent software systems like sales management software, CRM, and HR management tools with a single username and password.
This is very convenient because the user doesn't need to remember multiple usernames and passwords and work on different systems in isolation. It is also efficient and secure because it reduces the load on the IT department and closes many security loopholes to increase IT security. Most importantly, the integration of different systems eases the work of analytics while calculating ROI.
For example, integrating an HR management tool with the LMS will help during performance appraisal by showing the number of courses completed by learners and their scores during a particular time period.
Summing it Up!
The LMS market has gone up in the past several weeks as organizations are rapidly shifting from classroom to virtual training because of the COVID-19 lockdown. This list of must-have features will surely come in handy if you are in the queue for a new LMS. As you can see, modern LMSs have a lot to offer supporting new-age learning practices and improving the learning experience.
The COVID-19 lockdown has put many important corporate practices in perspective, especially workforce training. As a training manager, you'll never find a better opportunity to convince your decision-makers about the advantages of online training. Here's an eBook that'll help you make a strong business case for eLearning.