How to Start eLearning? Here's a Beginner's Guide for Successful Implementation
Are you planning eLearning for your corporate training and looking for some insights? Well, read on to explore the key benefits and considerations for eLearning. Also explore ways to overcome forces that restrain eLearning implementation.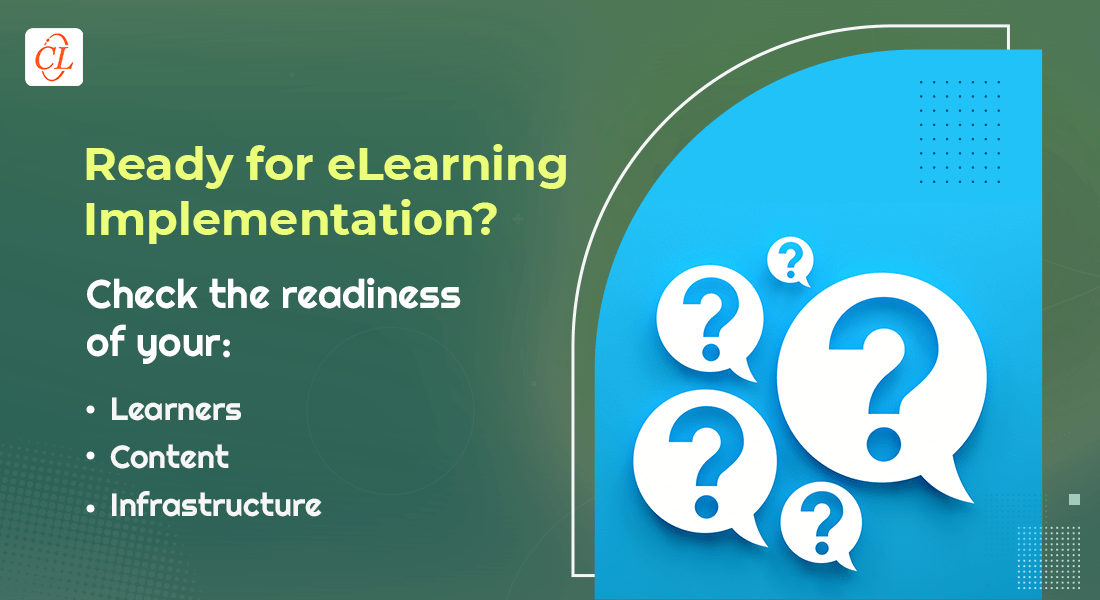 Why eLearning? Well, with globalization, businesses are going global and embracing innovation to cater to fast-changing customer tastes and preferences. Consequently, corporate training needs are also evolving at a rapid pace. A growing number of organizations have workforces that are globally dispersed, and for them to conduct training in a conventional classroom becomes a hassle. Not only that, but it is also a time-consuming and costly affair. With the ongoing Covid-19 pandemic interrupting corporate training courses around the world, eLearning is your best bet (can work wonders for you).
Ready for eLearning Implementation?
Here are the key considerations:
Assess the need
Examine learners' readiness
Evaluate infrastructure readiness
Assess content readiness
Decide on the implementation strategy
According to sources, the global corporate eLearning market size will be worth approximately 50 billion USD by 2026. This does not come as a surprise, because 90% of businesses today use eLearning compared to a mere 4% in 1995.
If you are also planning to join the fold and reap the benefits of eLearning, then this blog is for you!
eLearning: What it is and What it is NOT
eLearning is learning facilitated by technology for its design, development, delivery, administration, and evaluation. eLearning is often confused with learning from videos and other digital resources.
Remember eLearning is NOT:
Just videos
Digital resources like web pages, eBooks, PDFs
Publishing well-designed Power Point slides to HTML
Adding audio to a Power Point slide and uploading it online
Key Benefits of eLearning
Reduced Training Cost
One of the most significant advantages of eLearning is that it saves you a lot of money. You can train all your employees at the same time, across different locations, without spending a penny or bearing the hassle of arranging for a venue, accommodation, food, tickets, or trainer fee. Also, eLearning courses can be used to train multiple batches across the board for compliance training and employee onboarding. What more? eLearning courses can be remodeled into microlearning modules, which can be used at different stages of the learning journey, thereby adding to its cost-effectiveness.
Immediate Access to Resources
eLearning gives your employees the opportunity to access vital training information whenever and wherever it is needed. You just need to upload the content and make it available for ease of reference. This serves as a boon for your on-the-go sales representatives as they can access training resources in a timely manner.
Self-paced Learning
Not everyone learns at the same pace. eLearning enables your employees to learn at their own pace rather than rushing through classroom sessions. With eLearning, your employees can enjoy the privilege of starting a course to break up the monotony of a busy workday and learn at their leisure. This is a clear-cut win-win for the employees and the organization.
Enhanced Learner Retention
eLearning courses enable learners to learn in an interactive and engaging setting. Stimulating interactivities ensure that the learners interact with the content. Active participation helps learners acquire as well as apply the concepts that they have learned during the course.
Improved Employee Performance and Productivity
Engaging eLearning courses help learners to get a better understanding of the subjects being taught and increases their efficiency, thereby boosting their performance and productivity.
Flexibility and Scalability
eLearning enhance flexibility and scalability in terms of your organization's size and the content of your training courses. You can provide training seamlessly to your global workforce for your choice of products and services.
Now that you know the wide range of benefits of eLearning, you must be eager to implement it in your organization. Isn't it? But the question is, will top management approve of your idea and will your employees be ready for eLearning?
Well, let's have a look at a few challenges that an organization can face while implementing eLearning. Also, let's learn a few tips to overcome them.
Forces That Restrain eLearning Adoption
Lack of Top Management Support
The top management in your organization can be skeptical about implementing eLearning. They might be concerned about various aspects including expenses, desired outcomes, security of data, and most importantly training ROI.
Solution: Present a comprehensive business case study/scenario, highlighting the key benefits of eLearning, with the aim of convincing your top management and any other stakeholders. Highlight the fact that eLearning ensures consistent training for your global workforce, especially in the post-pandemic remote work environment. Also, you can talk about the cost-effectiveness of eLearning.
Resistance from Employees
Your employees are used to the conventional classroom training session. They might not be able to decide whether they should start an eLearning course. This might be because the ones who are not tech-savvy might find it difficult, senior employees might feel disrespected, and some might be overwhelmed with the plethora of webinars and other online learning courses.
Solution: Talk to your employees about the fascinating elements of eLearning like gamification, video- based learning and microlearning modules and demonstrate how they can have an immersive learning experience.
IT Bottlenecks
You might not have the required IT infrastructure that is essential to implement eLearning courses. There could be many issues concerning your organization's connectivity or security. There many be limitations in terms of your technical support, and you may be working with a traditional LMS (Learning Management System).
Solution: Look for a contemporary LMS that offers a user-friendly interface, easy and simplified navigation, and robust security. An LMS with plenty of new features that supports eLearning implementation is a must.
Lack of In-house Expertise
Most organizations face a lack of skilled resources in eLearning design and technology, and this is a genuine constraint. Your team might not know where to start. Even if they are ready to acquire the desired skills, they still might find it time consuming to develop eLearning courses in-house. To add to it, the SMEs (Subject Matter Experts) are preoccupied and are not interested in generating content.
Solution: You can outsource the design and development of your eLearning courses to eLearning vendors who are competent and have experience and expertise in developing effective eLearning courses. This saves you and your SME's and the in-house team their valuable time.
Budget Constraints
Implementation of eLearning courses requires huge investments. Your organization might not have an adequate budget to allocate towards eLearning and corporates usually treat training as important but not urgent (push back their training to a later date).
Solution: Highlight the cost effectiveness of eLearning to top management comparing it to classroom training. Also, emphasize on how eLearning can help with uninterrupted and hassle-free corporate training. You can also focus on the increased utility of eLearning courses which can be remodeled and presented as microlearning modules to address various training needs.
Key Considerations to Implement eLearning
Assess the Need for eLearning
The basic objective of an eLearning needs assessment is to identify existing problem areas where eLearning can provide effective solutions. Every organization has different needs. Let's say your organization is launching a range of new products every three months and training your sales force on these new launches. In this case, training your sales teams in a classroom setting can be tedious. Here's where eLearning can solve your problem and you can train all your sales representatives at their own pace and on the go.
Another scenario could be the launch of a new software in your organization – or a new policy that is in effect. In such cases, eLearning is the most effective training strategy where all your employees across the organization need to be trained.
Quick parameters that will help you assess the need for eLearning
Functional areas impacted by the business
Profile of the target audience (age, gender, educational and work-related background, prior knowledge on the topic, prior experience with eLearning)
Allocated budget and time
Examine Learners' Readiness
Every organization has a heterogeneous mix of employees. However, by 2025 millennials are expected to represent 75% of the global workforce. Millennials have short attention spans and gaining their attention is a huge challenge. They are a tech-savvy generation and prefer immediate access to information.
It is essential for you to meet the needs and preferences of a major chunk of your workforce, and eLearning can be of great help there. A solid instructional strategy can help you design eLearning courses that are highly engaging.
Let's explore a few appealing elements that can be included in your eLearning courses to give your learners an immersive learning experience.
Video-based modules
Who doesn't love watching videos? You can leverage this modern medium to your advantage by creating compelling learning assets through a combination of graphics, text, voiceovers, live images, and music. This in turn enhances learning and makes it enjoyable for your learners.
Gamification
Playing video games is one of the hot favorite pastimes of millennials. When you add gaming elements to your eLearning courses, it gives your learners the opportunity to learn while also having fun. Scores, badges and leaderboards in your eLearning modules instill a competitive spirit among your learners and keep them engrossed in the course.
Microlearning modules
Lengthy training programs can be tiring for your learners. You can help them with quick "bite-sized microlearning nuggets" and also make the modules mobile accessible. This makes the learners' lives easy as they can learn at their own pace and on the go.
Evaluate Infrastructure Requirements
To deliver eLearning you need to develop a stand-alone eLearning system with a robust IT framework. Apart from the basic infrastructure such as internet connectivity, LAN, and servers, you need to have a place for hosting your courses. This is where eLearning courses are uploaded to a centralized location making them available for your employees.
This is known as the Learning Management System (LMS) which facilitates the delivery and management of training content. It can host all kinds of courses that learners can access via usernames and passwords. The LMS also needs administrators to manage its learners and courses remotely. The LMS also generates reports that helps management evaluate training effort and make critical business decisions.
Assess Content Readiness
If you have been training the employees at your organization fora long length of time, you would have some content available. Rather than starting to develop content right from scratch, you should look for content that is already existing in the form of textbooks, PPT slides, facilitator guides, participant handouts, and so on. You can convert these classroom training materials into eLearning courses and save a lot of the SME's time and effort.
Decide on the Implementation Strategy
The 3 key steps to implement eLearning are:
Present a comprehensive eLearning business case study/scenario to convince top management and key stakeholders
Run a pilot program to measure the effectiveness of eLearning. This helps you identify potential roadblocks and make necessary corrections.
Scale Up; implement eLearning on a larger scale
Summing it Up!
A well-designed eLearning program can make your corporate training program shine and immensely improve your employees' performance and productivity. As a result, you can expect better training ROI and greater profits. With this extensive knowhow on the different aspects of eLearning, I am sure you are ready to implement it in your organization.
Want to become an eLearning champion? Here's your guide.