Rapid eLearning: 6 Things Every Training Manager Should Know
Are you looking for quick eLearning development? Explore how the rapid eLearning development can help. Contrary to misconceptions, rapid eLearning adheres to instructional design principles, while leveraging rapid development tools. Read more here.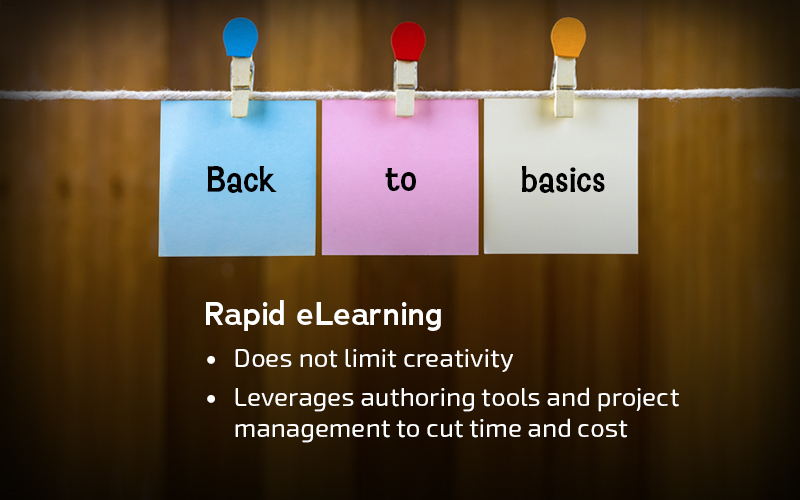 What do you understand about rapid eLearning? Is it an online training strategy to quickly design eLearning modules with a low shelf-life? Is it using authoring tools to cut down development time? Is it just another misleading terminology?
What do you think?
Ever since its conception, rapid eLearning has been interpreted differently by different industry thought leaders. It's difficult to pin down what is correct and what is not. Often, rapid eLearning is used to develop courses with a low shelf-life that need to be rolled out urgently.
Let's look at the situation the corporate world is facing right now. In the wake of the Novel Coronavirus (COVID-19) pandemic, organizations are looking for a quick solution which will allow them to go online with their training, and rapid eLearning is the go-to solution.
What is Rapid eLearning?
6 Things Every Training Manager Should Know
Rapid eLearning does NOT mess with quality and instructional design
Rapid eLearning does NOT throw creativity out of the window
Rapid eLearning leverages the power of authoring tools
Rapid eLearning does NOT do away with project management
Rapid eLearning takes less time and cost to develop
Rapid eLearning offers immense scope
It is also true that rapid eLearning leverages the power of authoring tools. These definitions, though correct, do not paint the full picture. So, here is a simple definition – rapid eLearning is the process of developing training courses with maximum impact in minimum time, by:
Eliminating complex and purely ornamental multimedia elements
Focusing on robust instructional design
Using authoring tools for quick development
If you are under the impression that rapid eLearning means mediocre eLearning courses, you couldn't be more wrong. It does not compromise on the design, graphics, interactivities, or quality of eLearning courses.
Let's see how. Here are six rarely discussed aspects of rapid eLearning which will help you understand it better.
6 Things You Should Know About Rapid eLearning
1. Rapid eLearning Does NOT Mess with Quality and Instructional Design
It is a common belief that rapid eLearning doesn't involve Subject Matter Experts (SMEs) and Instructional Designers (IDs). That's because we talk so much about the development and technical aspects of rapid eLearning, and often neglect the design aspect. Though it may not need extensive involvement of SMEs and IDs (unlike in custom eLearning development where they have to create content from scratch), their expertise is still needed to make the content online-ready.
Rapid eLearning is created from existing content in the form of ILT materials, PPT decks, and old legacy and Flash-based courses. This content is often incomplete or outdated, and SMEs need to review it thoroughly, fill gaps, and update relevant information.
On the other hand, IDs have to decide on an instructional strategy, chunk the existing content, set learning objectives, decide on the level of interactivity, and plan for formative and summative assessments based on the learning objectives.
2. It does NOT Throw Creativity Out of the Window
There is another widely held misconception that when you choose to go for rapid eLearning, you limit yourself to click-next courses. That is not true at all. Rapid courses may do away with the unnecessary bells and whistles, but they do not lack creativity. It is up to the instructional designers to use the right instructional design strategy and innovative ways of delivering content to learners.
Cutting down production time doesn't limit creativity. Moreover, many authoring tools provide built-in templates for branching scenarios, animations, guided learning with avatars, simulations, and even VR-based immersive learning. So, contrary to common belief, rapid eLearning can be used for developing engaging courses for any type of training, be it compliance, onboarding, safety, or software system training.
3. Rapid eLearning Leverages the Power of Authoring Tools
Authoring tools are an important part of the rapid development process. Leveraging the features of authoring tools (built-in templates, stock images, graphics, and interactivities) facilitates the development of creative designs and interactivities without the need for extensive programming knowledge.
Though reusable templates save a lot of time and effort, using them too often makes courses look repetitive. There is a simple remedy for this – customizing templates based on the type and topic of training. Templates provide the basic layout for the eLearning course, and it is not necessary to use the same colors, characters, images, or videos. Thousands of stock media assets can be used to diversify courses.
For example, a gamified template modeled on the lines of a board game can be used for both safety training and product training.
4. It does NOT do away with Good Project Management
Rapid eLearning is the best way to get fast results and keep your stakeholders happy, but it is not possible without good project management. An agile and iterative process ensures checks and reviews at every step of the process. With this process, feedback from the SMEs and other stakeholders is implemented diligently at each step, avoiding rework at a later stage and saving a lot of time and cost.
If you are planning on outsourcing your rapid eLearning development to a vendor, ensure they have a robust project management process in place. Also ensure they have a single point of contact and establish regular communication channels, at least in the beginning. An open communication channel is necessary to ensure quality.
5. It Takes Less Time and Cost to Develop
There are various claims on the Internet that rapid eLearning reduces cost and development time by 40-60%. There is no doubt that it does reduce the time and cost of development as compared to custom eLearning development, but how much depends on your training requirements.
Courses with minimal interactivity demand less time and effort and can be developed quickly within a tight budget. But if you want highly-interactive courses using rapid eLearning, it will definitely cost more and take longer to develop.
6. Rapid eLearning Offers Immense Scope
Rapid eLearning is a strategy that isn't limited to one type of project or training. It leverages the power of technology combined with sound instructional design, and can be employed for any number of projects; be it ILT to eLearning or Flash to HTML5 conversion. You can also use it for quickly translating standard English courses into multiple languages.
Rapid eLearning is also being used to convert webinars and VILT (Virtual Instructor-Led Training) to online courses. This saves time and cost and uses archived and (usually) never re-used resources. New-age software like Amazon Polly and Panopto are great tools to improve rapid development. Amazon Polly is a text-to-speech generation software which provides better quality voice-overs than most authoring tools. Panopto enables recording, live streaming, storing, and managing videos within a cloud or an LMS, and has a built-in analytics tool to monitor video activity.
Summing it Up!
So, there you go. I hope this blog has cleared any misconceptions you might have had about rapid eLearning. It is all about innovation – the right design, the right dose of creativity, and the right tool – to develop courses, and you can count on a healthy jump in business ROI.
To know how rapid eLearning can be your trusted partner in rolling out quick eLearning courses, download this eBook.