5 Misconceptions about Rapid eLearning Debunked for Training Managers
Rapid eLearning is the quickest and most cost-effective way of developing eLearning courses for organizations just starting with eLearning or those already using it. However, there are a few misconceptions about rapid eLearning development. This blog debunks five such myths.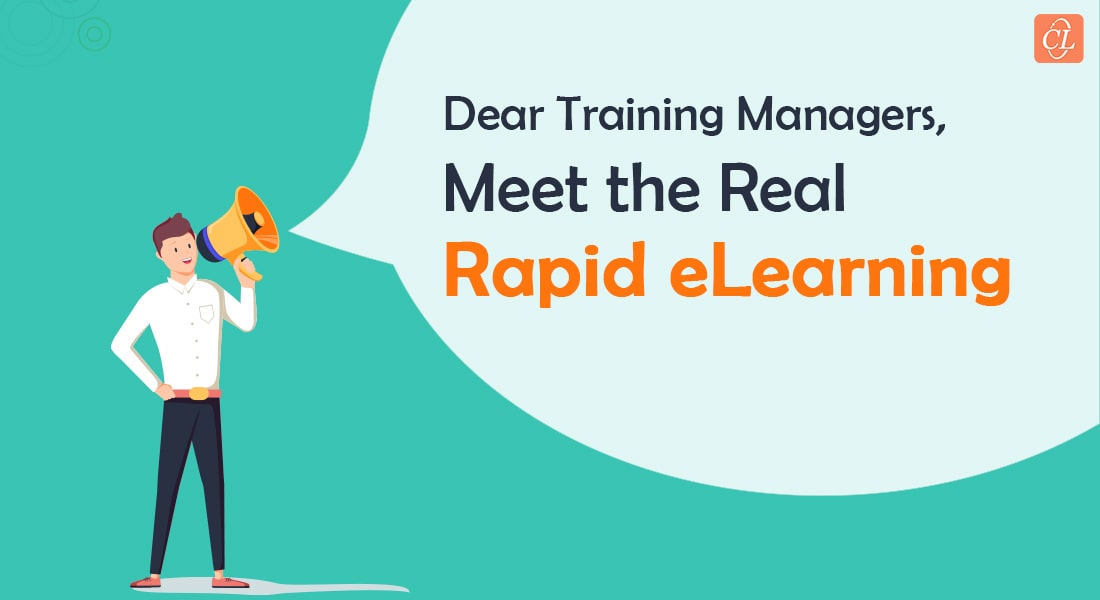 In today's corporate world, being a training manager is not easy, especially with the disruptions to training initiatives because of wave upon wave upon wave of COVID-19. You are under immense pressure to meet training deadlines notwithstanding the time constraints and budget cuts. What if I tell you that there is a solution to all your training woes – something that promises to deliver impactful eLearning solutions within your timelines and budget? Yes, I am talking about rapid eLearning!
Rapid eLearning it's a fast and effective way of delivering online training solutions. However, there are still many myths and misconceptions surrounding it. In this blog, we will debunk five common misconceptions about rapid eLearning and explore how rapid eLearning can help develop a successful strategy for online training that will take you closer to your desired organizational results.
Five Misconceptions about Rapid eLearning and the Facts
Misconception 1: Any available content can be used for rapid eLearning development
Rapid eLearning does use existing training material – from classroom training or legacy courses – building on it to design and develop eLearning courses. This helps save on time that would otherwise have been spent on creating content from scratch.
Rapid eLearning and Common Misconceptions
Here's the Truth:
Rapid eLearning doesn't do away with instructional design
Rapid eLearning doesn't compromise quality
Developing courses doesn't need complex programming skills
eLearning courses can be developed from legacy courses, question banks, webinars, PPT decks, classroom ILT (instructor-led training) handouts, PDFs, SOPs, and more. Though any form of content can be converted to eLearning, it needs to be made suitable for eLearning.
So, you need to ensure the content:
Is aligned with the performance-based learning objectives
Includes all relevant information with no gaps
Uses the appropriate instructional design strategy that ensures learner engagement despite the absence of a facilitator or an instructor
Includes formative and summative assessments that are aligned with the performance-based learning objectives
Here's an infographic that shows what needs to be done to convert your classroom training to eLearning.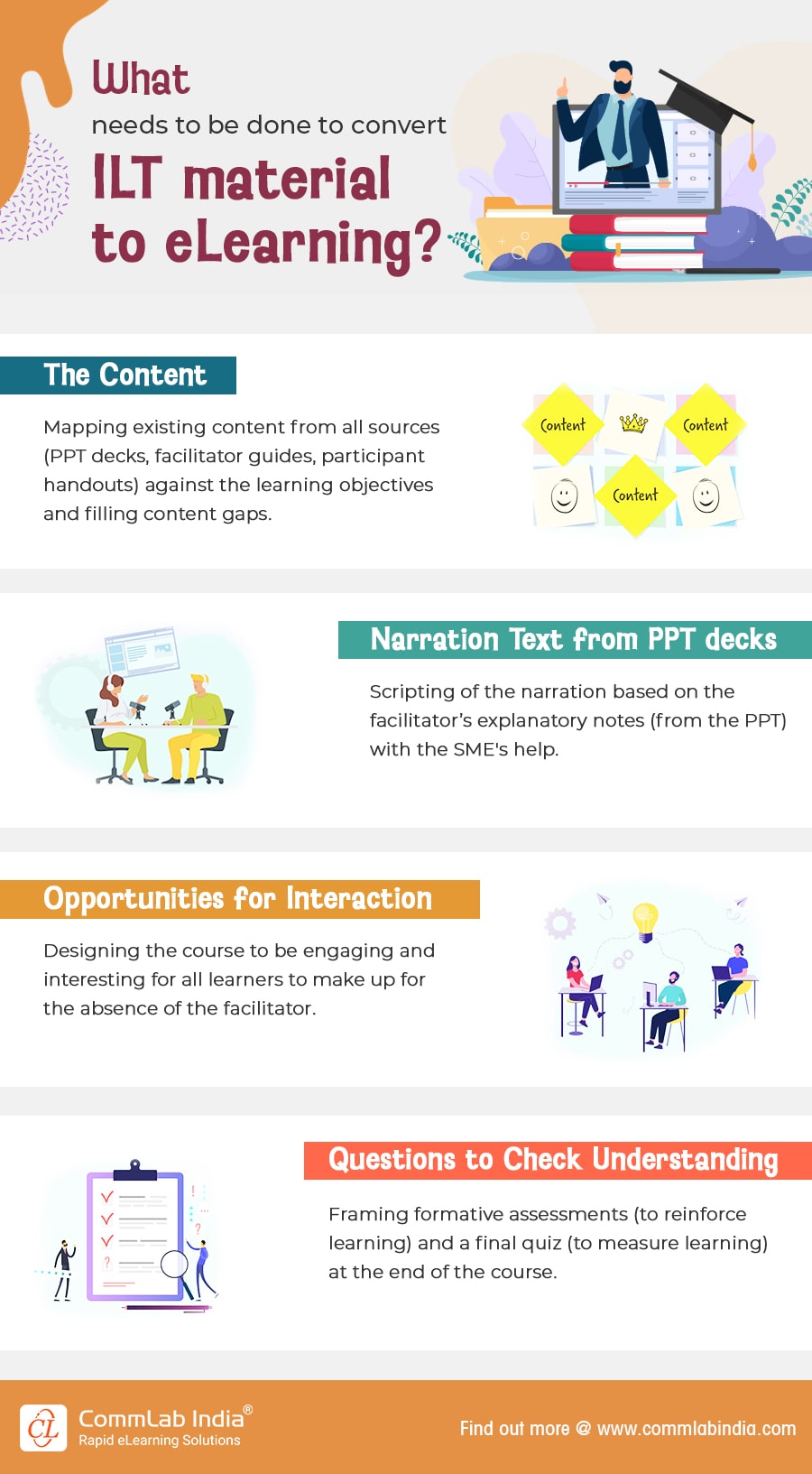 Misconception 2: Less cost means inferior quality
It is true that rapid eLearning development takes less time and so costs much less than conventional eLearning. This is made possible with the use of:
Existing, readily available content
Agile processes that eliminate costly rework
Use of rapid authoring tools (with in-built asset libraries and templates)
You also don't have to invest in time and costs to train your L&D team on using complicated tools and software. Pre-built eLearning templates make it easy to incorporate new-age learning strategies to engage learners, offering ample scope for game-based learning, storytelling, and more. Rapid eLearning does eliminate the fancy frills of conventional eLearning but follows the principles of instructional design, producing high quality eLearning.
Misconception 3: Courses developed this fast will not be interesting enough
Pre-built eLearning course templates save developers' time. And you might be forgiven for assuming that such courses will lack originality and really bore learners. However, rapid learning authoring tools offer hundreds of options, which can make your courses stand out.
Using templates in multiple patterns can give a huge variety of combinations which will be highly engaging for the learner. Also, you can always expand your online asset library or personalize the eLearning templates based on what you want out of your eLearning course.
Misconception 4: Only eLearning experts can develop online courses
Authoring tools are very easy to work with, and don't need programming skills. All you need is basic knowledge of MS Word and PowerPoint, and you can easily create eLearning courses with the help of rapid authoring tools. Rapid authoring tools also have rich inbuilt templates. You can incorporate the templates in the course by simply using cut, copy, and paste functions. This does not require you to be an expert. If you have classroom content at hand, knowledge of performance-based learning objectives and adult learning principles, you can create high quality eLearning courses.
Misconception 5: Rapid eLearning design does not need instructional design
There's a popular misconception that instructional designers are kept out of the process of rapid eLearning development. But that is far from the truth. Instructional designers play a very important role in rapid learning which is built on robust instructional design and the principles of adult learning. For instance, it uses:
Learning objectives to inform learners what's in it for them
Free navigation to enable self-directed learning
New-age learning strategies to provide memorable learning experiences
It's a Wrap
If you are a training manager or an instructional designer, you will understand how crucial it is to leverage rapid strategies for your eLearning course development needs. This free eBook explores five best practices for instructional designers, so you can jumpstart your rapid eLearning development journey. Happy reading!