5 Compelling Reasons for Rapid eLearning Development [Infographic]
L&D loves rapid eLearning and the reasons to opt for rapid eLearning development are many! This infographic shares 5 great reasons to include rapid eLearning development in your training strategy.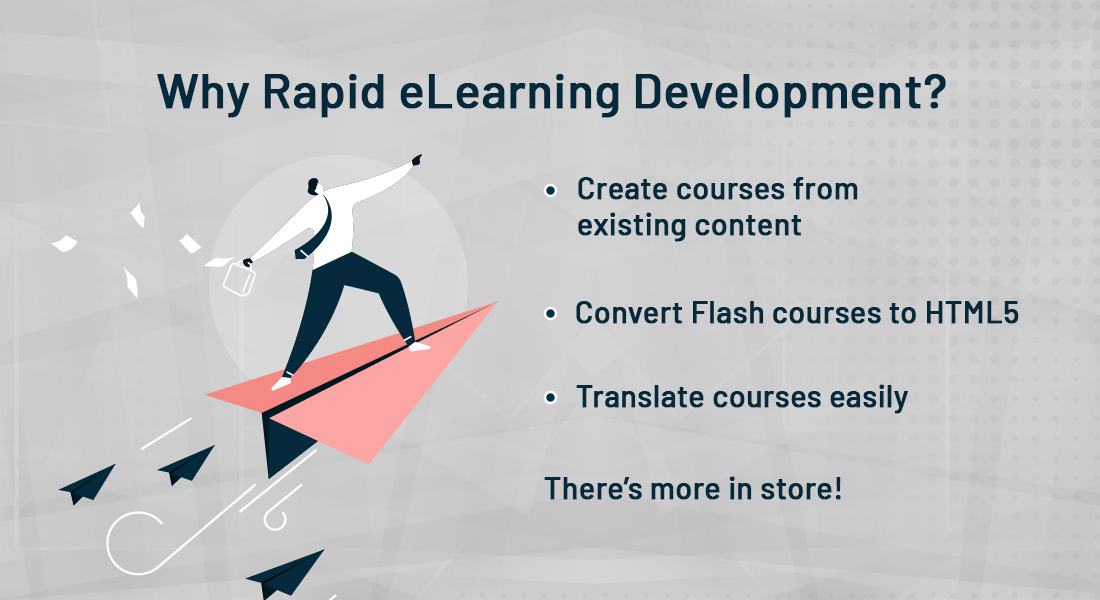 Great business results delivered within a short time! Isn't that what every organization hopes to achieve? Training plays an essential role in helping organizations achieve business goals. And when you are faced with a time crunch and need to get your workforce up the learning curve quickly, what better than rapid eLearning development!
Organizations that intend to survive the current downtime caused by the coronavirus pandemic, no longer have the luxury of developing online training at a relaxed pace. And an increasingly remote workforce doesn't make it any easier for L&D teams. So, many organizations are making the shift to rapid eLearning.
One of the hurdles in eLearning development was selecting the right authoring tool. But with the availability of so many good rapid authoring tools that offer ease of use, this problem too can be overcome. And for suggestions on selecting an authoring tool, you can always approach your eLearning partner.
This infographic shares 5 right reasons to include rapid eLearning in your training strategy.



Contrary to beliefs, rapid eLearning does not compromise on instructional design. It is based on a strong framework of instructional design principles. If you're looking for best practices in instructional designing for rapid eLearning, here's an eBook to download!