Top 6 Authoring Tools to Convert PPT to eLearning
In this rapidly changing world, can corporate training be left behind? This blog can be a good place to start if you are looking for authoring tools to convert your classroom PPTs to eLearning courses. Explore a few authoring tools now!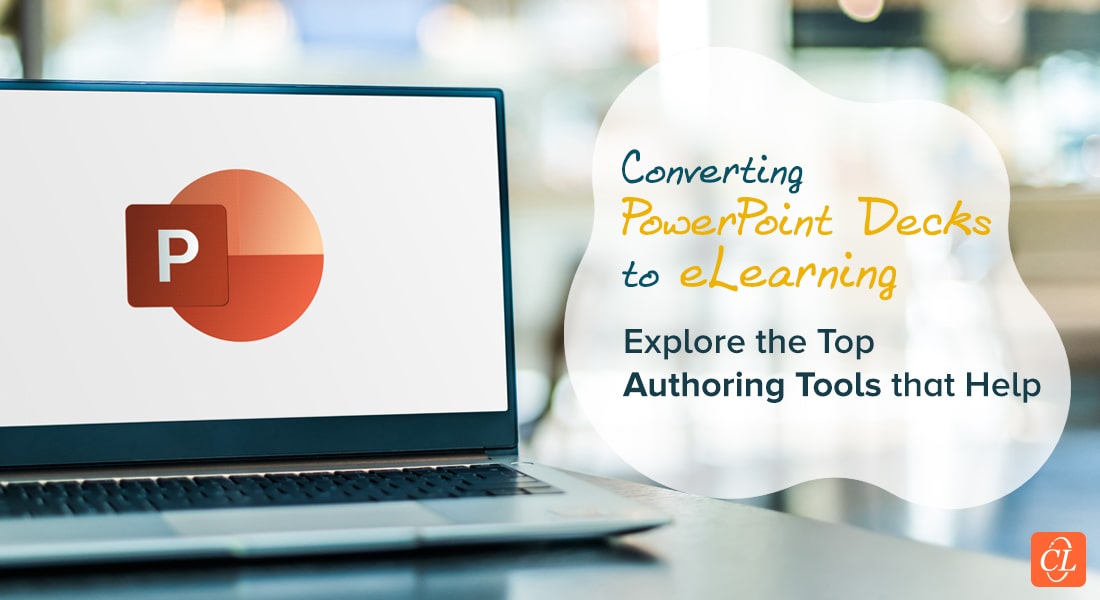 Technology has changed and training skills are being transformed in this rapidly changing world. Online training continues to play a vital role in upskilling and reskilling employees. And organizations are looking for ways to make their online training more engaging and effective.
And a good place to start online training is the PowerPoint decks used in the classroom. They can be converted to eLearning used authoring tools – if they are instructionally sound.
Here are the top 6 authoring tools that are used to convert your classroom PPTs to engaging eLearning courses.
Top 6 Authoring Tools to Convert ILT to eLearning
1. Articulate Storyline 360
The interface of Articulate Storyline 360 is more like that of a PowerPoint presentation. So, it can be used to convert your PowerPoint presentations into engaging, effective, and interactive modules in no time. Its Section 508 feature enables courses to be also accessed by employees with disabilities.
Convert your PPT to eLearning with these 3 simple steps.
Import: Open the Import option from the Home/File tab (or using the Import PowerPoint option) and import the PowerPoint deck to the Storyline file.
Browse: Browse the file from the location you want to import and click open.
Publish: As the PowerPoint moves in sequence with the default trigger to the next slide, adjust actions as per your requirements and publish the file.
2. Articulate Studio
Articulate Studio is one of the easiest tools to work with. It is more like a PPT presentation, and works as a plugin to PowerPoint.
Here are the steps to operate this tool:
Open the presentation.
Click on the Articulate plugin on the top right.
The deck opens in Articulate Studio.
Personalize the presentation with the help of inbuilt features – Engage and Quizmaker.
Engage provides 20 interesting activities to choose from to make your eLearning engaging. They include:
Accordion
Bulletin
Checklist
FAQs
Tab
Timeline
Quiz Maker includes single and multiple-choice question and matching activities. Add these activities in summative and formative assessments to test learners.

3. iSpring
PowerPoint presentations are usually the main format and source for internal training. iSpring would be a good choice to convert your PPT presentations to eLearning as it is a budget-friendly tool which also saves time. iSpring is an additional plugin for PowerPoint.
It can add readymade voiceovers, characters, and videos to the presentation and make your plain presentation visually rich. The PowerPoint published in iSpring is responsive and compatible with all the devices.
iSpring has 14 in-built question types to choose from to add to your courses. These quizzes not only add fun to the course but can also be used to track learners' progress.
4. Adobe Captivate
The authoring tool Adobe Captivate is used to create eLearning demonstrations, software simulations, and branching scenarios in a very short time.
A good tool to be used for topics which need detailed explanations, it is also one of the best options to create interesting eLearning content from the presentations used to train employees.
An interesting feature of the tool is that it has in-built questions and engaging interactivities. You can add quiz questions into the eLearning with a few clicks. It also helps track learning using the quiz results.
Adobe Captivate Prime LMS is one of the options added to the tool, that enables learners to access courses across devices if it is published to Prime LMS.
5. Lectora
Lectora is an offline and online cloud-based authoring tool, very useful for trainers to design and develop eLearning courses.
Using the 'Import PowerPoint' option, you can browse the deck from its location, and publish the PowerPoint to eLearning.
The Lectora library includes images, videos, templates, and sound clips that can be accessed and added to the eLearning. These inbuilt elements and interactivities help develop scenarios/webinars and learning content visually rich and enhance the learning.
Lectora also has an administrative dashboard. The dashboard helps users assign projects to their reviewers and send request notifications to team members. This also streamlines the reviewing and approval processes.
6. Adobe Presenter
Adobe Presenter is one of Microsoft PowerPoint plugins, and one of the best and most developer-friendly authoring tools to convert PPTs to eLearning. It mainly aims to help training managers build presentations and create effective courses to train their learners.
Live presentations can be converted into eLearning modules. Easy and simple triggers help create branching scenarios.
A Parting Note
Authoring tools speed up the process of eLearning development, and the choice of authoring tool depends on specific eLearning requirements. Since we have discussed the top 6 authoring tools, would you like to explore rapid eLearning development as well? Here's our free eBook on 'Rapid eLearning Design for Quick Rollout' for best practices to create effective online training.