What to Look for in Your eLearning Partner Before Outsourcing
Are you looking to have your corporate training course and materials developed by experts? Here's what to look for when outsourcing your eLearning requirements to a partner organization.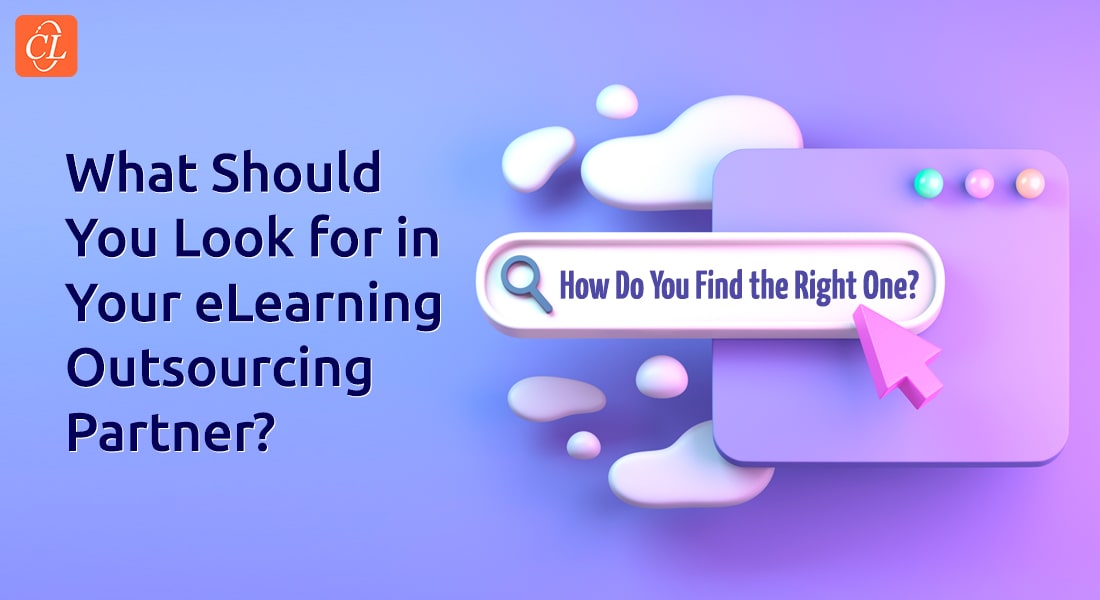 Outsourcing eLearning projects have become one of the go-to strategies for organizations looking to successfully navigate the recent changes in the market. From administrative tasks to customer service, IT management, and marketing, the market's changing trends have now extended to corporate training. That's right! Outsourcing eLearning is rapidly becoming the norm in the corporate sector, with companies hiring eLearning vendors to develop tailored courses that are meant to upskill their employees and enable them to keep pace with evolving trends.
What should you look for in an eLearning company?
5 factors to consider before choosing an eLearning vendor:
Background check
Expertise
Confidentiality
Instructional design
Paperwork
In response to the ever-increasing need for corporate L&D programs, there are now a myriad of eLearning solutions providers in the market. As great as this is, it does present a rather obvious problem. With so many options, how do you choose which one is best suited for your learning needs?
In this post, we'll share five factors to consider when choosing the right eLearning partner for your corporate training needs. But first, we'll dive deeper into the growing popularity of outsourcing the development of eLearning courses.
Let's get started!
The Rise of Outsourcing eLearning in the New Normal
Modern organizations have realized that there's a smarter, more cost-effective way to carry out their employee training rather than taking the DIY route. The COVID-19 pandemic forced thousands of organizations to revamp their workspaces and embrace remote, virtual teams – a massive shift from the traditional on-site workspace.
In doing so, these corporations have partnered with various organizations to handle the changing dynamics of their operations as they move toward digitization. This development has led to the discovery of employee skills gaps as their staff need proper training on how to use digital technologies and carry out their tasks remotely.
Due to COVID-19 restrictions and internal complexities, many organizations couldn't carry out their instructor-led training sessions and had to quickly adopt virtual sessions, which weren't as effective.
Companies utilizing eLearning courses for their employees were too busy dealing with more pressing business continuity issues. No one had the time, resources, or expertise to upgrade their training content according to their emerging needs.
This is where outsourcing eLearning came in. It solved this complex problem and helped companies upskill their employees with highly intuitive digital courses designed to enhance productivity and reduce the skills gap.
Advantages of Outsourcing eLearning Course Development
Companies that don't outsource their training requirements are often faced with several problems. For instance, they hire large teams comprising full-time subject-matter experts only to take on huge costs. In contrast, start-ups and small companies typically hire a team of a few amateurs and specialists and this leads to poor learning outcomes.
Let's check out some key benefits of working with an eLearning partner:
1. Versatile Expertise
Depending on the eLearning solution provider that you go for, you get a versatile team of subject-matter experts and instructional designers to develop and implement your creative ideas and bring your eLearning courses to life. You also get multimedia developers who are ready to tailor eLearning courses with your specific requirements. In this way, you no longer need to burden your management by hiring full-time eLearning experts to develop your training programs.
2. Time-saving
Most eLearning providers already have authoring tool experts and experienced eLearning course developers. As a result, you can be confident that they have the expertise and skills necessary to build your eLearning course in a short amount of time. All you must do is inform the eLearning development team of your needs so that they can personalize your training content and build your training programs.
3. Broader Scope
Many modern organizations have a variety of corporate training requirements, particularly if they conduct remote and international operations. In such a case, an eLearning provider could assist you to localize or translate your current training content and design a new course from scratch if you are focusing on a particular local culture, language, or region. They can also convert your legacy courses into the latest rendering in HTML5 so that they're mobile-friendly.
5 Factors to Consider When Finding the Right eLearning Partner
If you're on the fence regarding what to look for in your eLearning outsourcing partner, then here are five things for you to consider before making your decision:
1. Background Check
When looking for an eLearning vendor, the first thing you should do is run a background check to discover their expertise, the authoring tools they use, and their ability to understand your learners' needs. Just because an eLearning solutions provider has a strong reputation it does not guarantee that they will be a suitable fit for your organization. As a result, you'll need an eLearning partner that can anticipate your training needs and create customized courses for you based on these needs.
2. Expertise
One of the main indicators of an eLearning solutions provider is their knowledge of your core business as well as their technical capabilities. You must determine if the eLearning company is well-versed with your specific needs and understands the latest best practices and eLearning trends.
Before scheduling a virtual or a face-to-face meeting with your eLearning partner, ask them about their previous projects to see if they have the competence and tools to handle your project. You can also find out about the tools that they have worked on in previous projects.
3. Confidentiality
You'll be sharing many of your company's secrets with a third-party, therefore, how they address confidentiality issues are one of the main factors that you need to consider when hiring an eLearning partner. You need them to sign a non-disclosure agreement with you ensuring the sanctity and integrity of your company's information, including its products, services, and business model.
Moreover, you also need to ensure that your team members sign confidentiality agreement forms maintaining the privacy of your company's critical information. If you're planning to upskill your IT team, then you need to make sure that all your company's data is secure, and the related files are encrypted.
4. Instructional Design and Project Management
Your eLearning partner should have instructional designers who are capable of working on a variety of topics. Instructional designers are critical to the development of eLearning courses, because they assist in the remodeling of your corporate training course as well as work on creating training content that is tailored to your company's requirements. More importantly, your eLearning partner must have an efficient project manager who can provide simple and clear solutions to ensure the development process is streamlined.
Furthermore, you should set up a progress review to learn whether you're on track to meet your course's objectives. By reviewing each stage of the storyboard, your eLearning partner can design alpha and beta versions of your course to improve its quality.
5. Paperwork
To kick start any business relationship, you need to define and lay out detailed contracts to protect your company's interests. When hiring an eLearning vendor, make sure you thoroughly define the metrics calculating your course's success and failure to ensure that both you and your partner are on the same page. You can also create checkpoints to keep track of progress and include procedures to handle any escalating problem and maintain pace of your eLearning project.
To Conclude
To summarize, finding the right eLearning partner is one of the keys to the success of your corporate training programs in the digital age we live in. If you've never outsourced eLearning courses before, then start with a small, pilot project to see how it works and build on that experience with necessary additions. As outlined above, these are the main factors that you must consider when choosing an eLearning vendor.
For more insights on how to select the right eLearning vendor for your next outsourced training program, here's a comprehensive guide for you. Download now!