4 Reasons You Must Convert Your Legacy Courses
If you an organization which has a repository of legacy courses in place, it is time to convert them. In this blog, learn five reasons you should repurpose your legacy courses to meet today's learning needs.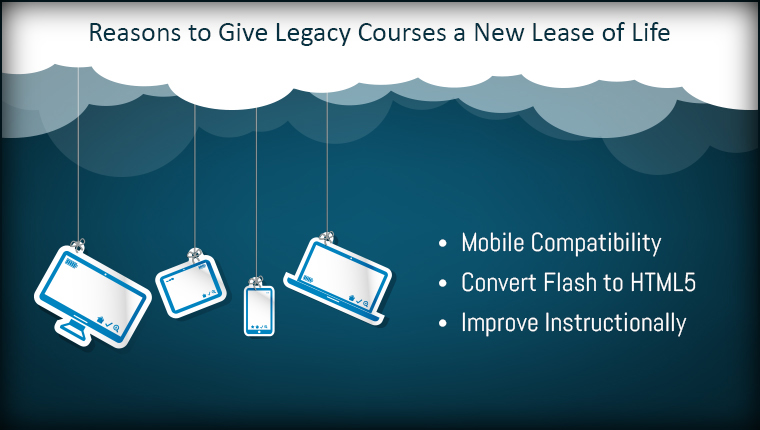 Legacy courses are any courseware material created using yesteryear software/authoring tools. These could be online learning courses created using Adobe Flash, older versions of today's most popular rapid authoring tools such as Articulate Storyline, Lectora Inspire or Adobe Captivate.
Why Do You Need to Convert Legacy Courses?
Make courses mobile compatible
Enhance page-turner courses instructionally
Develop courses that appeal to the millennials
Convert Flash to HTML5
Most of these courses are bulky, lengthy, lack support for mobile, have outdated instructional strategies and design. As a result, these courses may fail to engage learners, leading to higher dropout rates, and poor performance results. Having said that, legacy courses may be technologically obsolete, but they still pack some important elements you don't want to leave behind—new, better courses can emerge out of them.
If you are one of those organizations which has a repository of legacy courses in place, you may want to consider converting them to meet the modern learning standards. Here are four reasons you should convert/repurpose your legacy courses and give them a new lease of life.
4 Reasons You Should Convert Your Legacy Courses
1. Make Courses Available on Any Device
One notorious drawback of legacy eLearning courses is that most of them cannot be accessed on mobile devices—especially Flash-based courses (more on this later in the blog). This lack of support for mobile is a deterrent for many modern learners as they prefer accessing/taking courses on their multiple devices and are drawn more towards bite-sized, on-the-go learning.
Therefore, it makes sense to convert the device-agnostic legacy courses and make them compatible for mobile devices for anytime-anywhere access. Courses that are converted from Flash to HTML5 are compatible with the modern browsers such as Internet Explorer 11.0, Microsoft Edge, and Safari, along with iPads running on iOS 12.
An American multi-national telecommunication conglomerate recently converted 1000+ courses using the rapid authoring tool Lectora Online. These courses now run on all devices and browsers, making them accessible to all their associates, employees and other stakeholders.
2. Enhance Page-Turners into Engaging eLearning
Like I mentioned in the introduction, legacy courses are known for their bulkiness and outdated instructional design—be it text, audio, animations, or video graphics. A 'page-turner', text-heavy course is a perfect recipe for disaster when learners are expected to remember, recall, and apply the skills and knowledge acquired from training to their work tasks.
What these bulky courses need is an instructional design makeover. When you opt for converting legacy courses, they are handled by adept instructional designers who ensure the course is instructionally sound and consists of all the necessary ingredients that make a course engaging.
For example, replacing the nice-to-know with need-to-now information, infusing the course with tried-and-tested eLearning interactivities, using appropriate instructional strategies are just some of the tasks IDs undertake to make the course more engaging for learners. Authoring tools are made use of to leverage the ready-to-use templates (for assessments and interactivities) they offer to cut down on the development time and cost.
A pharmaceutical company wished to convert their text-heavy eLearning courses—the course lacked interactivities, offering no interaction between the learner and the content whatsoever. The company decided to make them more interactive for learners not only to offer an engaging learning experience but also to ensure they retain the knowledge and improve their productivity.
The investment was driven owing to the intention to be on the top of the competition which, as you know, is only possible if employees perform well. We developed a set of 15 standard templates for various learning activities, ensuring that each of the topics were instructionally sound. The use of templates in Articulate Storyline by our team of instructional designers meant courses were rapidly designed and developed within just weeks.
3. Develop Courses that Appeal to the Millennials
Today's workforce comprises of mostly millennials who:
Are tech-savvy, mobile learners
Have shorter attention spans and learn best if learning happens in small chunks
Expect to be able to work/learn anywhere at any time and on any device
To make courses appealing to the millennial workforce, the content in the legacy courses is chunked into bite-sized learning modules and made accessible on multiple devices – each module covering one learning outcome.
In another instance, a pharmaceutical giant converted its legacy classroom material to 200 bite-sized learning modules for their newly hired sales representatives. These modules were on various subjects such as anatomy & physiology, drug usage, and handling doctor objections. Their millennial sales force readily accepted this training approach as it gave them the opportunity to learn in bite sizes, which resulted in a stunning completion rate of 94% in the first year.
4. Convert Flash to HTML5
When we started developing eLearning, way back in 2000, our primary tool was Flash. It was a great tool to create awesome animations and high-quality audio. But, sadly, it offered no support for mobile devices. Add to this, it was simply cumbersome to make Flash courses SCORM compliant—which meant that they could not be hosted and run on an LMS.
Now that Apple and most modern browsers have pulled their support for Flash, all that's left to do is to convert these courses quickly using latest authoring tools (such as Articulate Storyline, Lectora Inspire or iSpring), and make them compatible to run on mobile devices and modern browsers. Read a case study on Flash to HTML5 conversions here.
Concluding Remarks
'Modernizing' legacy courses is the call of the hour as the corporate learning scenario moves toward more urgent and flexible learning solutions such as bite-sized learning and having access to learning on the go—two big learning needs that the legacy courses simply cannot satisfy.
You can also update legacy courses if you are moving to a new authoring tool in-house. If you identify with these reasons, it's time you think of strategies on how quickly, creatively, and economically you can convert these courses. Explore some interesting strategies to streamline your Flash to HTML5 conversion in our eBook.