Top 5 Reasons Why You Should Consider Legacy Course Conversion
Legacy courses definitely contain a wealth of knowledge! But if only continuing this streak of knowledge transfer was this simple. However, legacy course conversion can help! Check out top 5 reasons why you should consider legacy course conversion.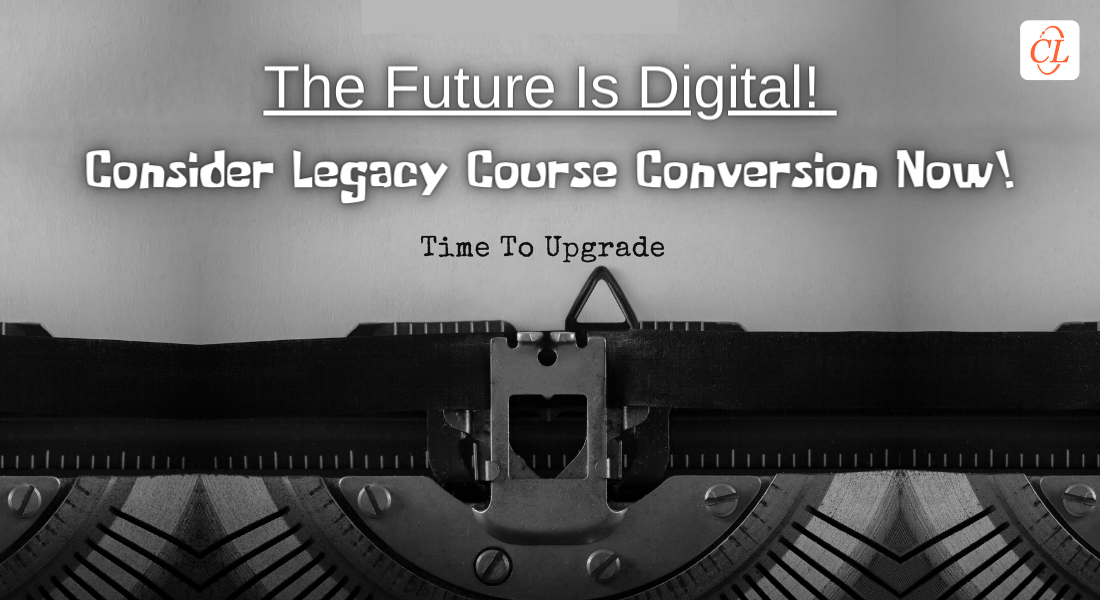 Have you met legacy course conversion? Well, you'd get the reference if you've watched the popular TV series "How I Met Your Mother". Coming back to the point, in legacy course conversion, old meets new and learning opportunities are transformed! In the fast-paced world of business, it's essential to keep up your corporate training with the latest technological advances and adapt to the changing needs of your learners. One cannot deny the fact that legacy courses, while valuable for their time, become outdated and may no longer meet the learning needs of modern learners.
But don't worry! This is where legacy course conversion comes to the rescue. It provides you with an opportunity to breathe new life into your existing courses and transform them into relevant, engaging, and effective training materials. You can do so by leveraging the power of technology, multimedia, and interactive eLearning authoring tools. Without a doubt, legacy course conversion opens up a world of possibilities for trainers, learners, and organizations alike.
The Future Is Digital! Consider Legacy Course Conversion Now!
Here are the top 5 reasons to convince you:
Improves relevance
Enhances engagement
Ensures cost-efficiency
Promotes better learning outcomes
Facilitates wider accessibility
Invest in legacy course conversion and get ready to embark on a journey of creativity, innovation, and transformation. Still having second thoughts? Hold your horses! Here are a few amazing reasons why legacy course conversion deserves your attention.
Top 5 Reasons Why You Should Consider Legacy Course Conversion
Improves Relevance
Legacy courses are designed to provide a relevant and valuable learning experience to your learners. But as time passes, the content becomes outdated and loses its relevance. This is especially problematic in fields where technology, innovation, and knowledge evolve rapidly.
To help keep up with the pace of ever-changing tech and business scenarios, legacy course conversion enables you to update and modernize your pre-existing training courses. It also takes care of the element that the training content is reliable, relevant, and applicable to today's learners.
Enhances Engagement
Let's face it – we live in an era where attention spans are shorter than ever before. Modern learners expect learning experiences to be interactive, engaging, and fun. Traditional classroom training methods and instructional materials may not always cut it anymore.
Well, that's where legacy course conversion comes in. It incorporates multimedia, gamification, and other interactive tools, that allow you to design and develop learner-centric eLearning courses that are both enjoyable and effective. Legacy course conversion is like turning a boring road trip into an exciting adventure!
Ensures Cost-efficiency
Are you looking to create new courses but feeling overwhelmed by the thought of building everything from scratch? Developing a course from scratch can be a daunting and expensive task. It's like building a new house — it takes a lot of time, effort, and money to create something from the ground up.
Fortunately, there's a cost-effective way to update and modernize your courses without starting from scratch. And that way is legacy course conversion. Converting legacy courses is like renovating an existing house. By building on existing content, you save time and resources while still achieving the desired outcome.
Legacy course conversion involves using existing course materials and re-purposing them to meet new learning objectives, update content, and incorporate new technologies. It allows you to take advantage of the investments you've already made in your earlier training materials while making necessary updates to keep pace with evolving learner needs and expectations. Therefore, legacy course conversion is a smart way to refresh and modernize your course offerings while minimizing the time, effort, and cost associated with developing entirely new courses from scratch.
Promotes Better Learning Outcomes
At the end of the day, the ultimate goal of any course is to help learners achieve better learning outcomes. With legacy course conversion, you can incorporate modern learning technologies, latest instructional design strategies, and even leverage adult learning principles to enhance the learning experience. This leads to improved retention, higher motivation, and increased participation which fosters better learning outcomes and training ROI. It's like giving learners a set of tools and resources that help them unlock their full potential.
Facilitates Wider Accessibility
Gone are the days when learners had to be physically present in a classroom to learn. Nowadays learners prefer learning formats that allow them to access the training courses from anywhere, anytime, and on any device. With that said, it's no secret that legacy courses were not designed to be accessed from a variety of devices or platforms. But don't worry!
You can opt for legacy course conversion and offer your learners their preferred way of learning while maintaining the authenticity of your existing eLearning courses. When you make your training content multi-device compatible, i.e., you make it available on smartphones, tablets, and other devices, you provide your learners with greater flexibility and accessibility. So basically you open the doors to learning and make it available to everyone, everywhere.
Wrapping It Up!
Clearly, legacy course conversion is a great tool for instructors and organizations looking to modernize and enhance their training material. By updating the content, incorporating modern learning technologies and techniques, and making the courses more engaging and accessible, you facilitate an effective and immersive learning experience. Even better, you get to save some precious bucks in contrast to building everything from scratch.
So unlock the full potential of your training courses and help learners achieve their learning goals by considering investing in legacy course conversion. Before that, it's important to conduct a reality check if your training material is actually ready for eLearning. Here's a free informative webinar recording to help you decide. Check it out now!