3 Reasons Why You Need Repurpose Your Legacy Courses
This blog will help you understand why it's important to repurpose your legacy courses if you work in the L&D department and are considering what to do with the existing courses. Continue to read.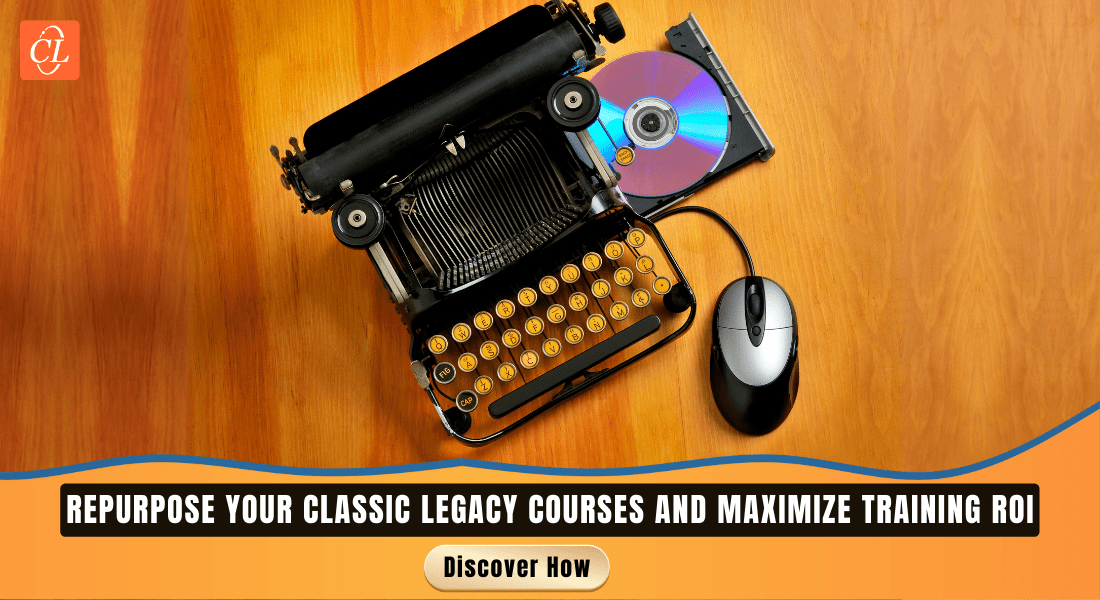 Due to the advancement of technology, many organizations have undergone numerous significant changes. Learners of today prefer mobile compatibility and on-the-go training. Due to the current state of technology, legacy courses cannot be supported, and more importantly, your outdated content is no longer relevant. How can you save your out-of-date courses in these circumstances, which have excellent content but aren't suitable for modern delivery methods and are out-of-date in terms of presentation? Organizations must repurpose the content to make it appropriate for contemporary delivery techniques.
Target audiences would prefer different learning formats, such as bite-sized, mobile, and just-in-time
Repurposing legacy courses improve the experience of the learners
Bolsters the course portfolio
Improves financial situation
How Can You Save Your Outdated Courses That Have Excellent Content?
The Answer is: Repurposing. Here's why:
Recreates Lengthy Courses in Microlearning Modules
Creates Courses Instructionally Sound
Creates Responsive Courses
What are Legacy Courses?
A legacy eLearning course is one that was created using outmoded software that isn't compatible with modern learning frameworks. Organizations have high standards for L&D professionals in terms of providing training materials that meet the rapidly shifting needs of the sector.
Although many organizations have relevant legacy courses, are today's workforce prepared to take them? Obviously no, because the modern workforce wants the freedom to take the courses at any time and from anywhere. What do we do in such situations? The best solution is to convert legacy courses into engaging eLearning courses. Are you still not convinced? Continue reading this blog to discover the 3 reasons that will convince you to repurpose your legacy courses into effective and engaging eLearning courses.
Top 3 Reasons That Will Convince you to Repurpose Your Legacy Courses
1. Recreates Lengthy Courses in Microlearning Modules
When compared to the 60–90-minute eLearning courses that were available a few years ago, today's generation will feel as though their day is moving a few million miles per hour. The generation of today is accustomed to receiving information in bursts no longer than 10-15 minutes. These short bursts make it simple for them to comprehend, and learner retention rates rise. These lengthy courses can be divided into shorter modules, each of which focuses on a single learning objective and lasts no longer than 10-15 minutes.
2. Creates Courses Instructionally Sound
Because they were created by subject matter experts, adult learning principles and instructional principles were previously absent from eLearning courses. These courses have poor audio quality and out-of-date graphics. These courses' instructional and visual design needs to be improved, and the content may need to be changed where necessary.
3. Creates Responsive Courses
Your eLearning courses may have initially been written in HTML, Flash, or another authoring language. These courses no longer work on multiple devices. In the world we live in, our learners access information using a variety of devices at various times. This means that to best support their learning preferences, your eLearning courses must operate correctly regardless of the device they may be using at any given time.
As time changes the training requirements of the organization also change. The course once was very interesting now they seem to be boring and outdated. New products get introduced and the old ones go through significant changes. Different changes that take place in repurposing the legacy courses must be reflected on them so that they are relevant to the current generation of audience.
The Need to Convert Legacy Courses
1. Transforms Flash to HTML5
Flash was the main tool when organizations started creating eLearning courses. It produces excellent animations and audio. Unfortunately, it did not provide any support for mobile devices. Additionally, creating SCORM-compliant Flash courses was simply difficult, making it impossible to host and use them on an LMS. We were left with no other option but to quickly convert the courses with new authoring tools and make the courses mobile compatible.
2. Makes Courses Multi-Device Compatible
Legacy eLearning courses that use flash have an infamous flaw of not being mobile-compatible. Modern learners prefer to access and complete courses on multiple devices and are put off if the courses are not mobile-compatible. For learners to have any time, anywhere access, it makes sense to convert the device-neutral legacy courses and make them mobile device compatible.
3. Create Engaging Courses That Appeal to Millennials
The workforce today is made up of millennials, who:
Tech-savvy Learners
Have limited attention spans
Learn best when information is presented in small modules
To make the legacy courses more enticing to the millennial workforce, the content is divided into manageable learning modules that is multiple device compatible.
End Note
I hope these reasons have changed your mind and will help you in taking the initiative to repurpose your legacy eLearning courses. Instead of throwing out outdated content, it is always preferable to update it with current information. Check out this eBook to learn more about converting your legacy courses and to get all the insider tips.