How to Improve Your eLearning Development Cycle and Ensure Rapid Roll-out
Are you worried about rolling out your eLearning courses on time? Read this blog to gain actionable insights on how to improve your eLearning development cycle and churn out courses quickly.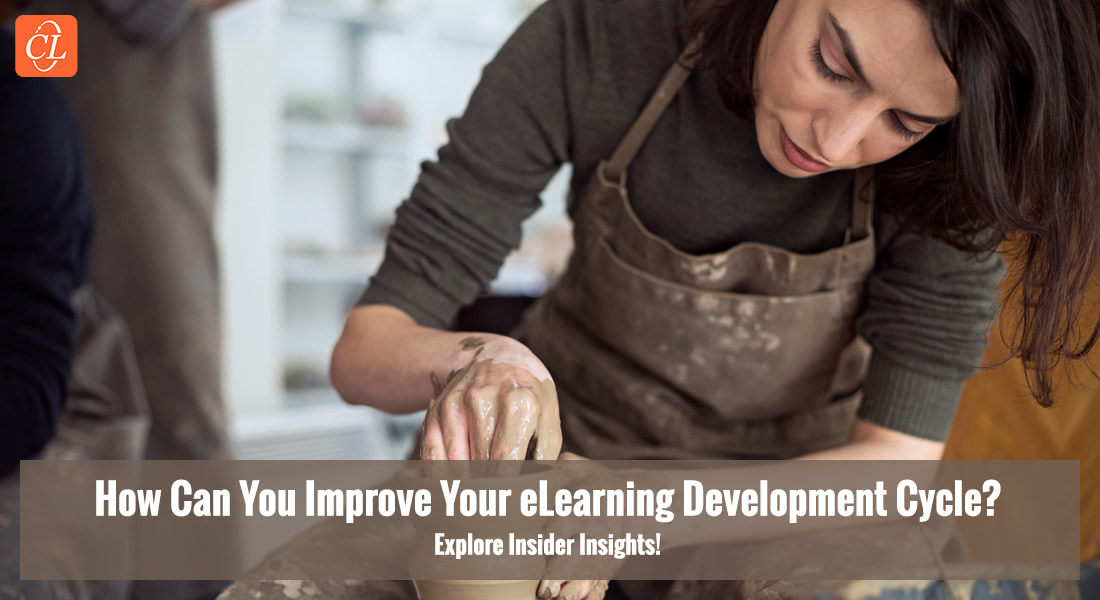 Developing intuitive eLearning courses and rolling them out within set timelines calls for well-thought action plans and execution. It's certainly not a cinch! It's an exhaustive process! And like other processes, eLearning development comes with its own set of challenges. Be it budget, time constraints, availability of subject matter experts, and other glitches in the eLearning design and development process. If you are looking for sustainable solutions to overcome these challenges and ensure quick, seamless and hassle-free roll-out of your eLearning courses, then this blog is for you.
Are you Planning to Develop eLearning Courses In-house?
Here are a few challenges you might face:
#Challenge 1: Timeline
#Challenge 2: Budget
#Challenge 3: Design and Development
Read on to get solutions and rise above the challenges.
Stages in eLearning Design and Development
As you know, eLearning is learning facilitated by technology. The design and development of immersive eLearning considers the parameters of adult learning principles, learning styles, and sound instructional design principles. It is much more than adding audio to PowerPoint slide decks or recording live sessions and uploading it on an LMS (Learning Management System). This calls for a well-defined design and development process. Let's have a look at the various stages of the eLearning design and development process.
The various stages in eLearning design and development are
Analysis
It involves analysis of the learners, available learning content, and revisiting the learning objectives to develop an instructional strategy that best delivers content. The focus should be on the job or tasks you expect your learners to perform on completion of the course.
Design
At this stage, a storyboard, comprising a word document or PowerPoint presentation, is created specifying the training objectives, the instructional design strategy and finalization of assessments and level of interactivities.
Development
During this step, course developers execute the design document specifications. The course layout, GUI (Graphic User Interface), and multimedia elements are also wrapped up at this point. eLearning experts develop the course by using authoring tools to incorporate custom content, interactivities, and assessments.
Evaluation and Implementation
This is the stage when the designers test the accuracy, functionality and quality of the course and feedback from key stakeholders are integrated.
Translation
At this stage, the eLearning course is translated to cater to a multilingual workforce.
LMS Hosting
Course developers host the eLearning course at this final stage on the LMS, and learners are given access to the course at this point.
3 Key Design and development Challenges and Insights to Overcome Them
1. Timeline Challenges
The timely roll-out of the eLearning courses is a crucial challenge. Specifically, when you need to manage it within quick timelines. It also becomes difficult when you have a lot of courses to develop within a short span of time. Availability of the SMEs (Subject Matter Experts) is another factor that creates obstacles to achieve the timely roll-out of eLearning courses. Let's have a look at a few solutions.
Solution:
Choose instructional designers with prior experience and in-depth industry knowledge
Allow for fewer review cycles to save time
Set smaller milestones to meet the targets seamlessly
Conduct the kick off call with SMEs and project managers to set the context and decide on milestones and working dates to meet deadlines
Appoint dedicated project managers to oversee the project cycle
Ensure undisrupted collaboration between teams working on the project
2. Budgetary Challenges
Cost is another essential parameter when developing eLearning courses. It is usually a huge expenditure when implementing them for the first time, nevertheless, the benefits outweigh the cost. You might be concerned about the cost associated with multiple iterations in the development process. Sometimes, certain eLearning modules need to be recreated considering feedback from key stakeholders. This is an additional cost. Adding audio to the revised modules also adds to the final cost. Let's see how we can address these challenges.
Solution:
Consult your SME on the audio scripts to cut down on extra information to save on narrator fees
Limit the word count and seek approvals before sending the audio script for recording
Make sure you fix all changes suggested and reduce the number of reviews
Share the project schedule link on a platform accessible by all stakeholders to ensure real-time tracking and timely completion of the project
3. Design and Development Challenges
For a smooth eLearning design and development process, your instructional designers should have the required knowledge and experience. Certain challenges faced at various levels of the design and development process include:
Lack of clarity on the initial feedback before starting the eLearning design and development process
Non-alignment of the courses with modern learning preferences
Design and development of courses that are compatible on multiple devices
Let's check out a few workable solutions to mitigate these challenges.
Solution:
Create a list of queries and clarifications from SMEs. This reduces the probability of missing out significant information and it also saves a lot of time. Also, you must focus on putting in place an agile project management system to ensure seamless execution of the eLearning project.
You must make certain you design learner-centric courses for immersive learning experiences. A deep analysis of your learners and the learning environment can help you design courses that are just right for them. Today's workforce is primarily made up of millennials, and they love immediate access to information. Microlearning modules like videos and podcasts can attract today's modern learners. Gamification can be another fantastic strategy to interest new-age learners.
Leverage the power of rapid authoring tools to design responsive eLearning courses. You can also target obsolete legacy courses and convert them to HTML5 to make them multi-device, multi-browser compatible.
Parting Thoughts
To ensure quick, seamless and on-time roll out of eLearning courses, you should-
Schedule a kick-off call with all the key stakeholders and SMEs and orient them on the project life cycle, the process, and their involvement at various stages of the project.
Put in place an online project tracker to assess progress and enable transparent communication with key stakeholders regarding project deliverables, due dates, and SME reviews
Conduct weekly status calls to analyze project progress and discuss potential roadblocks
Assess risks proactively and ensure constant collaboration for smooth execution of the project.
Though it seems easy, the eLearning design and development process requires extensive planning and an agile project management system to manage the project life cycle. Proactive assessment of risks, collaboration between key stakeholders like SMEs and project managers and regular status checks on the project progress can help you quickly roll out of your eLearning courses.
Looking forward to gaining some practical insights on eLearning? Hear top L&D professionals sharing their experiences and best practices in the corporate training world. Join us for LearnFlux, a 3-day virtual learning event and broaden your learning horizon.