Top 5 eLearning Authoring Tools Revolutionizing Learning to Create Engaging Training Courses
eLearning authoring tools are taking the eLearning course development process to a whole new level with their high-quality, interactive features. Read on to find out top 5 eLearning authoring tools that will help you design engaging training courses.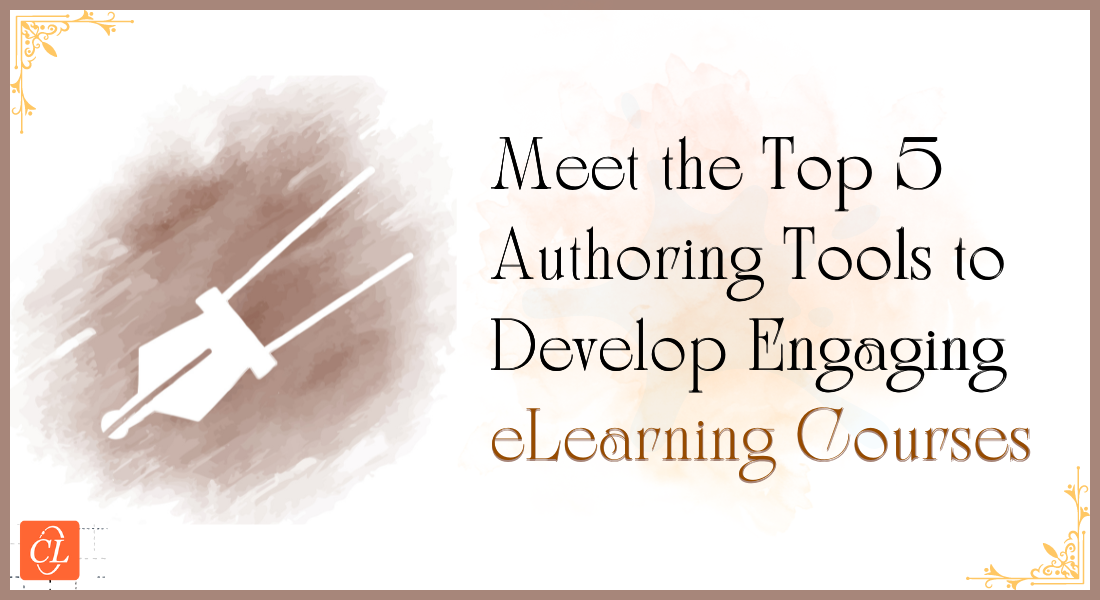 Gone are the days of designing and developing training materials in a tedious and time-consuming manner. If you're wondering why? It's because eLearning authoring tools have certainly revolutionized the way training content is developed and delivered. Today, we have a wide range of eLearning authoring tools that make the whole process of creating engaging and interactive learning experiences easy and efficient.
These tools empower instructional designers as well as the trainers to turn their ideas into reality by providing an array of features and resources that make it easy to design and develop interactive eLearning content. From drag-and-drop interfaces and pre-built templates to multimedia assets and analytics, eLearning authoring tools have everything you need to bring your eLearning vision to life. Whether you're creating a simple training video or a complex course, eLearning authoring tools provide you the flexibility and power to take your eLearning content to the next level.
Developing Engaging eLearning Courses is Now Simpler Than Ever!
Here are the top 5 eLearning authoring tools that make it possible
Articulate 360
Adobe Captivate
Lectora
dominKnow
iSpring Suite
With these tools, the opportunities are endless, so let's dive in and explore the world of eLearning authoring tools together. In this blog, I'll talk about the top 5 eLearning authoring tools that help you design and develop top-notch, high-quality eLearning courses.
Top 5 eLearning Authoring Tools to Create Engaging Courses
Articulate 360
It is one of the most popular eLearning authoring tools. Articulate 360 is a suite of eLearning authoring tools and resources designed to help instructional designers and eLearning developers create interactive and engaging online courses. The suite includes several different tools, such as Storyline, Rise, and Peek, which can be used to create different types of content, such as interactive slides, quizzes, and video lectures.
Articulate Storyline offers a variety of features, including a drag-and-drop interface, built-in templates, and the ability to incorporate multimedia elements such as videos, images, and audio. Additionally, Articulate 360 also includes a built-in library of templates, graphics, and other assets, as well as a collaboration and review feature that allows multiple users to work on a project simultaneously. With its intuitive interface, powerful features, and wide range of resources, Articulate 360 is a popular choice among eLearning professionals.
Adobe Captivate
Another popular eLearning authoring tool is Adobe Captivate. It offers a range of features that contribute to designing and developing immersive, learner-centric eLearning courses. Some of its standout features include the ability to facilitate a responsive design for all devices, integration with Adobe Creative Cloud, advanced quizzing and assessment features, screen recording and simulation capabilities, and built-in accessibility support.
It also offers a variety of multimedia options, including the ability to insert audio, video, and images, as well as a range of interactivity options such as clickable buttons, drag-and-drop interactions, and more. Additionally, Captivate includes a range of pre-built templates and themes to help users create professional-looking content quickly and easily. These features, combined with its user-friendly interface, make Adobe Captivate an excellent choice for creating engaging and effective eLearning content.
Lectora
Lectora is a comprehensive solution for creating interactive and engaging eLearning courses. It features an intuitive interface that makes it easy for users to add multimedia content such as audio, video, and images to their courses. The tool also offers built-in e-assessment tools, such as quizzes and surveys, which allow instructors to assess learners' understanding of the course material. One of the standout features of Lectora is its mobile compatibility, allowing courses to be accessed on any device with a responsive design. The collaboration and team review tools allow multiple users to work on the same course simultaneously, making the development process more efficient.
In addition, this eLearning authoring tool provides advanced reporting and analytics capabilities to track learner progress and engagement. The software also supports multiple languages, making it accessible to a global audience. Lectora can be integrated with popular LMS platforms such as SCORM, xAPI, etc. It also offers multiple accessibility features to ensure that all learners can access the course content. Customizable templates and themes allow for easy content customization, and advanced multimedia and interactivity options such as animations and triggers add an extra layer of engagement for learners.
dominKnow
dominKnow is a cloud-based eLearning authoring tool that provides a comprehensive solution for developing eLearning courses. It includes various features such as multimedia support, customizable templates, and the ability to publish content on multiple platforms. Whether you need to train employees regarding sales or compliance, dominKnow helps you deliver high-quality learning experiences that drive results. It also offers a range of interactive features, such as simulations, quizzes, and assessments, making it easy for instructional designers to create and publish engaging and effective eLearning courses.
With dominKnow, you can develop fully-responsive courses. Wondering if there's something more? Well, there certainly is. It has a central storage facility, and the courses developed using dominKnow are multi-device compatible and can be accessed via desktops, mobile phones, laptops, etc. So what are you waiting for? Experience the magic of dominKnow and see why it's the future of eLearning.
iSpring Suite
iSpring Suite is an all-in-one eLearning authoring tool that offers you a complete solution for creating top-notch, high-quality, and interesting eLearning content. It offers a wide range of features, such as screen recording, quiz creation, and multimedia integration, that make course development easy and efficient. To level up the game, this authoring tool is user-friendly and requires no programming skills, allowing even non-technical users to develop professional-looking courses.
iSpring Suite also has a large library of templates and themes to choose from, providing a quick and simple way to customize the appearance of your eLearning course. With its HTML5 output facility, the courses created can be viewed on any device and are accessible to learners at their convenience. Overall, iSpring Suite is a great pick for eLearning course development that offers both convenience and flexibility.
Signing Off!
Overall, eLearning authoring tools have made it easier and more efficient to develop eLearning courses that make the learning experience more memorable and interactive. These tools offer a wide range of features, including prebuilt templates, a rich multimedia asset library, and more. They also enable you to develop and publish your eLearning courses in multiple formats that enhances the audience reach. Therefore, with the help of eLearning authoring tools, developing effective eLearning courses is a joyride for instructional designers and eLearning developers that benefits the learners and helps them retain information better.
Along with these tools, having a thorough understanding of instructional design strategies is absolutely crucial. So check out our informative eBook and design amazing eLearning courses confidently!