How Rapid eLearning Authoring Tools Facilitate Effective eLearning Course Development?
Bid adieu to the hassle involved in the traditional way of designing eLearning courses. Explore convenience, quality, and efficiency with rapid eLearning authoring tools. Read on to know how they facilitate effective eLearning course development.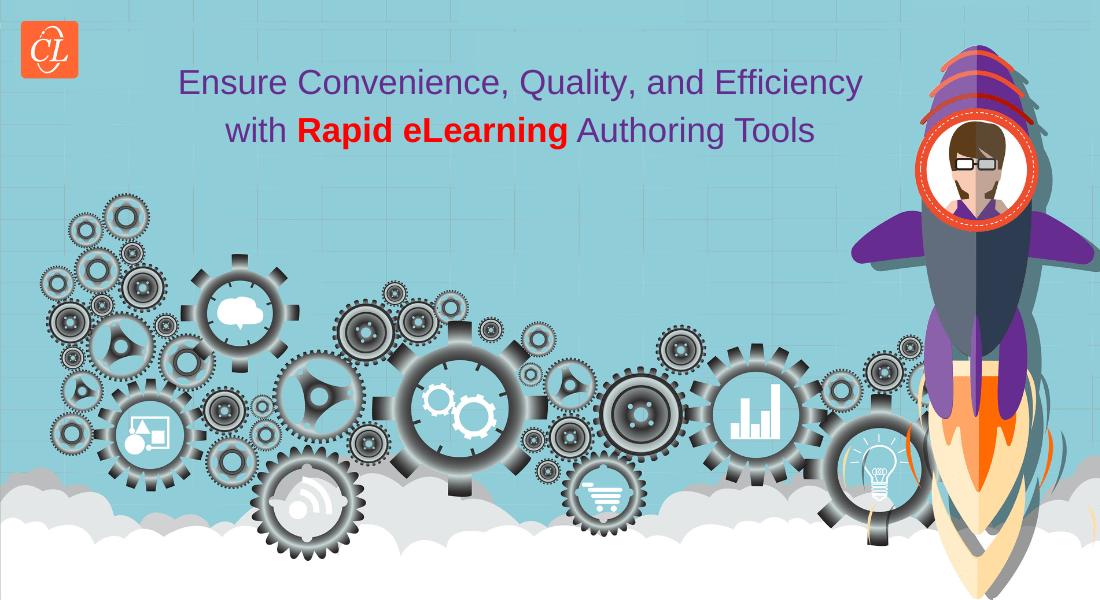 Rapid eLearning authoring tools are like a comfortable pair of shoes that make the process of designing and developing eLearning courses a breeze. Just as a well-fitted pair of shoes comforts and protects your feet through your daily routine, rapid eLearning authoring tools offer the support and guidance needed to design and develop effective eLearning courses effortlessly. These tools come equipped with a range of features that help to streamline the eLearning course development process and simplify the steps required to create engaging and interactive training material. Whether you're a seasoned pro or a beginner, rapid eLearning authoring tools ensure you the comfort, convenience, and confidence needed to walk the path of eLearning course development with ease.
Effective eLearning Course Development Calls for Rapid eLearning Authoring Tools!
Here are the top 5 reasons why:
Intuitive interface with ease-to-use functionality
Pre-built templates and rich multimedia asset library
Built-in testing and assessment features
Streamlined course design and development process
Improved efficiency and effectiveness
Therefore, rapid eLearning authoring tools provide a comprehensive solution for all your effective eLearning course development requirements. So let's explore the top-notch features of these tools that help simplify the process and facilitate the eLearning development process.
How Rapid eLearning Authoring Tools Facilitate Effective eLearning Course Development?
Intuitive Interface with Ease-to-use Functionality
Imagine having a book with no table of content, heading, subheading, or using complex language. Will you read it? I'm pretty confident when I say that you won't. Or if you have to, because of any irrefutable reason, you won't be able to enjoy it. Let alone the idea of remembering the details (except for the painful experience and trouble you had finishing it). Well, similar is the case with authoring tools. Using eLearning authoring tools that have a complex interface and boring design leads to stress and ineffective training material.
Therefore, to save you from such issues, rapid eLearning authoring tools provide you with a user-friendly interface that makes it easy for even non-technical users to design eLearning courses. With drag-and-drop functionality, instructional designers and eLearning developers can simply select an element from the tool's library and place it where they want it on the screen. This eliminates the need for coding and technical skills, making the development process quicker and more efficient.
Pre-built Templates and Rich Multimedia Asset Library
Rapid eLearning authoring tools contain pre-built templates and an extensive library of multimedia assets that you can use to develop engaging and interactive eLearning courses. The templates provide you with a starting point for course design and include various elements such as text boxes, images, and multimedia assets. This saves the time and effort of creating everything from scratch.
The rich asset library includes audio, video, images, and other interactive multimedia assets that enable you to enhance the learning experience for your learners. These multimedia components augment the visual appeal of your training material, reinforce learning, and increase engagement. Even better, you can easily customize these components to meet the specific requirements of your training.
Built-in Testing and Assessment Features
Any training without analyzing the outcome is incomplete. And to do so, you need to design effective tests and assessments. Which let me tell you, is not as simple as it sounds. A lot of thought, effort, and planning goes into creating assessments for the training material. They can be either formative or summative. To simplify the evaluation process for you, rapid eLearning authoring tools come with built-in testing and assessment features, such as quizzes and surveys.
These elements allow you to measure learner performance and understanding. Additionally, the testing and assessment features are easy to use and help you ensure that learners are understanding the concepts and retaining information to implement it as and when necessary. Based on your evaluation results, you can support and guide the learners to achieve their desired learning objectives.
Streamlined Course Design and Development Process
From multiple parties involved to a variety of ideas for the content, designing and developing eLearning courses can be a tedious process. Not having a proper instructional design document certainly derails the whole eLearning development process which negatively impacts the effectiveness and outcome of the training material. But don't worry!
Rapid eLearning authoring tools simplify the process of eLearning course design and development, allowing you to deliver a complete eLearning course quickly and easily. With a range of authoring tool options available at your fingertips, you can pick the one whose features fit the best for your training requirement.
Improved Efficiency and Effectiveness
This aspect helps in developing and delivering high-quality eLearning content. The streamlined design and development process facilitated by rapid eLearning authoring tools results in improved efficiency and effectiveness, which in turn leads to the creation of high-quality eLearning content. By reducing the time and effort required to develop a complete eLearning course, rapid authoring tools like Articulate 360, Lectora, Adobe Captivate, and more enable you to focus on creating engaging and interactive content.
With rapid eLearning authoring tools, you don't need to compromise on the quality of the eLearning courses. And even better, you don't need to spend hours working to make the training material interactive and immersive because all these features come in handy with the authoring tools. So they are adept in helping you meet your learners' needs and drive the desired learning outcomes.
To Wrap It Up!
Rapid eLearning authoring tools are a great way to design and deliver effective eLearning courses. From simplifying and streamlining the development process to helping you design immersive, engaging multimedia-rich training material, they are a one-stop solution. So what are you waiting for? Leverage rapid eLearning authoring tools to facilitate effective eLearning course development now! To help you get started, here's a handy guide to rapid eLearning development. Check it out right away!