5 Inexcusable Mistakes to Avoid in eLearning Design and Development
Create eLearning courses like a pro! Showcase your expertise in eLearning design and development by avoiding mistakes that keep your training content from achieving desired results. In this blog, I've discussed six such mistakes. Read on to find out!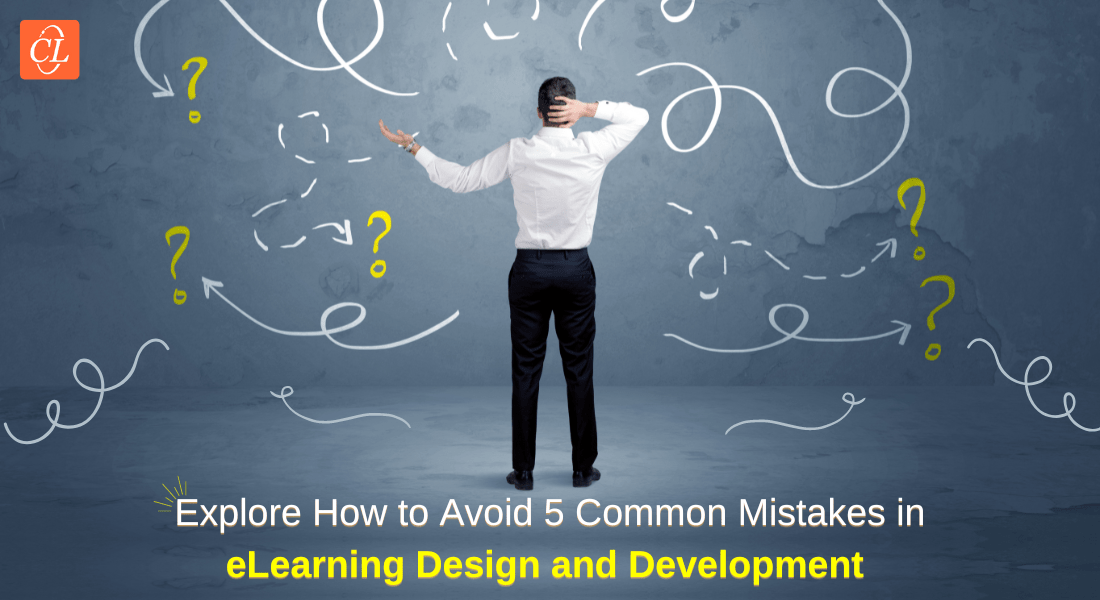 "Mistakes are costly and somebody must pay. The time to correct a mistake is before it is made. The causes of mistakes are, first, I didn't know; second, I didn't think; third, I didn't care." This quote by Henry H Buckley accurately sums up the whole idea of a mistake. Irrespective of the intention, mistakes do come with a consequence. And the eLearning design and development is no exception. Even the smallest mistake in the eLearning course can lead to a major impact in terms of effectiveness and productivity, thereby affecting the training ROI and overall business goal achievement. Apart from that, all the effort, cost, and time invested in creating eLearning courses also goes down the drain.
Prevention is Better than Cure!
Avoid these five eLearning design and development mistakes:
Not having a clear idea about your target audience
Not focusing on your primary objectives
Creating text-heavy and difficult-to-read modules
Compromising on ease of navigation
Holding back on modern tools and technology
Well, the fear of making mistakes shouldn't stop you from doing what you want to do. Rather, being cautious and prepared to handle them skillfully is what you should focus on. So now we are going to talk about 6 eLearning design and development mistakes that you should avoid in order to ensure learner-centric, efficient eLearning courses. Let's begin!
5 Mistakes to Steer Clear Of in eLearning Design and Development
Not Having a Clear Idea About Your Target Audience
It is important to know who are you creating content for. Your target audience plays a vital role in determining the kind of instructional design strategies that you opt for to develop the eLearning courses. So if you don't have a proper understanding of who your learners are going to be, you are most likely to miss out on the important elements of the eLearning course. This can greatly impact the quality of the eLearning course, which further impacts the interest and engagement among the learners. With that said, it affects the overall outcome of the course content and the training objectives.
So having a clear idea about your target audience is the basic and crucial step in eLearning design and development. You should be well-versed with the interests, experience, learning objectives, etc., of your learners before you start to build the course. This will help you look into relevant adult learning principles and accordingly select the right instructional design strategy to create effective, learner-centric eLearning courses and maximize the training ROIs.
Not Focusing on Your Primary Objectives
Your training objectives are the guiding light for your eLearning design and development process. They are an important factor in deciding the plan and instructional design strategy for creating eLearning courses. Moreover, every single component of the eLearning course, ranging from the type of interactivities to the learning format to assessments, is heavily influenced by your learning objectives.
So if you don't set clear learning objectives or drift away from them during the eLearning design and development process, it is most likely that your eLearning courses will fall short of the desired result. Therefore, you need to remember the learning objectives at all times and stick to them at all stages of the eLearning course. Therefore, you should make sure that all the elements of your eLearning course are aligned with your desired learning objectives.
Creating Text-heavy and Difficult-to-read Modules
How you arrange your eLearning content plays a significant role in deciding the interaction between the learner and the eLearning course. Designing and developing the training material in a systematic manner helps you set the right stage for your learners. If your eLearning course is jam-packed with text and descriptives, it is difficult for the learner to read and understand what is being conveyed. It leads to inconvenience and discomfort, because of which the learners can lose interest. Adding too much information in the eLearning courses simply adds to the cognitive load and accelerates boredom as the learners won't be able to grasp all the information or connect the dots effectively. This reduces the effectiveness of the eLearning course instead of augmenting knowledge and skill.
To create impactful eLearning courses, you should include only the essential, need-to-know content. Make sure it is presented in a simple, easy-to-understand, and to-the-point format. You should avoid lengthy paragraphs. Instead, try to enlist bullets and keep the sentences short as they increase the white space, thus improving readability and retention. You can also include different interactivities like videos, animations, interactive PDFs, GIFs, etc., to break the text monotony and keep your learners interested and engaged.
Compromising on Ease of Navigation
Imagine visiting a beautiful city but not knowing the itinerary. Well, it will only leave you confused, thus robbing you of what could have been a remarkable experience. Similar is the case of navigation in eLearning design and development. If you don't pay attention to ease of navigation in your eLearning courses, it can derail the impact of even the most effective and best-quality content. It poses a major setback to learner engagement, participation, and interaction with the training material. This negatively influences employee productivity and performance, thus obstructing the overall training ROI and organizational goals.
In contrast, a smooth and effortless navigation experience motivates your learners to explore the course in detail as it captivates their interest and facilitates a hassle-free learning experience. Adding proper links and easy-to-find content catalogs are a few ways to ensure easy navigation for your learners.
Holding Back on Modern Tools and Technology
In today's innovation-driven world, tools and gadgets are called for! They facilitate easy and improved eLearning design and development experience. Leveraging rapid authoring tools helps you save time and effort and enables the quick rollout of eLearning courses without compromising the quality of the eLearning courses. Not knowing about these multimedia tools or hesitating to use them can take a toll on your expenditure, work efficiency, or eLearning content quality.
Apart from that, multimedia tools help you keep up with the pace of fast-changing business goals and simultaneously evolving training objectives. You can deploy various rapid eLearning authoring tools like Articulate 360, Lectora, Adobe Captivate, etc., which enable you to create immersive, interactive eLearning courses in a timely and hassle-free manner. They even come with a repository of assets and pre-built templates, which make the process of producing eLearning courses a seamless one.
Wrapping It Up!
eLearning design and development are the heart and soul of an eLearning course. They ensure the desired training effect by weaving together all the important components of the eLearning course in an effective and engaging way. This boosts learner participation and information retention, thereby improving their performance and productivity. However, even the smallest mistake can affect the overall efficiency of the training. Try to minimize these mistakes to maximize the rate of success of the training. Check out this well-written guide for instructional designers and create impeccable eLearning courses effortlessly!