8 Instructional Design Strategies to Create Impactful eLearning Courses
Continue reading our blog to learn about 8 innovative instructional design strategies that ensure interactive and engaging eLearning.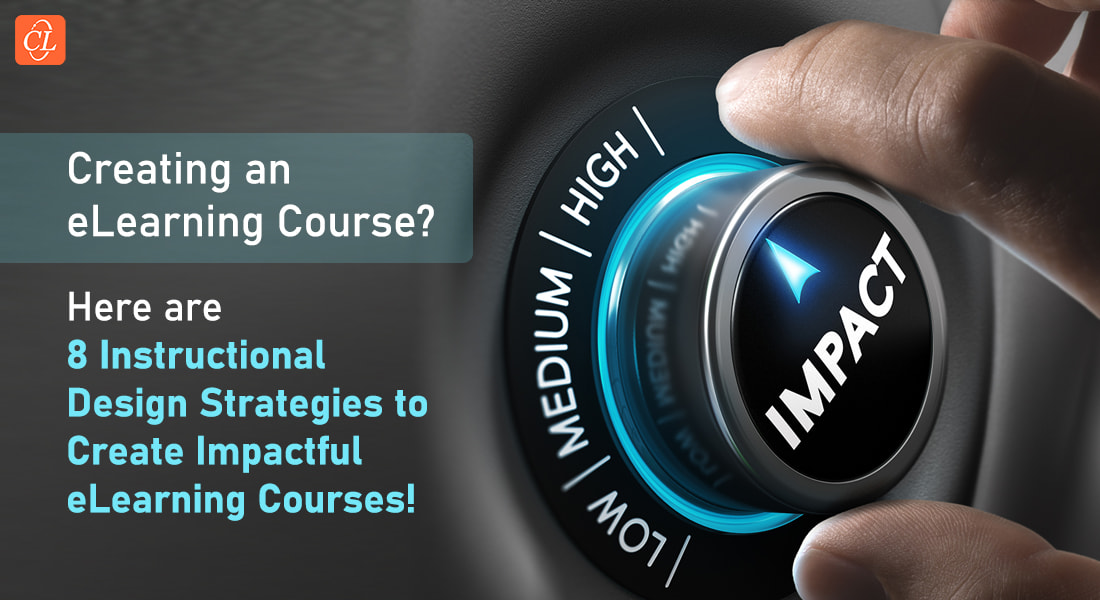 Companies are quickly transitioning from traditional classroom modules to eLearning. The eLearning industry has grown immensely in size since the year 2000 and it continues to offer high ROI (return on investment). However, to achieve a high ROI, employees need to show the results through their performance. ID (instructional design) strategies have proven great for sticky learning and directly boosts employee performance.
An Instructional Design Strategy is a Plan of Instruction for a High-Level Training Course.
Here are 8 strategies for impactful eLearning courses:
Guided learning
Storytelling
Learning through exploration and discovery (LEAD)
Case studies
Gamification
Scenario-based learning
Spaced learning
Content curation
Employee engagement is a robust measure that helps instructors defining the quality of an eLearning course, and they need to keep it in mind while strategizing learning techniques. The impact of appropriate ID Strategies on eLearning courses can directly affect employee engagement, business goals, and the company's ROI. If you want your employees to reach their potential, you need to analyze their learning methods to know which instructional design strategy is best for them. Continue reading to learn more about instructional design strategies and their impact on eLearning.
What is an Instructional Design Strategy, and Why is it Needed?
You need to begin by understanding the meaning of a strategy, to aid your study of instructional design strategies. A strategy is an action plan to help you achieve a goal. It's the systematic management of resources that are available at every step so you can reach your goals. Now let's analyze the instructional design strategy.
An instructional design strategy is a well-thought plan for designing and delivering eLearning material. It begins with establishing and clarifying learning objectives and it involves the determination to achieve them. ID strategies use various resources such as various cross-platform technologies, presentation methods, educational theories, and a wide array of multimedia. There are two types of instructional design strategies, that is, instruction and media. A careful combination of the two can lead to an effective ID strategy for eLearning.
ID strategies play a crucial role in developing eLearning for corporates because they make up for the absence of an in-person instructor. The major goal of any instructional design strategy is to counter the lack of human interaction in an eLearning course. It replicates the environment of a classroom with high involvement and engagement. The combination of resources of instructional design results in memorable learning experiences that speed the learning process, improve knowledge retention, and quicken the application of information.
Here are the top eight time-tested instructional design strategies that can be used for a variety of training needs in eLearning.
Strategies for Impactful eLearning Courses
Incorporating ID strategies according to the learning needs of employees can help in better knowledge retention and application. In the long run, powerful eLearning courses boost employee performance and training ROI. Here are eight popular ID strategies to consider for impactful eLearning courses:
1. Guided Learning
There are those that believe guided learning is commanding trainees to get on with their jobs. However, that's not based on facts. Guided learning involves a working relationship where a coach directs their trainee towards their goals. In eLearning, this ID strategy uses online characters or avatars with voiceovers. They coach and guide their trainees to progress and complete the course. And they make sure their learners achieve their objectives.
Guided training works to promote sticky learning, and it ensures learners engage and stay motivated when taking the course. This personal way of imparting instruction results in improved motivation and long-term retention of knowledge. This ID strategy is best when onboarding new hires and training employees with an unsatisfactory experience. The virtual guide motivates learners to grasp each component and apply it in the right places. You can use guided learning for roles where trainees require a mentor to guide them through the process, such as sales, software, process, and performance management training.
2. Storytelling
Another effective instructional design strategy to improve knowledge retention is storytelling. This method hooks the learner with a captivating story and interesting characters, and it seeks to build an emotional connection with learners. This ID strategy conveys solutions to common problems and solutions in the organization by building empathy between the online character and the trainee.
You can use storytelling to teach your learners to apply certain knowledge during specific events and tasks. It can also help when your organization is looking to change employee behavior. You can also use Storytelling for new employee orientation, anti-harassment, and quality management training as well as customer service and change management training.
3. Learning Through Exploration and Discovery (LEAD)
Another name for LEAD is inquiry-based learning. It's a useful tool when you want employees to explore and engage in the learning environment for themselves. This ID strategy is unique, as learners don't only listen to or observe their environment. They need to actively engage interactive content in a virtual setting with clickable elements, such as icons, pictures, and avatars. LEAD provides flexibility to employees to learn at their own pace.
LEAD works when you want your employees to study the features of a new product or place. It's often used during new employee orientation, safety, product, and site training.
4. Case Studies
Much like storytelling, case studies build an emotional connect with trainees. In this method, employees need to navigate through a real-world situation and find solutions to potential problems. This ID strategy is brilliant at building decision-making, reasoning, and problem-solving skills.
You can use case studies at any point in an eLearning course to familiarize employees with tasks or situations that could occur regularly on the job. However, case studies are not appropriate to train new employees. You can use them for employees who need to learn to solve problems and create resolutions that impact their workplace.
5. Gamification
Gamification is a popular technique to motivate employees to learn, because it adds the element of winning, and who doesn't like that? It makes learning a game! It uses elements of online gaming such as timers, points, and levels. This ID strategy helps trainees actively engage with knowledge and learn how to use it appropriately. It rewards the correct application of knowledge, which also promotes the learners' self-esteem. To raise the performance of employees you can use games to effectively improve knowledge retention and boost learners' competitive spirit.
You can use gamification in eLearning courses to test the knowledge of your employees. We often recommend it for code of conduct, sales, and product training.
6. Scenario-Based Learning
Scenario-based learning is very similar to storytelling. It presents employees with a situation where they need to determine business strategies or solve problems on the job using the knowledge they have gained. Scenario-based learning boosts critical thinking skills of your employees and you can use them to help your learners decide the best course of action in a troublesome situation. This ID strategy focuses on teamwork and communication. It's used to train employees on workplace policies, compliance, safety, sales, and code of conduct training.
7. Spaced Learning
It's counterproductive to present your learners with all the information at once, as it either overwhelms them or causes a lack of engagement. Spaced learning allows learners to consume information in digestible chunks of information. This ID strategy breaks down the course into smaller parts, and it promotes the repetition and revision of knowledge when needed and at regular intervals. Spaced learning helps employees hold on to knowledge for longer time periods, and it helps to grab their attention, as well as it prevents cognitive overload. Spaced learning microlearning modules are proven and efficient ID strategies.
8. Content Curation
Content will always remain of utmost importance in the eLearning design and development process. Content curation is choosing and presenting the right content in eLearning. The way you sort, arrange, and display content makes a tremendous difference. Trainees must use fact-based, verifiable, and relevant information. The application of false information can cause immense harm to a business. Top-notch content curation is always fundamental to effective eLearning.
How to Select the Most Suitable Instructional Design Strategies for eLearning Courses
Now that you understand the different kinds of instructional design strategies, you might ask how you know which one is best for you? Before you develop your ID strategy for eLearning modules you must consider:
Setting learning objectives by conducting surveys with your learners and observing their engagement during the course to gain insight into their skills and knowledge gaps.
Defining multimedia elements to use for effective course design and ensuring they have devices that are compatible.
Creating a course structure
Streamlining the logistics and technical issues for optimal course development
It's a Wrap!
Businesses all around the world are shifting from traditional in-person corporate training to eLearning with the hope of boosting training ROI. eLearning has many benefits, but the lack of in-person instruction can cause a lapse in engagement and interaction. While developing an eLearning course, it's important to make the most use of interactive instructional design strategies to improve employee engagement and knowledge retention. Are you ready to achieve your business goals by designing impactful eLearning courses? Get a hold of our handy and free eBook: Instructional Design Strategies to Design Engaging eLearning Courses.