7 Rapid eLearning Authoring Tools You Need to Stay Ahead in 2023
Want to go rapid with your eLearning development while ensuring learner engagement? Choosing the best authoring tool helps you achieve it. And to help you out, I have listed out some of the best rapid eLearning authoring tools to rev up your corporate training this 2023.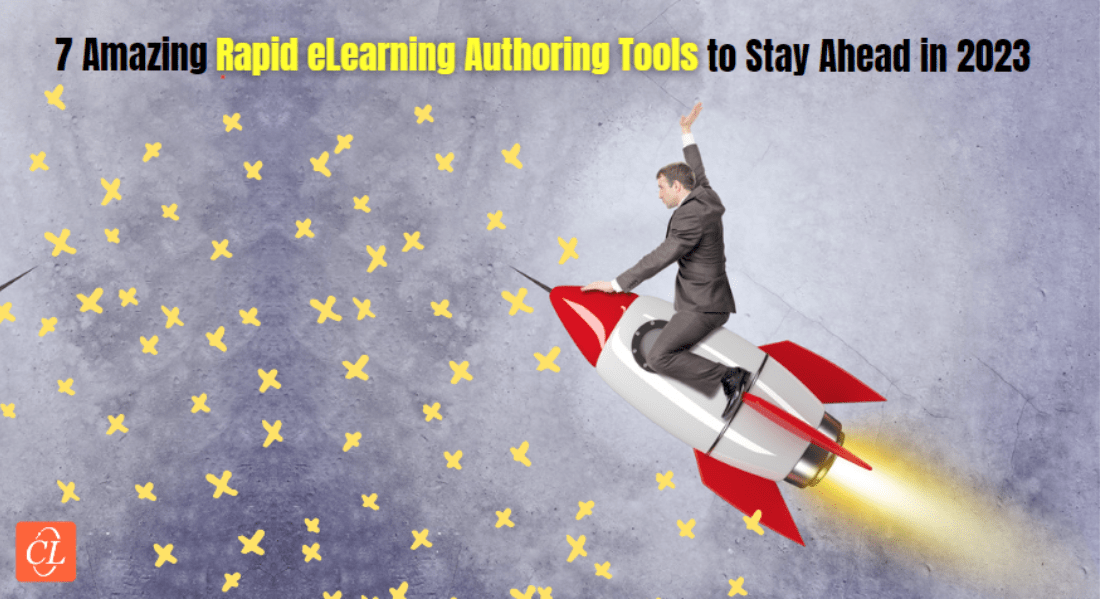 Rapid eLearning authoring tools make it easy (and fast) to create meaningful and engaging content for online learners. However, not all rapid eLearning authoring tools offer the same features and they may not meet your training needs. To create the best online eLearning experience you must have access to the best eLearning authoring tools. In this blog, I have created a hand-picked list to help you choose the best rapid eLearning authoring tool.
Authoring Tools Back the Success of Rapid eLearning
Here is a list of the 7 best rapid eLearning authoring tools to stay ahead in 2023
iSpring Suite
Raptivity
Panopto
Articulate 360
Gomo Learning
Adobe Captivate
Easygenerator
So, let us begin with understanding the features that a good eLearning authoring tool must have.
What Features Should a Rapid eLearning Authoring Tool Have?
We won't go very deep into this, but there are certain features that you should be looking for in a rapid eLearning authoring tool. This is important for you to make an informed decision and choose a tool that's just right for your training needs.
The tool should be intuitive
It should have built-in assets and resources that come handy in eLearning design and development
It should be easy to use for not-so-tech-savvy people too
It should serve as excellent support for the eLearning developers
It should be equipped with personalization features
It should have online collaboration features
It should have the feature to be integrated into the system landscape of your organization
It must have a responsive design feature so that learners can use any device to access the course
While these features make for a perfect rapid eLearning authoring tool; the tool is only as good as the professional using it. So it is important that your team has the right expertise.
You know what a rapid eLearning authoring tool is and the features that you should be looking for when choosing an authoring tool. Let us discuss some of the best authoring tools available –
The Best E-Learning Authoring Tools for 2023
Here is our list of the best rapid eLearning authoring tools that can help you take your eLearning courses to the next level in 2023.
iSpring Suite
iSpring Suite is a powerful yet easy-to-use eLearning authoring tool. The ease of use of the tool ensures that novice or non-technical person too can design and develop their courses without any hassle. This is a comprehensive tool that helps in designing courses, video tutorials, quizzes, role-play, and many more things to make the eLearning courses interesting and engaging for the learners. The major highlights of the toolkit are the diverse variety of content it can create, its integrated content library, and the online space for collaboration. If you want to give it a try before concluding to invest in the tool, you can get a free 14-day trial.
Raptivity
Raptivity is an eLearning authoring tool that comes with more than 190 customizable eLearning interactions. The interaction varieties include brainteasers, interactive diagrams, questions, surveys, software simulations, etc. It is a good tool for learning instructional design models and creating impactful courses based on those models too. The tool can also be integrated with authoring tools such as Adobe Captivate, Lectora, Storyline, etc.
Panopto
Panopto is a video platform that is used for employee training. This is one of the best choices of eLearning tools when it comes to blended learning. This is a searchable platform and can be used to organize, store, manage and deliver video-format eLearning materials across the organization. All video-based learning of an organization can be centralized using this tool. Additionally, this tool comes with the features of webcasting, recording, live streaming, etc. It can also be easily integrated with learning management system (LMS) tools and enterprise software like SharePoint and SalesForce.
Articulate 360
It is one of the best platforms to create compelling online courses. This toolkit is equipped with every feature needed for the development of an eLearning course. You can find millions of courses creating assets and resources with the annual membership. Articulate 360 is also equipped with an easy-to-use project review app. The back-end support is great and one can access live and on-demand training about eLearning course design and development from industry experts. You can get a free 60-day trial.
Gomo Learning
If you want your eLearning content to be beautiful in addition to being helpful and interactive, Gomo Learning can be the go-to place for you. This is a cloud-based eLearning authoring software that is easy to use. Despite its ease of use, the software is equipped with all the advanced features that a course designer would love. It is a great platform for collaborative learning. Content can be quickly updated and instantly distributed through the platform.
Adobe Captivate
True to its name, the tool can be used to create 'captivating' eLearning content. The tool and the support service provided by the developers help create amazing content in no time. The content is responsive and ready for all devices without any glitches. But, Adobe Captivate can have a steep learning curve for novice subject matter experts. This is a professional tool for seasoned instructional designers. You can have a 30-day free trial of the tool.
Easygenerator
As the name suggests, Easygenerator empowers you to create high-quality eLearning courses without any prior designing experience. This rapid eLearning authoring tool comes with amazing features for creating interactive online courses without any technical expertise. This authoring tool can take all the burden of generating interactive and efficient eLearning courses. This is the easiest tool you may ever get. Try it in case you have a set of beginners in your development team.
Wrapping Up
Authoring tools are necessary to design eLearning courses, and you can expect maximum results by investing in the right authoring tool. While I have discussed in detail about the tools that you need to keep an eye on, you might be interested to know how to select the tool that works best for you. And this eBook will help you with it. Get your hands on this amazing guide and set on your rapid eLearning journey.