4 Rs of Rapid eLearning: A Comprehensive Guide to Design Impactful Online Training Courses
Talking about rapid eLearning and missing out on 4 Rs is just not acceptable. Why not? Because they contribute majorly to the fast delivery of eLearning courses. Read on to delve deep into the 4 Rs.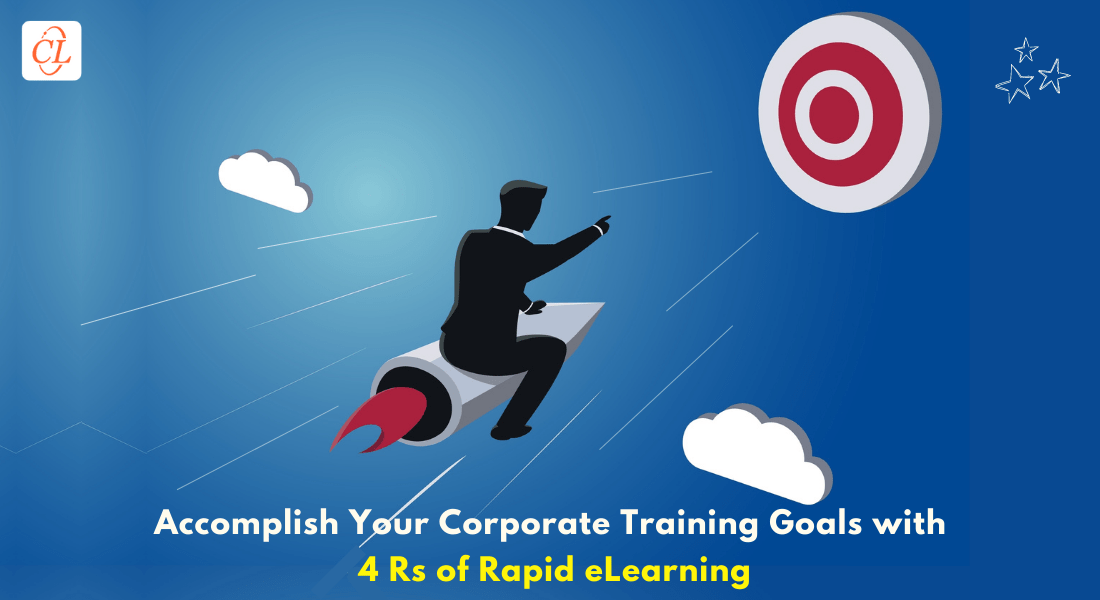 You can't compete against a supercar with a regular one. Isn't it? That's how corporate training works too. Business goals are changing faster than ever which creates a necessity for quick, effective, and relevant training. When talking about quick and effective eLearning solutions, rapid eLearning is a preferred method for rolling out courses in a timely manner. It enables you to streamline your training objectives with business goals for desired results. With rapid eLearning gaining prominence, it is essential to discuss what makes all this quick, speedy content rollout possible. Well, it's the 4 Rs — Redesign, Record, Rebuild, and Republish, of rapid eLearning. Sounds intriguing? Isn't it? So, let's explore the mysterious Rs.
What Makes Rapid eLearning so Rapid?
Here are the 4 Rs that deserve the credit:
Redesign
Record
Rebuild
Republish
Before we dive into the 4 Rs, let's first try to understand the essence of rapid eLearning.
What is Rapid eLearning?
Rapid eLearning is an approach to designing and developing eLearning courses that focus on rolling out training material in a speedy manner without compromising the quality. This method is highly beneficial and usually preferred when you are short of time. It cuts down on all the extra fluff and incorporates only the core content. Moreover, for instructional design, rapid eLearning leverages authoring tools and predesigned templates, which saves time. It facilitates performance-based learning objectives which support the overall business goals and improved the training ROI.
With all these benefits stated clearly, it is now time to move ahead and learn about the 4 pillars, i.e., the 4 Rs of rapid eLearning in detail.
4 Rs of Rapid eLearning that Ensure Quick Rollout of eLearning Courses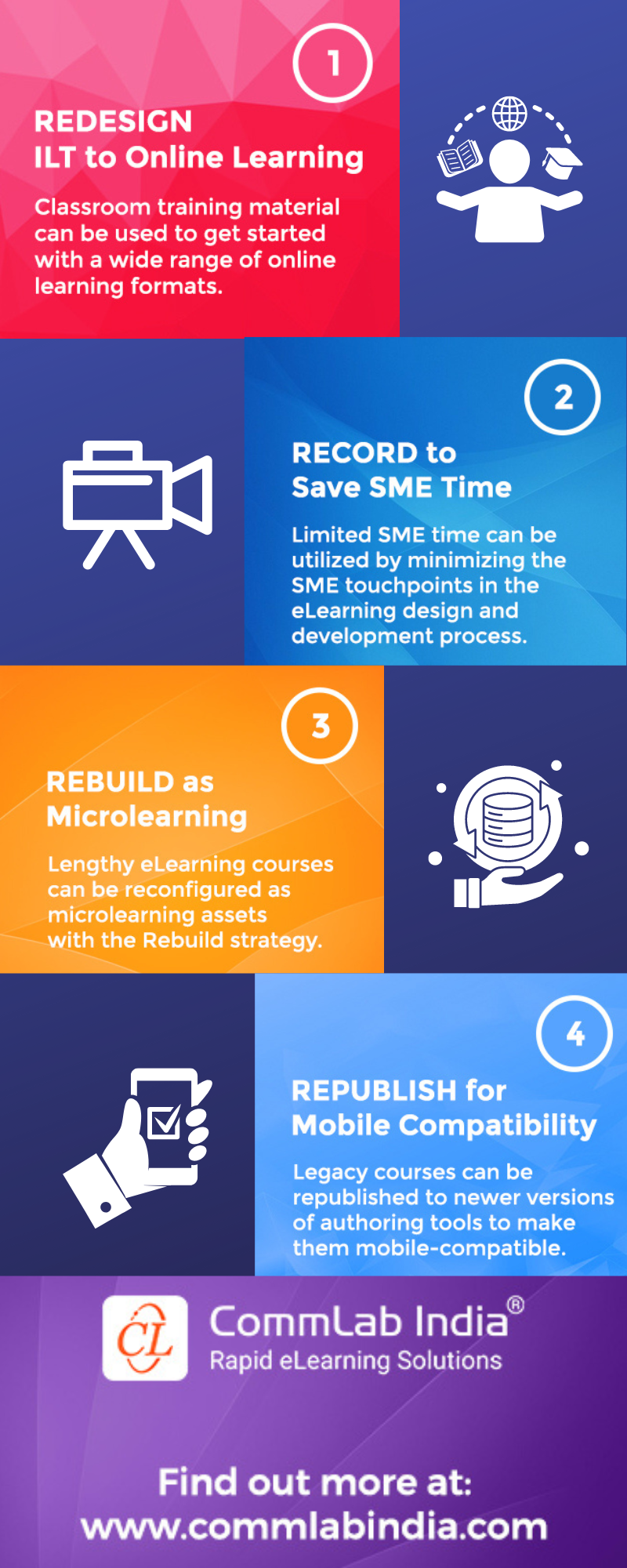 Whether you need to roll out quick eLearning courses to train a large workforce in a short period of time, or simply want to repurpose your existing eLearning courses into more innovative learning formats with fresh, up-to-date content, rapid eLearning has you covered. And if you're off to a fresh start in converting classroom training to eLearning, you've definitely landed the right method. So why wait? Start creating impactful eLearning experiences today with rapid eLearning! Here's how:
Redesign
The Redesign strategy, as the name suggests, refers to the process of taking all the available classroom training material and converting it into more feasible, effective online learning formats. The classroom training material can be reformatted as Virtual Instructor-led Training (VILT), eLearning courses, and microlearning modules. You can mix and match these methods to offer blended learning to the learners. The training format is selected on the basis of important criteria like the learners, learning objectives, learning environment, content available, and the time in hand.
You can use the Redesign strategy to design VILT course material by including various interactivities and other media to ensure engagement and motivation among the learners. Converting the training content into an eLearning course can be either in the form of standalone courses or a curriculum of modules. Redesigning the content into microlearning is based on the objective of providing just-in-time information to the employees. It includes formats, such as how-to videos, infographics, interactive PDFs, charts, etc., that cater to concise, focused delivery of the content.
Record
Subject matter experts (SMEs) are often very busy individuals who usually have limited time to devote to participate regularly in the designing and developing of eLearning content. This is due to the demands of their primary job responsibilities, as well as other commitments such as contacting leads and visiting clients. But their guidance and feedback are extremely valuable to ensure correct information.
To handle this problem efficiently, the Record strategy is worth a try! It is a time-saving element in rapid eLearning development process. It ensures accurate and technically sound course content without taking up too much of SME's time. In contrast to the traditional eLearning development process, which entails a minimum of 9 touchpoints between the design and development team and the Subject Matter Expert (SME), rapid eLearning follows Successive Approximation Model (SAM). The Record strategy includes only 3 touchpoints with the SMEs which saves a lot of time and effort. The rapid development process using the Record strategy consists of the following 5 steps:
The SME creates a quick and dirty PPT presentation.
The SME provides an audio narrative and directions for the PPT using the record feature.
The instructional designers augment the PPT with relevant features and designs and streamline the script.
The SME reviews the script and PPT deck.
Upon signoff, the eLearning partner creates the learning module in the desired format.
Rebuild
If you're facing the challenge of keeping your employees engaged and interested during the training, have you considered why? Is it because of the duration, the way training material is presented, or something else? Well, if it has something to do with duration or the way training content is delivered, the Rebuild strategy can be your best bet. It involves converting lengthy eLearning courses into small, interactive microlearning lessons. Even better, you can also sort out the important content from the outdated courses and repurpose it into microlearning assets.
These bite-sized nuggets of information adhere to fulfilling the criteria of single-learning objective. Microlearning modules promote participation and learner engagement as it fits well with modern learning habits. It can be accessed anytime and anywhere as per the learner's convenience. This helps in improving the training completion rate as the small chunks of training courses fit into the learner's schedule without disrupting their work or daily schedule.
Microlearning modules can be delivered in the form of videos, podcasts, infographics, quizzes, animations, and other interactive ways. It augments training ROI because it aligns well with learner's attention span and can also be used for performance support purpose as it offers just-in-time information in a hassle-free manner. A good training approach modifies itself with the changing learning habits to ensure maximum productivity and efficiency.
Republish
Do you have plenty of courses that are no longer in use? Well, the Republish strategy can help you out. It involves reformatting the legacy eLearning courses designed using older versions of authoring tools or obsolete software, such as Flash, into HTML5 format to make them multi-device, multi-browser compatible. Various modern authoring tools like Articulate 360, iSpring, Lectora, etc., offer HTML5 and are readily used to design and develop interactive, engaging courses. Rapid eLearning makes use of these authoring tools to save time, ensure quality, and promote scalability.
It provides you with an opportunity to revisit your legacy courses and give them a breath of fresh air by integrating various interactivities that boost employee participation and foster better productivity and performance. Responsive course design (RCD) facilitates anytime, anywhere access to courses which can be leveraged to provide just-in-time support to the employees. Republishing the content also helps in making the courses translation-friendly which saves ample time and effort.
Parting Thoughts!
The 4 Rs of rapid eLearning play a crucial role in facilitating the quick rollout of the training courses. They ensure the content quality is uncompromised as they incorporate various interactivities keeping the principles of instructional design and adult learning in mind. So next time you think how rapid eLearning is so speedy and scalable, you know the answer. And, if you're wondering about ways to save your SME time, you certainly shouldn't miss out on the 10 tips mentioned in our eBook given below. Check now!
Editor's note: This post was originally published in January 2023 and has been updated for comprehensiveness.