Meet the 4 Rs of Rapid eLearning and Why They Are So Crucial
Corporate training today needs to be extremely engaging, flexible, and personalized. This blog helps you to find out how rapid eLearning boosts the pace of corporate training by leveraging the power of its 4 Rs.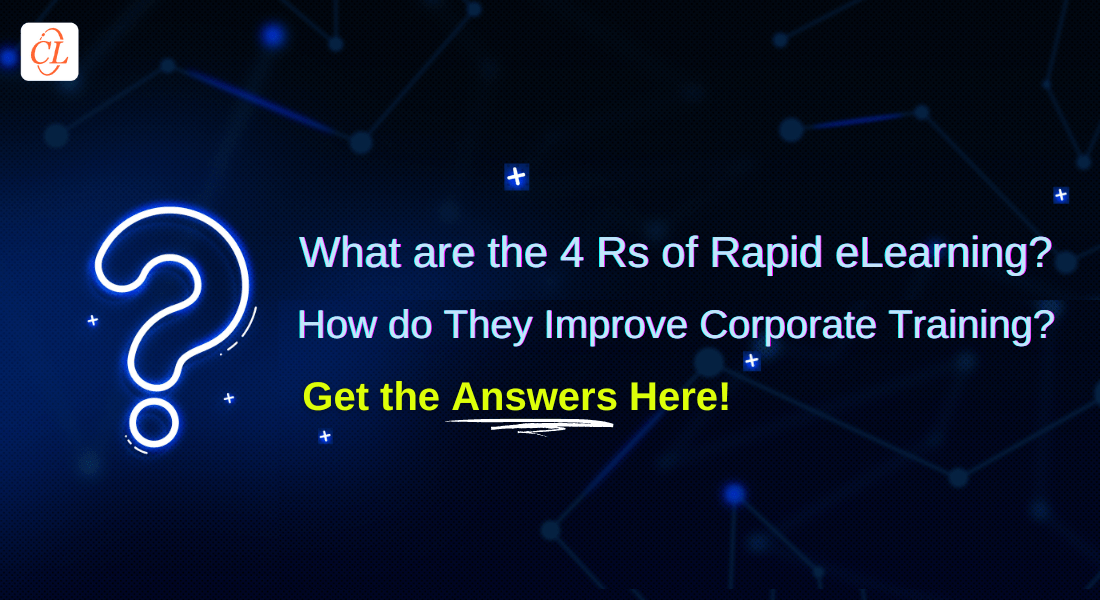 Organizations do not have a lot of time and budget to invest in training, but they cannot compromise the quality. To deliver training that is fast, convenient, and cost-efficient, organizations can do it the rapid way with the help of the 4 Rs of rapid eLearning. Rapid eLearning can help the eLearning courses to be rolled out within a few weeks instead of months. This blog will help you understand how the 4Rs of rapid eLearning will enhance your corporate training.
Are you Aware of the 4 Rs of Rapid eLearning?
If not, explore them right here, right now:
Record
Redesign
Rebuild
Republish
Read on to understand the importance of each R to enhance corporate training.
What is Rapid eLearning?
Rapid eLearning provides the expertise for designing, developing, and delivering eLearning courses under tight deadlines. Rapid eLearning makes use of various instructional design(ID) strategies and adult learning principles to boost learner engagement and leverages the features of rapid authoring tools to ensure that eLearning courses are seamlessly developed. All your training requirements are met by rapid eLearning courses whether it is about converting the course or translating it. The true potential of rapid eLearning is brought out when we explore the 4 Rs extensively.
What Are The 4 Rs of Rapid eLearning?
1. RECORD
To develop courses quickly, you need a considerable amount of time from the respective subject matter experts (SMEs) to review and verify the eLearning content. But that's where the problem starts, SMEs don't have that much time to review the training courses. Now, you can't lay off their contribution as their expertise is needed to confirm the accuracy and the quality of eLearning courses. The "record" strategy can reduce the SME touchpoints during the development phase to roll out courses faster. Traditional methods require around 7-9 SME touchpoints whereas rapid eLearning only demands 3-4 touchpoints because it follows the Successive Approximation Model (SAM).
SMEs are asked to record their relevant and informative insights on each content slide (1st touchpoint) so that the in-house development team can understand the specifics of that subject. Now, the ID team provides multiple touch-ups to the content and converts the SME's insights into a form of narration script before finalizing the content. Then, the SMEs are asked for their review and feedback(2nd touchpoint) on the designed PPTs and the narration script. The feedback from SMEs works as a clear reference for the development team and now they can successfully create the course with a professional narration and the SMEs are asked to review the full course(3rd touchpoint).
This way, SMEs have to invest their precious time only thrice with the help of record strategy, unlike conventional development methods, and roll out the course within weeks.
2. REDESIGN
Earlier, companies used traditional methods such as classroom training to train the employees so you might have a lot of raw content like physical manuals, handbooks, or digital PPTs and PDFs, etc. Today, almost every company has its workforce spread globally, so training everyone isn't possible with traditional methods only. Hence, you need to convert the classroom training content into various digital formats such as VILT, eLearning, or microlearning content. The redesign strategy can make use of all your classroom content efficiently and give them a new touch rapidly.
Virtual Instructor-led Training (VILT)
The improvised replica of classroom training delivered virtually is the basic concept behind a successful VILT program. Interactivities such as polls, breakout rooms, live chats, and discussion/debate forums give your virtual training the feel of a natural classroom environment. You can create infographics out of the long PPTs you have and display them in your virtual training sessions and add the relevant interactivities accordingly. The classroom handouts and manuals can also be used for discussions in the live virtual session.
eLearning
Apart from VILT, the classroom content can also be converted into eLearning courses. You just need to figure out your learning objectives and segregate the content accordingly. You can design a full curriculum or standalone courses depending on the amount of content you have, and both should be based on adult learning principles instead of a simple copy-paste.
Microlearning (for performance support)
If your motive is to facilitate continuous learning and you are running low on time, you can go for the development of microlearning assets with the help of your existing classroom content for instant job support. Performance support job aids can help the employees to remember various kinds of information they might have gained earlier and help them boost their performance while working. These microlearning assets or courses can also work as refresher courses or offline learning content. These assets can be in multiple formats like videos, audio clips, infographics, carousals, and even flashcards that are accessible on your mobile phones as well.
3. REBUILD
Now that your classroom content is sorted, you must have a lot of eLearning courses as well, only if you have been training your employees with their help for long enough. But, these eLearning courses might have been lying in the corners of your library for years, and their relevance would be diminished. So, instead of making a new course from scratch, you can rebuild these courses in the form of microlearning modules. Rapid eLearning's rebuild strategy scraps the 'nice-to-know" content from these eLearning courses and only makes use of "need-to-know" content and creates microlearning assets that are capable of boosting learner engagement and retention.
As we discussed earlier, microlearning assets are not only used for performance support, they can be relayed as standalone courses as well. These courses are developed in very less time and are easy on your pockets. Apart from their development, they are easy to review and update as well. While you are rebuilding these courses, they can follow the responsive design principles to be accessible on multiple devices effortlessly.
4. REPUBLISH
Earlier, most of the eLearning courses were developed in obsolete software like FLASH, and they are now called legacy courses. These courses were only accessible on working desktops so there is a critical need to republish these legacy courses by converting them into HTML5 courses. HTML5 gives them a modern touch with the use of rapid authoring tools and makes them accessible on mobile devices. These courses are unattractive and heavy on texts, so making use of several instructional designs and interactivities to revamp them is required.
Modern authoring tools have a lot of built-in templates, character icons, and backgrounds to make the courses visually appealing. Authoring tools can develop the courses while keeping the responsive design in mind to facilitate learning on the go and support the learning needs of the modern workforce. Apart from development, these authoring tools can also translate these courses efficiently and accurately, making them easy to be delivered to your global workforce.
Wrapping Up!
Rapid eLearning is a one-stop solution whether you want to convert your classroom training into VILT or eLearning, or you already have legacy courses that need to be converted into HTML5. The 4 Rs of rapid eLearning can do it all, that too efficiently, effortlessly, and effectively. If you still have any sort of doubts about rapid eLearning or you just wish to explore the 4 Rs in more detail, you can access this free eBook and get the required insights.