Popular Online Review Tools for Rapid eLearning Development
Are your course reviews taking up too much of your SME's time even with rapid eLearning development? Maybe it's time to try online review tools. Here is a blog on 5 online review tools for rapid eLearning development.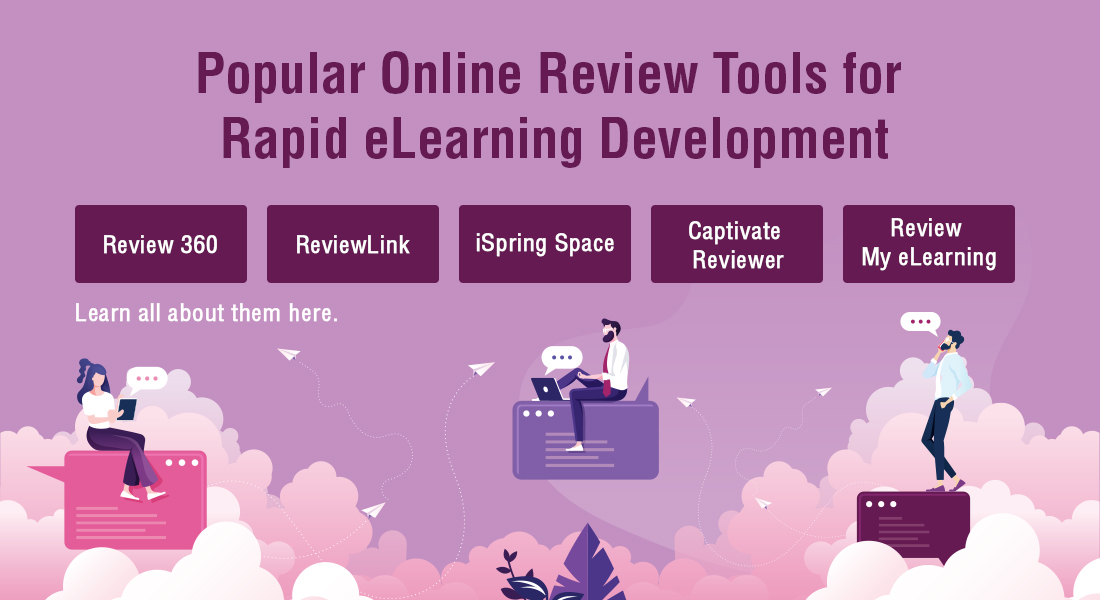 Time is one villain that corporate L&D has to constantly wage war against. According to the Valamis 2020 report, 48.4% of training professionals acknowledge that time is the biggest challenge for corporate learning & development. Is there anything we can we do to remedy this (inventing more time is not an option!)? The best solution is a training development strategy that makes the best use of available time without compromising on quality. And that's where rapid eLearning development comes in.
5 Online Review Tools to Speed up Rapid eLearning Development
Review 360
ReviewLink
iSpring Space
Captivate Reviewer
Review My eLearning
Rapid eLearning development involves the use of technology (e.g. authoring tools) and streamlines the entire development process from the initial planning, to the design and development, to the final reviews to get them done as quickly and efficiently as possible. While there is a lot of information on the use of authoring tools for eLearning design and development, there isn't much on how course reviews are done. So, today we'll discuss the popular online review tools and how they help in rapid eLearning development.
Online Review Tools for Rapid eLearning Development
1. Articulate Review 360
Review 360 is a built-in online review tool that comes as a part of the Articulate 360 authoring suite. What this means is that if you are using Storyline 360 or Rise 360 for eLearning course development, you need not look for an external app for online reviews.
Review 360 enables you to share the storyboard, prototype, and final course with stakeholders, subject matter experts, and other reviewers easily and get all comments and feedback at the same place. This saves time for both the reviewers and the L&D team, and also avoids the hassle of going back and forth between different documents.
Reviewers can add their comments on each slide to provide context to the authors. Once the change is implemented, the author can mark it as resolved. This streamlined review-feedback process makes it easy to keep track of all updates, avoiding repetition and rework.
Perhaps the only drawback of Review 360 is that it can only be used for courses developed using Articulate authoring tools. But considering how widely both Storyline 360 and Rise 360 are used for rapid eLearning development, having an exclusive review app comes in very handy.
2. ReviewLink
The online review tool ReviewLink is associated with another rapid eLearning authoring suite – Lectora 10. But unlike Review 360, ReviewLink doesn't work exclusively for Lectora courses. You can import HTML5 courses developed with other authoring tools like Storyline or Captivate and still use ReviewLink for the online course reviews.
While ReviewLink too allows collaborative reviews and on-slide feedback through comments like other online review tools, it has some unique features that help in rapid eLearning development.
Its Responsive Course Design (RCD) makes Lectora the preferred tool for mobile learning development. And ReviewLink allows you to preview the course in different mobile orientations (checking the alignment of course content and media in every screen aspect ratio) which is a must for reviewing mobile learning courses.
There is no limit to the number of reviewers working on a project. Reviewers can add their comments and course authors can track, view, filter, and update the comments and feedback, and also mark them as fixed/resolved. The reviewers can then confirm the changes were appropriate, marking them 'OK' or 'Not Ok.'
Course authors can filter, sort, and search a list of all comments, and export the comments to a PDF or CSV file to work offline.
ReviewLink can operate in 7 different languages which makes eLearning translation reviews extremely easy.
3. iSpring Space
iSpring Space is the newest online review platform that comes as a part of iSpring Suite Max. It is different from other review tools because it is a cloud platform that can be used for collaborative authoring as well as reviews. Authors need not go through the feedback comments, make changes in the course, and then import the newer version. Instead, they can simply make changes to the slides directly in Space itself. This means faster review cycles and rapid eLearning development.
Also, since iSpring Space is cloud-based, neither reviewers nor authors need a dedicated device to review and update changes. They just need the Internet to login through a browser to access courses.
4. Captivate Reviewer
Captivate Reviewer is an online review app that can be downloaded for free if you have an acrobat.com membership. (It is usual for most L&D teams to have at least one membership considering the range of tools Adobe offers for various aspects of eLearning design and development.)
Captivate reviewer allows the uploading and tracking of reviews online, enables feedback, and monitors changes from your local servers. Another useful feature is its filtering system, which helps authors to sort comments by keyword and then reply to them individually.
It also allows shared reviews where authors and reviewers on a common network can view the comments posted by each other. They can also accept, reject and seek feedback on the comments given by the reviewers.
There's also provision to accommodate reviewers who are not part of the shared network, if there's work on the project. They can export their comments to an XML file and send it to the development team or the author. After that, the author can easily import the XML file into the eLearning course or project to check comments on the slides where the reviewers posted them.
5. Review My eLearning
Unlike the previous four online review tools we discussed in this blog, Review My eLearning is not associated with any one particular authoring tool or suite. It is a third-party tool that can import eLearning courses, irrespective of the tool used for its development.
Review My eLearning has an easy and intuitive interface that allows SMEs to review courses easily without wasting time trying to figure out how the tool works. It has simple text fields for feedback/comments and checkboxes to indicate what is being reviewed, what is pending review, and what has already been resolved. It has an auto-detect feature to search slide numbers and titles so reviewers don't have to waste time going back and forth through the course.
With this tool, you need not generate different links for different versions of the same course. A single link generated for the project can be shared with all stakeholders, SMEs, and authors working on the project.
It has a fully encrypted 128 bit, TLS 1.2 connection that ensures security of data.
End Note
You may not realize it, but reviews can take a lot of time in the eLearning development process. That is the time that you can save with online review tools. I hope this blog gave you some clarity on the different review tools available in the market today.
If you want more information on what rapid eLearning development is all about, download our eBook.