Save Precious eLearning Development Time – Use Review My eLearning
Reviewing eLearning courses and ensuring efficient time management is a tough challenge – especially for SMEs. This is why online review tools are so important for rapid eLearning development. Learn about one such tool – Review My eLearning.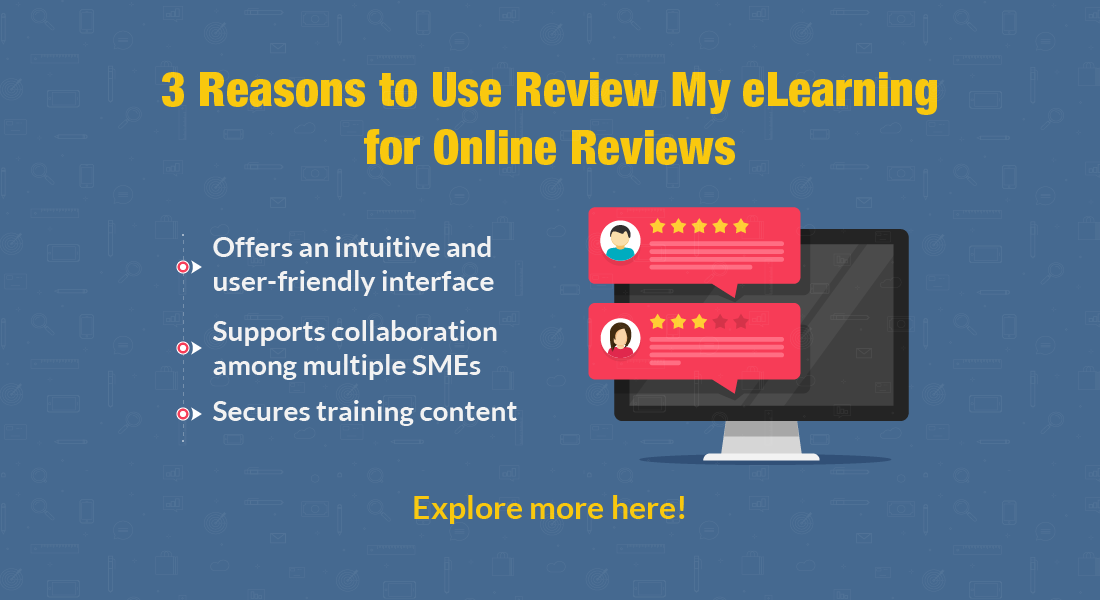 If the thought of getting your SMEs (subject matter experts) to review eLearning courses makes you want to groan, you are not alone! Yes, yes… as a training manger it is your responsibility to ensure the quality of eLearning courses, and reviews are an important part of the development process. But knowing that doesn't make the process any more inviting or any less tedious. All the hassle of convincing stakeholders and SMEs to invest their time in reviews and getting them all on the same page regarding their feedback is not an easy task, to say the least. Luckily for you, learning technologies like online review tools are now available to make your job a lot easier and enable rapid eLearning development.
Why Use Review My eLearning for Online Reviews?
Intuitive and user-friendly interface
Collaborative review among multiple SMEs and stakeholders
Secure training content
Earlier, reviewing an eLearning course meant capturing feedback in a PPT, Word doc, or Excel sheet. This made the whole review 'feedback-implementation' loop very complicated. First, with multiple SMEs and stakeholders, there were multiple feedback documents to keep track of. Second, it was difficult to resolve contradictory feedback from different reviewers, since nobody could see others' feedback. But with online review tools, all these problems can be solved and conflicts easily avoided.
Online review tools come as part of many eLearning authoring tool suites – ReviewLink by Trivantis and Review 360 by Articulate. But what do we do when it comes to reviewing courses developed in tools such as iSpring, that don't have inbuilt online review tools? Luckily, there are several external review tools that allow importing and reviewing of eLearning courses developed in any authoring tool available in the market. Review My eLearning is one such tool and in this blog, we'll discuss how its features make for easier and faster eLearning course reviews.
Review My eLearning Tool for Easy & Quick eLearning Course Reviews
1. Intuitive and User-friendly Interface
When it comes to eLearning course reviews, Subject Matter Experts are the ones with the authority to approve or disapprove courses for technical accuracy. But in general, SMEs are not known for their patience or easy availability, are they? They want a swift and efficient review process, requiring as less time and effort from their side as possible. Passing on PPT decks and asking them to note down their comments is not a very good idea. But a user-friendly online review tool can help make things easy for you as well as your SMEs. The Review My eLearning tool has an intuitive and efficient interface that makes eLearning course reviews incredibly easy. SMEs and stakeholders can offer their feedback in the 'comments' section and post their suggestions. Every reviewer can see comments from other reviewers; this minimizes the chances of duplicate comments. You can also change the settings to allow private comments. Each feedback is streamlined, making it easier to implement changes. The tool also allows for the auto detection of slide numbers and titles so that reviewers don't have to waste time going back and forth through the course. The Comments section has simple text fields to write feedback and checkboxes to indicate what is being reviewed. Once a feedback is implemented or an issue resolved, you can mark the comment as such.
2. Collaborative Review among Multiple SMEs and Stakeholders
All of us are familiar with the saying, 'Too many cooks spoil the broth'. This was certainly true of the earlier review process when you had to share eLearning courses in separate PPT decks to multiple SMEs and stakeholders for review, and each reviewer had to send their feedback in different documents. Even talking about it sounds complicated! For a streamlined and more efficient review process with multiple SMEs and stakeholders, you need a common platform to carry out the process, and online review tools offer just that. However, with online review tools like Review 360 or ReviewLink, reviewers need to create separate accounts in the tool to access courses. Also, separate links need to be created for each reviewer which can be tedious at times, especially if stakeholders change frequently. With the Review My eLearning tool, you need not generate a link for review multiple times; a single link can be used multiple times, and by as many reviewers as you want – reducing time to create links and assigning them to stakeholders. Reviewers can use their email IDs to access courses to be reviewed right away!
3. Secure Training Information
The information you include in your online training courses is your organization's intellectual property and you have every right to be concerned about its security. Your apprehensions regarding using an external app to send links to these courses to in-house or external reviewers are also completely legitimate. That is why the security of Review My eLearning tool is so high. Review My eLearning has a fully encrypted 128 bit, TLS 1.2 connection, which in simple terms means it's very secure. Even when you send a link for review, the actual location of the course is obfuscated and each request to access the file needs to be authenticated first. All these measures are there to ensure that your training content remains secure. So, how do different eLearning course review tools compare with each other?
Review My eLearning vs. ReviewLink vs. Review 360
Comparing online review tools is quite challenging because essentially they are built to serve the same purpose – making eLearning course review easy. Most tools have the same basic features, but it is the subtle nuances in what they offer that make all the difference. Tools like Articulate Review 360 and Trivantis' ReviewLink come as part of authoring suites and are the best choice while reviewing courses created using the respective tool. But Review My eLearning enables you to review courses created using a range of authoring tools. The tool's cost-effective plans add another feature to its cap – the unlimited plan is just $99 a month! Moreover, with Review My eLearning, you can download all feedback comments in one document or spreadsheet and go through all reviews in one go. You can also have multiple feedback cycles without having to import courses over and over again. Here is a checklist to help you select the right review tool for your eLearning project reviews.
Review My eLearning
ReviewLink
Review360
Owner
GForce Learning Corp
Trivantis
Articulate
Streamlined feedback through comments
Available
Available
Available
Private comments
Available
NA
NA
Tracking comment status
Available
Available
Available
Multiple collaborators
Allowed
Allowed
Allowed
Reviewers' activity tracking
Available
Available
NA
Authoring tool compatibility

Adobe Captivate
Lectora Inspire
Articulate Storyline
iSpring
Ancile uPerform
Others on request

Lectora Online and Desktop
Adobe Captivate
Articulate Storyline

Only Articulate Storyline and Rise
Languages
Only English
7 languages
Only English
Summing it Up!
Everything comes down to this – saving on eLearning development time and resources. To meet corporate training demands at the speed of need, you need really fast methods to carry out eLearning design and development, and that also includes the review process. Reviews take a lot of the time because they involve the time and effort of people outside the L&D team. Online review tools like Review My eLearning cut down the time taken for eLearning course reviews. Moreover, using review tools makes collaboration with SMEs and stakeholders easier, and enables rapid eLearning development. I hope this blog has given you some food for thought on using online review tools. If you want more insights on faster training rollout, download our eBook on rapid eLearning design and development.