5 Online Review Tools for Seamless Rapid eLearning Development
The review of eLearning courses is a time-consuming and tedious process due to the involvement of multiple stakeholders. Looking for a solution to quickly review and revise your eLearning courses before deployment? Check out the best online review tools for seamless rapid eLearning development.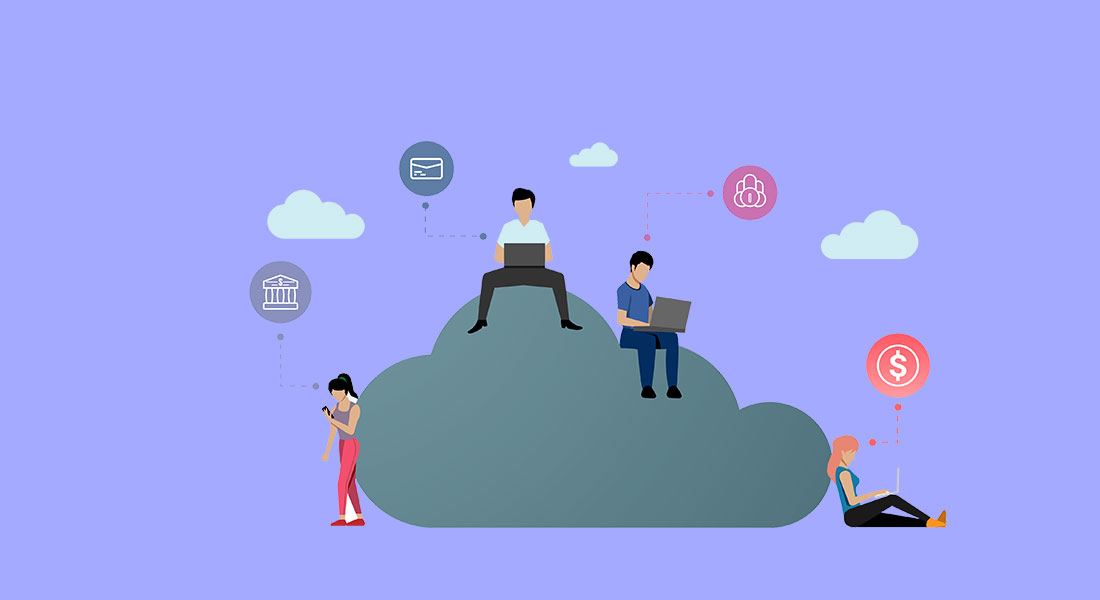 Rapid eLearning is becoming the go-to solution for quick and cost-effective course development in the corporate world. Today, many forward-thinking organizations are proactively procuring the right mix of L&D expertise and technologies to optimize every aspect of their course development process, from planning to design, development, and delivery. However, hiring experienced rapid eLearning developers and leveraging the most powerful authoring tools in the market, such as Adobe Captivate, Lectora Online, and Articulate 360, won't necessarily guarantee quick and effective course rollouts.
Before deployment, you also need a powerful tool to revise, edit, and collaborate with other developers and subject matter experts (SMEs) regarding every aspect of your course's design and content. Here, online review tools for rapid eLearning design and development come in to take the headache out of communication and collaboration during development.
Reviewing Rapid eLearning Courses is Now Made Easy!
Here are the Most Popular Online Review Tools for Rapid eLearning Development – Our Top 5 Picks:
Articulate Review 360
Adobe Captivate Reviewer
Review My eLearning
zipBoard
eBridge
Read on to explore how they can help you with hassle-free online reviews.
In this post, we'll dive deeper into online review tools and explain their core benefits for eLearning developers and L&D professionals. We'll also share our top picks of the best online review tools in the market today.
So, let's get started!
What are Online eLearning Course Reviewer Tools?
In short, online review tools for rapid eLearning development are quality assurance tools that allow L&D to identify and manage design and content issues. These innovative solutions also enable developers, SMEs, and other stakeholders to share feedback in real-time and exchange information in the form of instructions in comments, forms, links, and templates.
Why Use Online Review Tools?
Online review tools provide a great alternative to spreadsheets and other traditional solutions used to collect feedback from team members, SMEs, and other stakeholders involved in a project. Here are a few benefits on offer: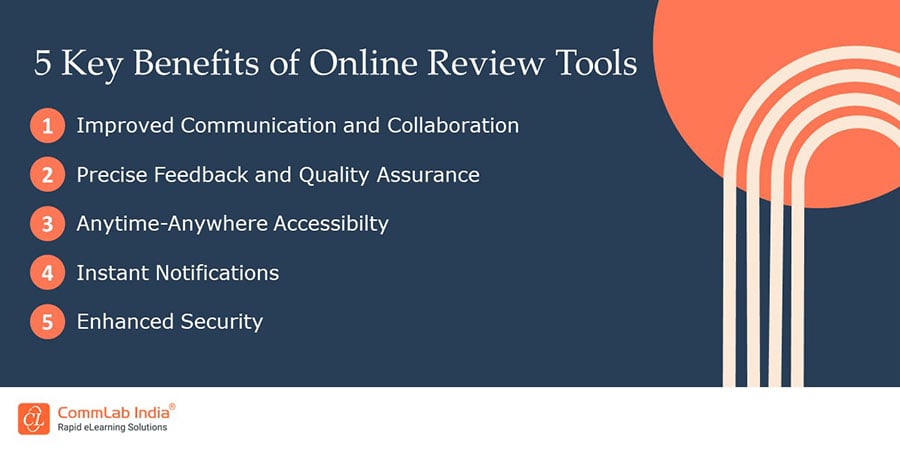 Improved Communication and Collaboration
Online review tools allow multiple reviewers to leave comments or suggestions directly in the software for active feedback collection. They help speed up the entire review process by eliminating unnecessary communication barriers between stakeholders involved in the project. They also help to ensure that all changes are tracked, documented, and monitored.
Precise Feedback and Quality Assurance
Secondly, online review tools allow developers and instructional designers to share specific sections of their work with reviewers without sending out an entire eLearning course for review. It allows reviewers to quickly assess only the relevant parts of a project, which can help them provide more targeted feedback in less time.
Anywhere-Anytime Accessibility
Like cloud-based authoring tools, many course reviewer tools enable anywhere-anytime access for users, which makes it easier for everyone involved in a project to communicate and collaborate from anywhere, anytime, using any supported device.
Instant Notifications
Most online review tools have built-in notifications feature that alerts users about comments and other forms of feedback in real-time via email or SMS. Users also use this feature to prompt SMEs to review courses. Conversely, SMEs can alert developers about approvals or changes.
Enhanced Security
Many developers upload different versions of a course on web servers for review. Depending on the upload frequency, search engine crawlers can index the page on which the course is published and prompt your course to show up on Google. From a marketing perspective, this might be beneficial. However, from a security and privacy perspective, not so much.
By opting for an online review tool, you can maintain privacy by limiting access to the stakeholders involved in the development.
The Most Popular Online Review Tools for Rapid eLearning Development – Our Top 5 Picks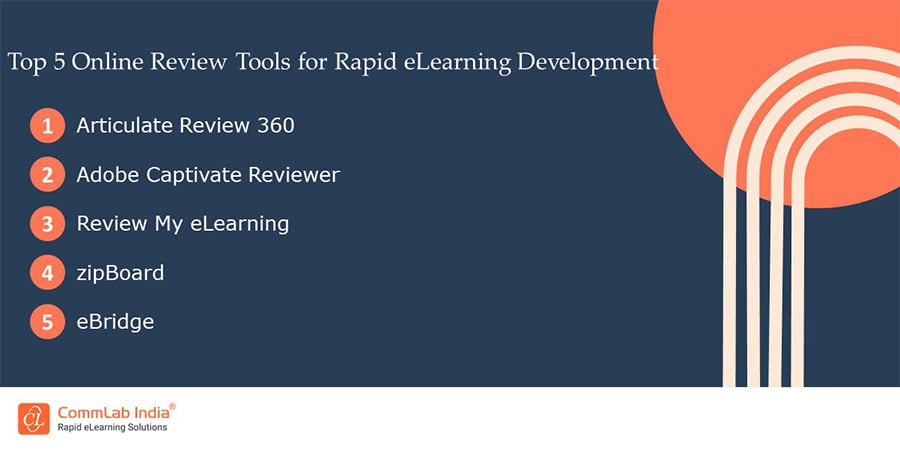 1. Articulate Review 360
Articulate Review 360 is a built-in online review tool that comes with the Articulate Storyline 360 suite. So, if you're using Storyline 360 or Rise 360 to develop courses, you don't need to procure a third-party course reviewer app for quality assurance.
Review 360 allows developers to share their course's storyboard, prototype, and final product with SMEs, stakeholders, and other reviewers. With all versions of the course in a single solution, users can avoid the hassle of accessing multiple files and documents for individual reviews. As with most online review tools, you can add comments and feedback in real time and pinpoint changes in different sections with ease.
2. Adobe Captivate Reviewer
If you're a member of the Adobe eLearning community and using Adobe Captivate as your primary authoring tool, you can visit Acrobat.com and download Captivate Reviewer for free. With this tool, you can easily upload your courses for review online and track comments and other feedback forms in real time. You can also export changes to the file and the feedback collected to be accessed offline.
3. Review My eLearning
Review My eLearning is one of the most powerful third-party course review tools in the market, using which you can import eLearning courses designed using any authoring tool. It features a highly intuitive user interface that enables stakeholders to review courses seamlessly without wasting time learning how the tool works.
SMEs can highlight sections of a course using checkboxes and simple text fields to add feedback for designers and developers. However, the most important built-in feature is the auto-detect tool using which you can automate the slide number and title review process. Furthermore, Review My eLearning is incredibly safe thanks to 128-bit file encryption and a single link for multiple reviewers.
4. zipBoard
zipBoard is another popular digital review and approval solution commonly used by eLearning designers and developers looking for visual feedback from stakeholders. Although the software wasn't designed for eLearning course reviews, it can be used to display real-time changes and comments when collaborating with others.
It also includes a record-screen feature using which SMEs can record instructions for changes to different members working on the project.
5. eBridge
eBridge is another third-party online review tool eLearning developers can integrate seamlessly with any authoring tool formats, including AdobeCS6, Storyline, and HTML5. The tool is designed to centralize communications and enable users to highlight urgent changes via notifications and comments. It's a cloud-based solution you can access from anywhere, which makes it useful for remote and hybrid L&D teams.
Online review tools are a savior when it comes to saving your SME's time. Watch this video for a few more quick tips to save SMEs' time.
Wrapping it up!
The use of online review tools has become increasingly popular among rapid eLearning developers. These solutions offer a variety of features and benefits to streamline the development process. Moreover, they offer several useful features for developers, including collaborative editing, automated reviews, version control, user feedback tracking, and more. However, the most significant benefit of online review tools is enabling L&D teams to identify and eliminate any issues in their courses' design and content proactively. As a result, they can avoid fixing errors after their courses have gone live and ensure high quality every time.
Authoring tools too are the foundational requirement for development of rapid eLearning courses. And there are many available in the market. Need some help in deciding the rapid eLearning authoring tool that's just right for you? Access the tool — the authoring tool finder to get an idea of what works best for you depending on your unique needs.