4 Online Review Tools for Your Flash eLearning to HTML5 Conversion
Are your SMEs tired of reviewing eLearning courses that were converted from Flash to HMTL5? Here are 4 online review tools to ease the review process for Flash to HTML5 eLearning conversion.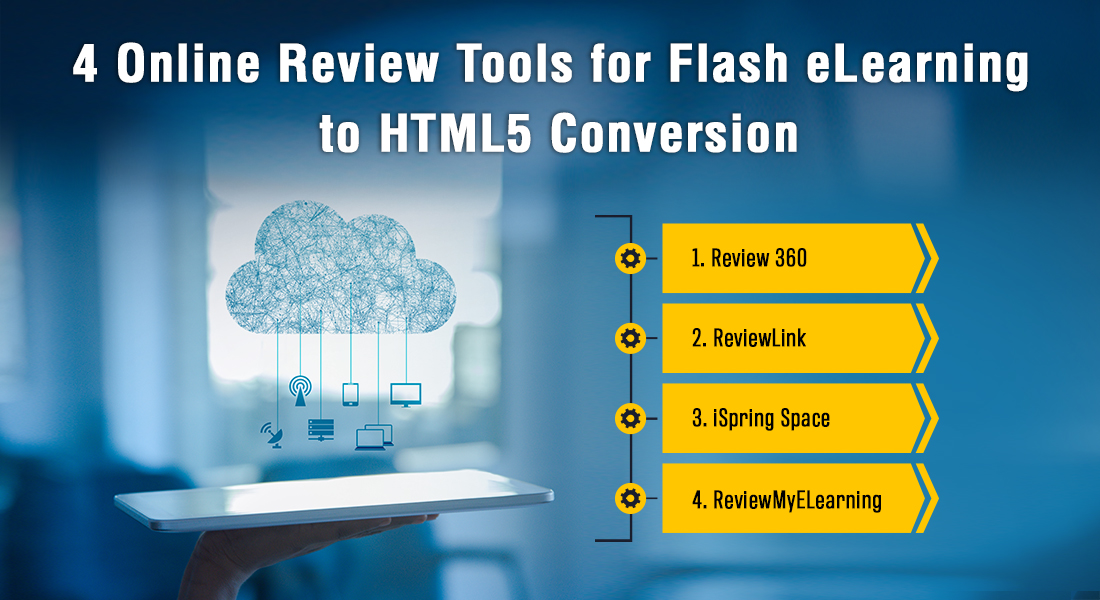 How does your 'Flash eLearning to HTML5 conversion' team carry out its reviews? Do you have one team checking for courses with Flash elements and another for checking the revamped courses?
Is the whole conversion process getting delayed because of the cumbersome review process?
Regardless of whether you are outsourcing Flash to HTML conversion or doing it in-house, the secret to ensuring a smooth, hassle-free conversion process is robust project management.
Anyone who has been involved in the Flash eLearning to HTML5 conversion process (or any online learning development for that matter) knows how important review management protocols are and how vital a role they play in project management. Having said that, with many conventional review processes involving numerous SMEs and reviewers, keeping track of all the feedback could be a herculean task.
All of this has only gotten worse with the COVID-19-induced 'new normal' where it's highly likely that all those involved in the conversion project are working remotely, scattered across multiple locations.
This is where online review tools can make a difference.
In this blog, we will look at four online review applications/tools which will help you streamline review processes for Flash to HTML5 conversion.
Four Popular Online Review Tools for Flash to HTML5 Conversion
1. Review 360
Articulate Review 360 is an easy-to-use review tool included with the Articulate 360 subscription.
With Articulate Review 360, SMEs don't need to worry about the complexity of the tool, and courseware developers don't need to create spreadsheets to manage feedback from reviewers. Authors can simply publish projects to Articulate 360 and collect feedback with Review 360. This is what you can do with Articulate Review 360:
Protect Access to Courses with Password
Before sharing the Review link, the author/developer has the option to set a unique password so that only those with access can see the converted course/s.
Avoid Confusion with In-context Commenting
Reviewers open the Review link and enter the password. They then review the course, providing in-context comments for each slide.
In-context comments with accompanying screenshots help developers understand the feedback better.
Achieve Collaborative Reviewing
Multiple reviewers can provide their feedback and the developer will see all comments and responses in one place as threaded conversations. Authors can easily address individual issues and mark them as resolved.
Developers make the required changes on the Articulate Storyline tool and publish it as a new version on Articulate 360, overriding the existing version.
Once (re)published on Articulate 360, developers can toggle between the older and newer version to ensure all changes have been made, and then send it for review again.
Reviewers see the updated version of the course and approve the changes.
2. ReviewLink
Converting Flash eLearning to HTML5 also makes the courses mobile compatible as the HTML5-based eLearning can be easily accessed on mobile devices including smartphones and tablets. In fact, mobile learning is one of the biggest reasons why companies even bother to convert their Flash eLearning—so that their modern, millennial learners can learn on the go.
Test Mobile compatibility
Lectora's ReviewLink is a popular review tool among learning professionals because it allows reviewers to test the mobile-friendliness of your HTML5 eLearning. The built-in 'device preview toolbar' helps them check the course's mobile compatibility and allows them to easily toggle between portrait and landscape modes.
Also, as it's highly likely that learners will be using devices with different screen layouts and dimensions, it becomes imperative for reviewers to test the courses on different layouts and see there are no issues in text/image formatting. In this regard, ReviewLink allows reviewers to save custom views depending on the devices their learners use to access training courses and review the content.
Review and Approve Courses in One Place
Just like Review360, ReviewLink enables developers to publish courses and manage feedback, all in one place:
You can use Lectora/Lectora Online to convert Flash courses and publish them to HTML5 eLearning on ReviewLink, and simultaneously send email invites to reviewers to review the converted courses.
Invited Reviewers will have instant access and can log in to ReviewLink to review the HTML5 course and submit feedback on individual pages.
Each new comment submitted by a reviewer enters its 'life cycle' in ReviewLink, where developers can track, view, filter the comments, and make changes to the converted HTML5 courses. They then upload the updated course to ReviewLink after marking the comments and feedback as fixed/resolved.
The reviewers, then, confirm whether the changes were appropriate, marking them as 'OK' or 'Not Ok.'
Import Courses Published in Other Tools
What happens if you want to convert Flash courses using other tools such as Storyline or Adobe Captivate? In that case, ReviewLink allows you to directly upload published HTML5-based courses which were converted using authoring tools other than Lectora or Lectora Online.
3. iSpring Space
Formerly known as iSpring Cloud, iSpring Space is an online review tool that's part of iSpring Suite Max. Let's look at what you can do with iSpring Space for Flash to HMTL5 conversion:
Make Collaborative Authoring Possible
Many companies outsource at least parts of their Flash to HTML5 eLearning conversion to an eLearning vendor. In such cases, iSpring Space allows their internal team and the vendor's team to work in a collaborative online workspace for speedy conversion. Team members can send each other links using the tool and make edits and changes wherever needed.
Apart from this, courseware developers can even store templates of their HTML5 courses (such as the slides for introduction, assessments), simulations, as well as completed Flash to HTML5 conversion projects. This allows them to reuse repeat components, cutting down drastically on the conversion time.
Allow Instructional Design Improvements to the Flash Courses
Most Flash courses contain obsolete and outdated content that needs to be updated.
In this regard, iSpring Space allows instructional designers and courseware developers to replace the obsolete content in legacy courses with high quality interactivities, videos, and eLearning assessments that can run seamlessly on whatever device the learner is using.
Achieve Faster Review Cycles
In Flash to HTML5 conversion projects, the number usually runs into hundreds if not more. As a result, the reviewing process becomes tedious as developers are forced to send multiple copies of Flash courses to the stakeholders for their feedback.
With iSpring Space, instead of emailing separate copies of the converted course/s, developers simply need to send a single link to the reviewers in iSpring Space and receive their feedback right there. Reviewers don't need to have an iSpring account to do this. All they need is a working browser and good Internet connection.
Test courses for Multi-device Capability
Similar to ReviewLink, iSpring Space also allows you to (create and) test mobile-friendly courses. This includes testing their compatibility on Android smartphones, iPhones, iPads, Android tablets, Microsoft Surface tablets, laptops, PCs, MacBooks, and iMacs.
4. ReviewMyElearning
ReviewMyElearning is an online review tool for Flash to HTML5 conversion that focuses on providing a secure space, improving efficiency, and facilitating collaborative development. It offers all the basic features of a review tool. You can:
Send unlimited invitations to developers and reviewers to review the HTML5 courses and receive feedback. Developers can 'assign' work to the reviewers and testers and approve their changes.
Find all the comments and feedback in one location, and control visibility of the comments i.e., who gets to see which comments.
Discuss the comments and feedback with reviewers to produce functional, error-free HTML5 eLearning courses.
Conduct reviews of your converted Flash eLearning in a data-secure, fully encrypted environment.
Integrate the review tool with almost all the popular Flash to HTML5 tools including Articulate Storyline, Lectora, Adobe Captivate, iSpring, among others.
Parting thoughts
Feedback from your stakeholders (SMEs, trainers, L&D experts, quality analysts) is invaluable. Having said that, not all of them may be good with complex review tools. Besides, these are busy individuals and may not be available 24X7 for reviews. Therefore, it's imperative you make the review process as simple and seamless as possible using these online review tools and, in turn, speed up the Flash to HTML5 conversion process.