The Plan of Action for Flash to HTML5 eLearning Conversion
How do you get started with Flash to HTML5 eLearning conversions? Here's the success mantra for effective Flash to HTML5 eLearning conversions.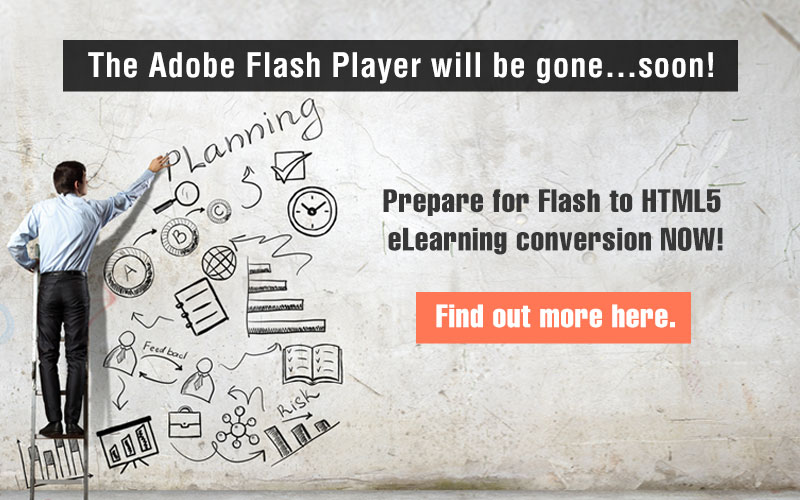 Who framed Roger Rab…err…Adobe Flash Player? Was it Apple withdrawing support to the Flash player on its iPhones and iPads, or was it entirely Adobe's decision?
Maybe we'll never know, but what's more important now is to understand how this will affect your Flash-based eLearning courses. Organizations that had relied on their Flash-based eLearning for training are now grappling with the task of converting those courses to HTML5, and many of them are left baffled and perplexed!
So, what will happen if your Flash courses are not converted to HTML5? What's the worst-case scenario?
Well, after 2020, it will no longer be possible to access your Flash-based eLearning courses on the latest browsers; organizations will not be able to provide multi-device learning – an important prerequisite for learning in this digital era.
This makes converting your legacy Flash-based eLearning courses to HTML5 a matter of urgency, because there's not much time left. Although many organizations have realized the importance of starting the Flash to HTML5 conversion process, many are still unsure about the best way to go about it.
How to go about Flash Courses to HTML5 Conversion Efficiently
If you're part of your organization's training team or are responsible for rolling out online training, it's essential you understand the Flash to HTML5 eLearning conversion.
What should you expect to do when you make the migration from Flash to HTML5-based eLearning?
You'll need to:
1. Evaluate Content
Before starting on Flash to HTML5 eLearning conversions, you'll have to spend some time evaluating your courses. Check if your existing Flash eLearning courses are still relevant – both to your organization and learners.
If the course content is irrelevant and is not aligned with the current training needs of your organization, consider scrapping the course/s.
If the content in the Flash-based eLearning courses is relevant, here is your course of action.
| | |
| --- | --- |
| Content is relevant to your learners, and can be used as is. | Go for a full-fledged Flash to HTML5 conversion plan. |
| Content is relevant but needs modifications before use. | Use this opportunity to update text/graphics and convert those Flash courses to HTML5. |
2. Create an Inventory of Courses
After you've evaluated the content, you should ideally create an inventory of your courses that are still relevant. Try mapping the courses to different categories. For example, you can categorize them into courses that could be reused as they are and those that need content updates; or courses that have source files available and those that don't.
You can also categorize them based on the course duration, topic, and importance. This will help you prioritize courses for conversion. For example, your Flash-based online training on Compliance or New Hire Training would be rated higher compared to one on Communication Skills.
3. Decide on the Conversion Plan
If you have a large volume of Flash-based courses, the conversion process may initially seem quite overwhelming. But don't worry, we have the perfect solution for all your conversion problems.
Working with a wide variety of customers, we have fine-tuned the strategies for Flash to HTML5 conversion for every requirement. You can pick the conversion strategy that's applicable for your Flash-based eLearning courses from our 4 R's of Flash to HTML5 conversion.
If you're worried that your Flash courses don't have source files, stop worrying! Because we do have a strategy to convert your Flash courses to HTML5, even in the absence of source files!
Here's an informative table to help you choose the right conversion plan.
The 4 R's of Flash to HTML5 Conversion
The 'R'
When to Use
The Process
Development Time
R1: Record

You do not have source files.
The courses are low on interactive elements.

Use screen capture software to record and publish courses in a HTML5-compatible video format.
4 to 6 hours
R2: Republish

No/minimal updates are required.
The course was published in an older version of an authoring tool.

Publish the course in the latest version of the same authoring tool.
12 to 24 hours
R3: Rebuild
Existing courses have been developed using an authoring tool that's now obsolete.
Rebuild the courses and publish them using a new authoring tool.
24 to 40 hours
R4: Redesign
A lot of updates are required (content, instructional strategy).
Redesign the courses from scratch by adding or updating content and using new instructional design strategies.
180 to 250 hours
4. Choose the Right Authoring Tool
Your choice of authoring tool to convert your Flash courses to HTML5 would depend on many factors – scalability and translation requirements, complexity of interactivities required, cost of the authoring tool, and of course, the availability of technical expertise on a specific tool.
You do have a lot of choices – Articulate 360, Adobe Captivate, Lectora Inspire, Lectora Online, and iSpring Suite are some of the popular ones – each tool with its own unique strengths that can be leveraged for effective conversion.
For example, Adobe Captivate or Lectora Inspire are great choices when you need translated versions of courses while Flash to HTML5 eLearning conversions. For recreating Flash-based interactivities, Storyline 360 (from the Articulate 360 family) is a good choice. And the iSpring Suite can be very well used to quickly convert online PowerPoint presentations to HTML5 output.
5. Plan to Create Alternatives for Flash Interactivities
While converting Flash to HTML5-based eLearning, it's important to understand that not every Flash interactivity can be converted to HTML5 – as not all of them can be re-created as they are.
For example, a hover (mouse-over) interaction (that displays additional information) works well in a Flash-based eLearning course accessed on a desktop. But the same cannot be used in a mobile-compatible HTML5-based eLearning. A better option would be to replace this interactivity with one that uses clickable tabs to display more information.
6. Decide between Mobile-friendly and Mobile-first Conversion
Converting courses from Flash to HTML5 makes them accessible on mobile devices. This brings up the question, what do you want your courses to be? 'Mobile-friendly'? Or 'mobile-first'?
If you don't have a mobile learning strategy in place, then having mobile-friendly HTML5-based eLearning is a good place to start. A mobile-friendly design would do if learners in your organization normally access courses on their desktops/laptops, only occasionally accessing them on their mobile devices.
But if learners are going to access courses primarily on their mobile devices, it is better to opt for the completely responsive mobile-first course conversion.
When converting from Flash to HTML5, you might also consider converting some of the lengthy Flash-based courses to microlearning curricula or offering part of the information as performance support solutions that can be quickly accessed on mobile devices.
Wrap Up
Now that you know what to expect before getting started with the Flash to HTML5 conversion process, you'll have to make one more decision. And that's to decide whether to outsource your conversion project or complete it
in-house.
If you have an in-house eLearning development team with the required expertise, go for in-house conversion. But if your team does not have the necessary experience and expertise, especially for large scale conversions, it makes sense to outsource your eLearning conversion project to a reliable vendor.
If you have questions on the Flash to HTML5 conversion process, or would like more in-depth information on it, check our ultimate guide on Flash-based eLearning to HTML5 conversion.