The New and Enhanced ELearning Authoring Tool Features of 2020: A Brief Review
Are you aware of the 2020 eLearning authoring tool updates? Or are you still using the same old features to create your eLearning courses? Here's a blog on all the new and updated features of authoring tools that you can get access to now.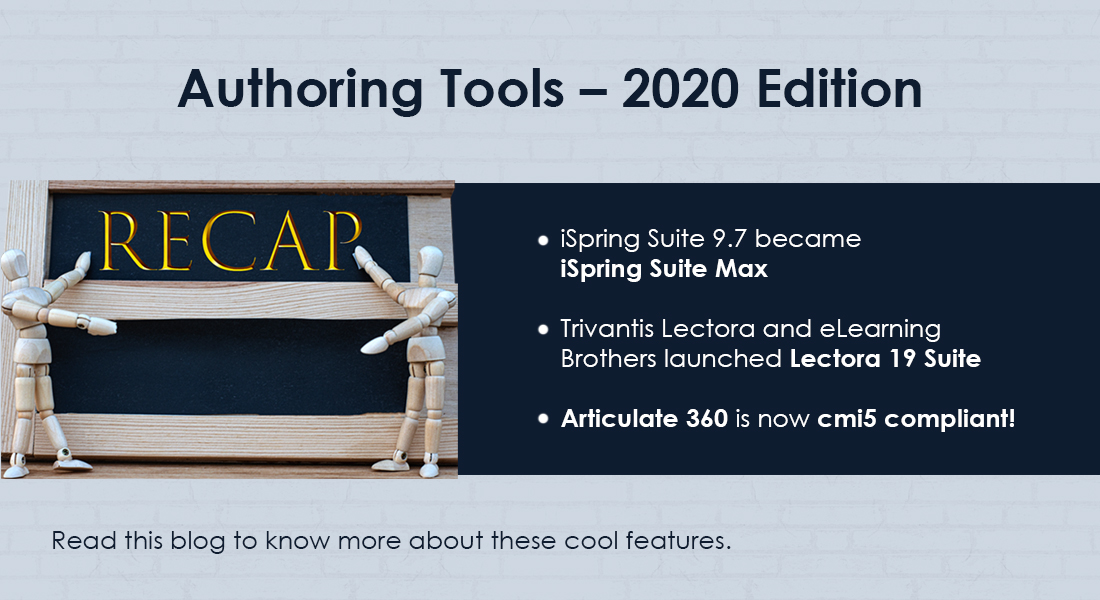 A training manager, an instructional designer, and an eLearning developer walk into a bar (with their masks on and sanitizers in hand of course!). What do you think they talk about? Authoring tools, what else?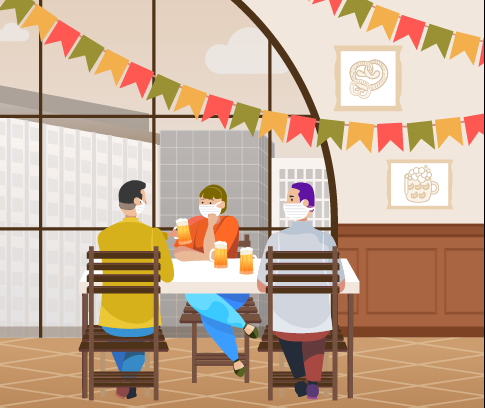 'Authoring Tools' is one topic on which all of us could wax eloquent at the drop of a hat.
Yes, even the COVID-19 pandemic couldn't dampen our excitement over all the new updates and enhanced features that were added to our favorite eLearning authoring tools. And now that we are nearing the end of this year, why not take a look back and recap everything eLearning authoring tools had to offer in 2020.
ELearning Authoring Tools Updates in 2020: A Recap
iSpring Suite Max: New content library, iSpring Space, accessibility features
Lectora 19 Suite: New screen recorder and editor, increased asset library size
Articulate 360: cmi5 compliance, updated screen reader & online review tool
Popular ELearning Authoring Tool Updates and Enhanced Features of 2020
1. iSpring Suite Max
In September 2020 when we were just about totally stressed out because of the pandemic and multiple eLearning projects, our favorite rapid eLearning authoring tool announced a much awaited and much needed upgrade from iSpring Suite 9.7 to iSpring Suite Max – with updated features that were tailored to address many of the problems faced by training professionals and learners during the lockdown.
The update we are most excited about is iSpring Space – a cloud-based or web-based platform for collaborative authoring and online course review. That means no one designer or developer needs to be burdened with an entire project because of limited licensing.
Instead, several authors can collaborate to speed up their deliverables and develop courses rapidly. Using iSpring Space also means learners can get access to different projects and work from any location, home or office, simply by logging in through their desktops or mobile devices.
With this update, iSpring Suite max is now offering a content library of 450+ templates for eLearning courses and assessments, 65000+ character images of both genders, with different professional, racial, and ethnic backgrounds, 1025 background images, and a collection of 600 icons to serve as signs, symbols, or buttons. You can use all these to customize your eLearning courses according to your organization's branding, the training topic, and of course, scenarios to keep learners engaged.
iSpring Suite Max has also finally addressed its biggest criticism over the years (of limited customization) by providing an open JavaScript API. Now you can customize the iSpring Player as much as you want.
iSpring Flip has enabled slide-based courses and flipbooks to be section 508 compliant to make training accessible for specially-abled learners during the 'work from home' situation.
2. Lectora 19 Suite
ELearning brothers had acquired Trivantis Lectora this year and launched its latest version Lectora19 suite. Though 'suites' would be more an appropriate term because there are 3 different suites you can choose from based on your training requirements.
Silver Suite: Lectora 19 Online + ReviewLink + Asset Library (in app access) for $899/year
Gold Suite: Lectora 19 Online + Desktop + ReviewLink + Asset Library (in app + full access) for $1299/year
Platinum Suite: Lectora 19 Online + Desktop + CenarioVR+ Asset Library (in-app + full access) for $1599/year
All these suite options cost much less than earlier when you had to buy licenses for each tool individually. That's great news for your training budgets which might already be suffering from the COVID effect.
Here are the new features that were added to the Lectora 19 suite this year.
The internal asset library increased more than 40 times (because of eLearning Brothers), and now offers over 120 million stock images, 89000 customizable icons, 9000 PowerPoint layouts, and 1500 interactive templates. To add to this, the templates have built-in xAPI statements and a lot of accessibility features already enabled, making it much simpler to create engaging learning and monitor learning activities.
Remember how you needed to use Snagit and Camtasia plug-ins for screen captures and recording in Lectora? Well…not anymore! With Lectora 19 Desktop version, you get a built-in screen recorder and editor allowing you to easily capture screen activities for system simulations, and add webcam recording to presentations and videos to create guided learning experiences.
You no longer need to license CenarioVR as an add-on because it is now part of the platinum suite. The new updates within the tool allow you to create immersive learning experiences by using:
360 images and videos directly from the library
Audio for hotspots
The accessibility features – accessible labels, predicted focus, Aria-described prompts, correct tabbing order, and keyboard shortcuts – have been enhanced. The 'text-to-speech' feature has also been updated to provide better audio quality. The standard and custom lightbox pop-up windows and custom radio buttons and checkboxes now support WCAG and Section 508 requirements too.
3. Articulate 360
The Articulate 360 authoring tool suite has long been an industry favourite all-rounder. It has everything you need to create eLearning courses and yet is constantly improving its existing features and adding new ones. Though unlike Lectora or iSpring, Articulate 360 didn't exactly launch new versions of its authoring tools, it still enhanced them and added some really interesting features.
You can now publish courses developed in Storyline 360 and Rise 360 in cmi5. This will allow your courses to overcome the challenges with SCORM (lack of offline mobile tracking, inability to monitor learning activities outside the LMS, not so good user-experience due to multiple pop-up windows, etc.) and at the same time, allow course sequencing, bookmarking, etc., that wasn't possible with xAPI.
You can also now customize templates used in Rise 360 (which earlier provided very little scope for customization). More content blocks have been added to the tool, for instance, scenario blocks, chart blocks, etc.
The playback controls and player menu in Storyline 360 have been improved in the screen reader feature to improve accessibility.
A new search and filter index was added on the dashboard in Review 360 to make searching for specific projects a lot easier.
End Note
These big and small updates in eLearning authoring tool features came to our rescue at a time when training professionals across the globe were being overwhelmed, both with work and the pandemic. And we are thankful for it. And of course, we are waiting with bated breath for 'what's new, what's next'!
Authoring tools have always been a great help in speeding up training deliverables and meeting business demands by focusing on rapid development. If you want to know more about rapid eLearning and how it can help your corporate training initiatives, download our eBook.