5 Top eLearning Authoring Tools for Simulation-based Courses
Authoring tools are integral for simulation-based eLearning development. Discover 5 rapid authoring tools for simulation-based eLearning here.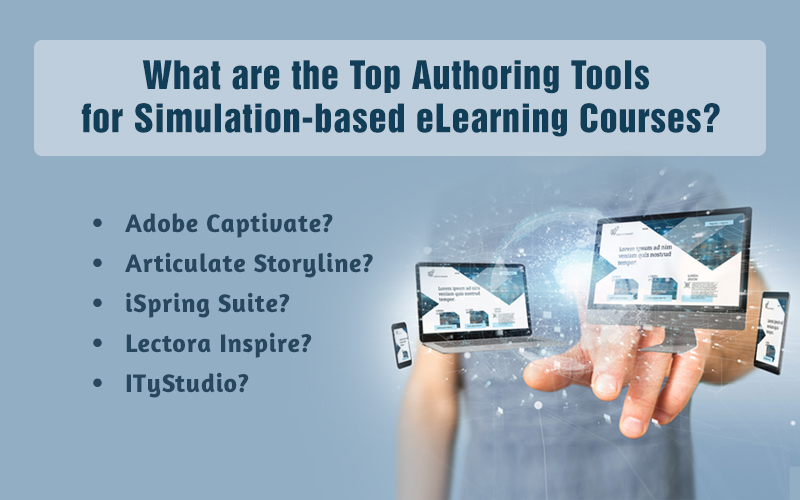 "Tell me and I forget. Teach me and I remember. Involve me and I learn." This quote by Benjamin Franklin always reminds me of the most basic rule of effective training, i.e., involving learners or letting them 'do' instead of telling them 'how to do'. And how can you give learners such hands-on experience in online training? Through simulation-based eLearning, of course! Authoring tools are being widely used for developing simulation-based courses rapidly at low cost. They can be used to easily create engaging simulations with scenarios, animations, videos, and audio clips.
A simulation is a replica of a real-world process or system that can be used to train learners on high-end technology, complex machinery, and software applications. Simulation-based eLearning enables learners to deal with real-world challenges in a safe environment (without the risk of facing the consequences of failing), hone their skill sets, and visually explore each step in a process at their own pace.
But selecting the right eLearning authoring tool for simulation-based courses is not an easy task. You need to choose a tool that can not only create high-quality simulations but also do that with the minimum effort, cost, and time. So, to make your job easy, here is a list of the top authoring tools that can help build effective and efficient simulation-based eLearning courses.
5 Authoring Tools for Simulation-based eLearning
Adobe Captivate 2019
Articulate Storyline 360
iSpring Suite 9.7
Lectora Inspire
ITyStudio
The Right Authoring Tool for Your Simulation-based eLearning
1. Adobe Captivate 2019
Adobe Captivate is a rapid eLearning authoring tool that can develop seamless simulation-based courses as easily as recording 'how-to' videos. It can create simulations for software system training in three different modes – demo, training, and assessment.
Demo: This mode can be used to demonstrate a procedure to the learner, without requiring any action from them.
Training: This mode can be used to guide the learner through a software procedure. The learner is required to perform the steps in the procedure with guidance at every step.
Assessment: This mode can used to test the user's knowledge of a procedure, with only correct/incorrect intervention pop-ups.
2. Articulate Storyline 360
The rapid eLearning authoring tool Storyline 360 is ideal for developing 'watch-try-do' software simulations. It can be used to record screencasts of any software system.
For instance, if you want to train your employees on using an SAP system for creating a Purchase Order (PO), a watch-type simulation video first demonstrates the steps involved. Next, the learner is given the opportunity to try and practice the same steps in a simulated environment with the help of hints and instructions. Finally, in the simulation-based assessment, the learner is asked to create a PO on their own, without any assistance.
You can use captions, characters, and zoom-and-pan effects when recording the application. You can also easily break one onscreen activity into multiple, simulation-based online tutorials. Storyline makes the editing of simulation-based courses extremely simple, as you don't have to re-record the entire simulation to make some minor changes. You can even change the first and last frames without changing the entire course.
3. iSpring Suite
Simulations are generally used in eLearning courses to train learners on software systems and high-end technology. Converter Pro also offers the experience of interactive software simulations using hyperlinks and trigger animations. Converter Pro also allows you to enhance PPT-based software simulation courses using a player, multimedia, and video narration.
If you don't want such interactive simulations, iSpring also lets you record video tutorials for software training. All you have to do is make a screencast of your course and add audio narration describing the steps or features. This is the simplest way of offering software simulations and iSpring makes it possible for you!
Apart from using simulations for software training, it can also be used for many other training activities, as can be seen with this latest tool from the iSpring Suite.
iSpring TalkMaster is a tool that helps create dialogue simulations to train learners on communication skills. You can use characters, dialogues, branching scenarios, and also voiceovers (in version 8.3) to make your simulation-based courses seem more realistic.
This is an effective method of training sales representatives, customer service employees, and any other job roles requiring good communication skills. So, the next time you need to train your employees on how to deal with clients, use the iSpring TalkMaster tool to create simulation-based eLearning that creates life-like conversations that closely imitate real-life.
4. Lectora Inspire 18
Lectora Inspire 18 is another rapid eLearning authoring tool that can create highly interactive and realistic software simulations. It uses three tools which come as part of the Lectora Suite – Snagit, Camtasia, and BranchTrack. Though these tools can be used independently, using them together can help build highly interactive and responsive simulation-based eLearning courses.
Snagit and Camtasia play an important role in building software simulations, and are used for screen captures, recording, and editing.
BranchTrack, on the other hand, uses role-playing, branching scenarios and game-based techniques to build highly interactive simulations. Though it is part of the Lectora Suite, BranchTrack can also be integrated with other eLearning authoring tools such as Captivate and Storyline. It has a built-in image library with dozens of characters and backgrounds, and also offers real-time analytics that collect and interpret learners' actions and behavior during the simulation training.
5. ITyStudio
ITyStudio is an authoring tool that is used to develop serious games with interactive maps, 2D and 3D behavioral simulations, and software and technical simulation training. This tool is your best bet if you want to add a 'fun factor' to your simulation training. You can use a variety of settings, characters, scenarios trees, and media to make the simulation more interactive and engaging.
Summing it Up!
Simulation training has always been an important strategy in instructional design to provide an interactive learning experience to learners. The ever-evolving technology behind rapid eLearning authoring tools has made building simulation-based courses easier and less expensive than ever before.
I hope this blog will help you choose the right authoring tools for simulation-based eLearning development.
While simulations are one of the many instructional design strategies to enhance eLearning, do you want to know more? Here's our free eBook- Instructional Design 101 to help you design impactful online training courses.