Why Is iSpring Suite Max Just Right for Rapid eLearning?
If you want to develop eLearning courses rapidly, why not try iSpring? It is a reliable PPT-based eLearning authoring tool that helps create courses, dialogue simulations, quizzes, screencasts, videos, and more. Interested? Read on about using iSpring for rapid eLearning!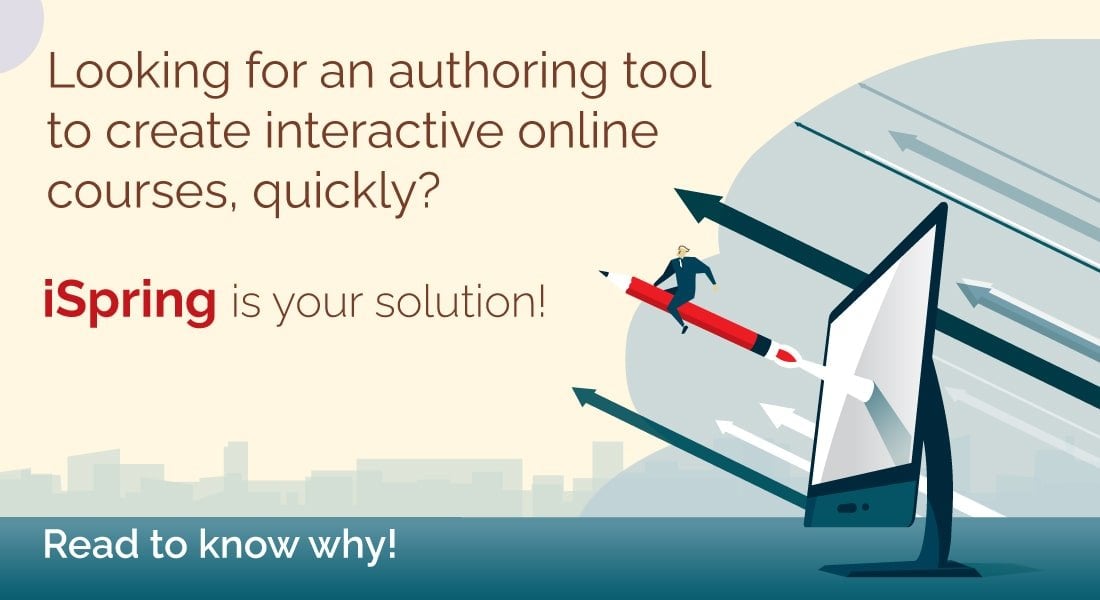 The demand for eLearning has never been greater than the present because of the rapid pace of technical breakthroughs and product cycles, and also now that classroom training is no longer a viable option. As a training manager, you are always on the lookout for ways to create the right blend of content and interactivities to ensure learner engagement, without spending a lot of time and effort. Authoring tools are the answer for your search as they can help make the entire process of eLearning development much more efficient and seamless. And iSpring Suite Max is one of the best rapid authoring tools available with a lot to offer.
What is iSpring Suite Max?
iSpring Suite Max is the latest release of the iSpring Suite eLearning authoring toolkit that offers maximum functionality with minimum effort. It includes:
iSpring Suite authoring tool
Content Library – a library of templates and assets
iSpring Space – for collaboration
iSpring Suite Max for Rapid eLearning
What you stand to gain:
Convert instructionally sound PPTs to eLearning
Make assessments peppy
Leverage the power of videos and scenarios
What does it offer? So, shall we look at these in some detail now?
iSpring Suite
iSpring is one of the best and most cost-effective tools available today. It has a very low learning curve, and its features are particularly useful for the rapid design and development of:
Self-paced courses
With just a few clicks, you can turn your fully designed PowerPoint storyboards into self-paced online courses.
All PowerPoint effects and transitions are retained during the conversion.
Quizzes
iSpring Suite Max is your 'go to' tool if you want to:
Create captivating assessments – This is a piece of cake with 14 question templates that include MCQs, sequencing, point and click, fill-in-the-blanks, and more.
Create online surveys quickly – for the entire organization or a small group.
Develop branching scenarios.
Make assessments cheat-proof by randomizing questions.
Dialog simulations
A "dialogue simulation" is an interactive exercise that mimics a real-life conversation. It helps employees improve their communication skills without jeopardizing a deal. It can be used to train:
Employees on how to speak clearly and practice in a fail-safe environment
Sales representatives and call centre operators on communicating with customers
Pro Tip
You can convert old scripts into enthralling role-play dialogue simulations. Just choose a character and construct the dialogue scenario with a simple drag-and-drop editor. There are no design or technical abilities required.
Videos
The iSpring Suite Max allows you to record video lectures, provide watch-and-repeat instructions, and develop software simulations.
Create video-based training courses: You can add a backstory to each slide to make it more interesting, record or import screencasts, or provide narration and annotations right in PowerPoint with iSpring (to walk your audience through the steps of a process).
Edit videos in an easy-to-use studio: You may fine-tune your videos, add special effects, text, audio clips, or update your course seamlessly with the built-in video studio, without using any additional software.
iSpring Content Library
When it comes to authoring tools, an internal stock library for media assets is a must-have, without which you can end up spending a lot of money and time searching for and licencing stock photos from third-party sources. The iSpring content library allows you to create fabulous courses with the help of its internal content library containing:
450 slide templates (with different themes)
65,000-character images
1,025 location images
iSpring Space
iSpring Space is a platform for eLearning developers and subject matter experts (SMEs) to collaborate and review their work. It lets eLearning developers work on the project and once they're done, send it across to SMEs for review and feedback. Here are some of the things you can do in iSpring Space:
Develop courses collaboratively
Project files are stored properly and easily accessible in iSpring Space. eLearning developers need to simply email the link to the project stakeholders and SMEs to get their work reviewed.
Develop interactive eLearning
You can create courses and quizzes online without having to install anything. All you need is an Internet access and iSpring Space – just plug in text, images, animations, videos, and you're done!
Get quick approvals from stakeholders
Reviewing and approving eLearning courses can become very simple, efficient, and quick with iSpring Space.
Rather than keeping track of several copies and updates, send stakeholders a link to the course and get their feedback.
SMEs don't need to install anything to be able to review eLearning courses. They can simply use the link and credentials to log in and review.
Wrapping up!
Cloud-based or online authoring tools make it much easier to create eLearning courses. And iSpring Suite Max is the ideal solution for eLearning developers, because it allows for rapid eLearning design and development.
iSpring's user-friendly interface works within PowerPoint and is compatible with a variety of LMSs. When it comes to creating personalized courses, iSpring is the quickest and easiest authoring tool to use, saving you a significant amount of development time and work.
Rapid eLearning solves all corporate training needs on a large scale, quickly, and with quality! The 4 Rs of rapid eLearning offer solutions for all training needs. REPUBLISH for mobile compatibility, REBUILD legacy courses as microlearning modules, RECORD to save SME time, and REDESIGN classroom training to online learning. Download this mini guide today to discover more about Rapid eLearning!