How iSpring Suite Helps you Design Interactive Rapid eLearning Courses
iSpring Suite is one of the most popular rapid authoring tools and its various features allow the developer to build professional rapid eLearning courses seamlessly and efficiently. Explore the 7 amazing features of iSpring Suite in this blog.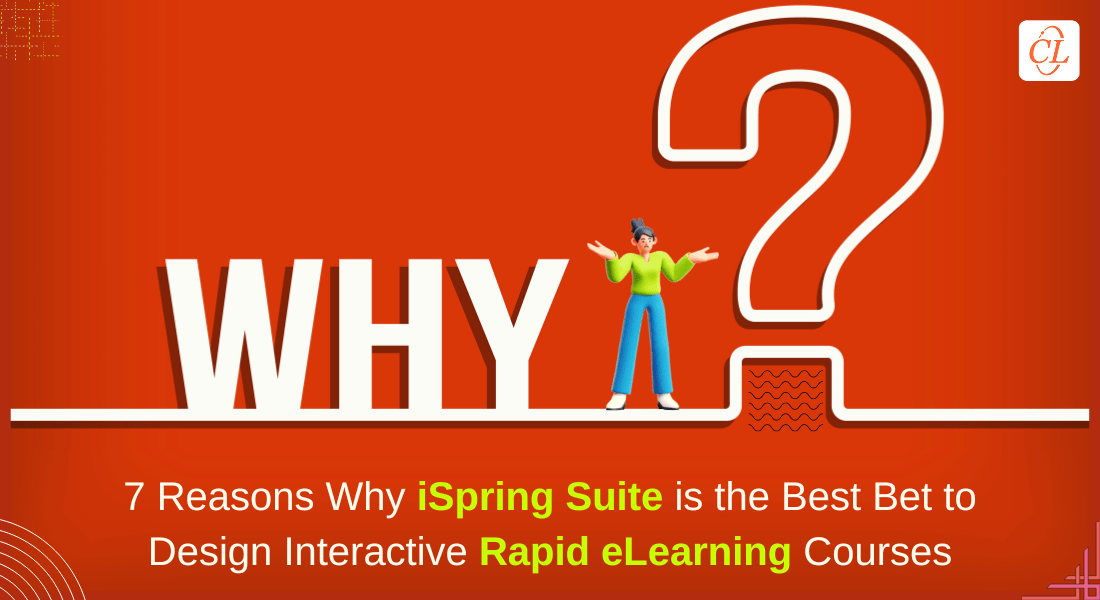 Designing rapid eLearning courses 'rapidly' is quite challenging if the correct authoring tools are not used. Once you have decided on your training goals and your style guides are sorted, choosing the right authoring tools as per your needs is the next big step. There are various authoring tools in the market, and one of them is iSpring Suite. iSpring Suite is one of the best desktop-based rapid authoring tools to create interactive eLearning courses and assessments even if you don't possess advanced tech skills. iSpring allows you to create, assess, use role-plays, and track your learner's progress effectively.
Apart from an authoring tool, iSpring also has its own LMS that makes it easy for the courses to be delivered to the learners, and their progress can be tracked easily through personalized reports. The iSpring platform also helps organizations to automate their learning programs. This blog ensures you are aware of all the major features of the authoring tool by iSpring called iSpring Suite.
Have you Tried iSpring Suite to Design Your Rapid eLearning Courses?
Here are some of its amazing features to get started-
It is Compatible with Microsoft PowerPoint
Its Screen recorder comes with an editor
Its Adaptive player has extensive LMS compatibility
Read on to explore the rest of its features and the different pricing models.
7 Noteworthy Features of iSpring Suite to Create eLearning Courses Fast and Easy
1. Compatible with Microsoft PowerPoint
It's really easy to enhance rapid eLearning courses with the help of iSpring Suite because it can integrate itself with MS PowerPoint, which allows the course to be developed and edited in a familiar PowerPoint environment. You can transform your simple-looking presentations into interactive eLearning courses with the help of training videos, assessments, voiceovers, and other eLearning assets like templates, objects, images, and icons. iSpring also allows the developer to create the course in PowerPoint and then convert the slides into SCORM and publish them as eLearning courses accessible on multiple devices.
2. Interactive Templates for Engaging Assessments
iSpring Suite consists of 14 interactive question templates that can be used to create engaging quizzes, assessments, and other interactions. These quizzes can be as simple as multiple-choice questions and fill-in-the-blanks to advanced sequences, word banks, and hotspots. You can set custom testing parameters for your rapid eLearning assessments such as flexible scoring, branching, and different testing rules. Combine all these templates and their features to create exclusive surveys for feedback or knowledge check.
3. Screen Recorder and Video Editor
Apart from combining your videos with your course slides, you can also record screencasts with voiceovers and your webcam, either simultaneously or individually. You can easily record audio or video for narration purposes and cut off unnecessary parts. Select either a part of your screen or simply record the full screen and highlight the mouse cursor actions. The videos that are added or recorded can be edited afterward with the professional video editor iSpring Suite provides. Include beautiful transitions between videos, add titles, and personalize them with custom graphics and music effortlessly. This will help you create easy tutorials or a detailed walkthrough.
4. eLearning Interactions and Interactive Role-Plays
Display your course in a personalized way by using ready-to-use templates to create visualized content such as timelines, catalogs, and FAQs. Apart from these basic interactions, iSpring Suite allows you to create real-time scenarios and help learners improve their communication skills and critical thinking. This is especially helpful for sales and customer support training where the employees have to deal with different types of clients. They can practice different situations in a risk-free simulation environment and understand the aspects they need to improve.
5. Vast Content Library
iSpring Suite consists of 89000+ eLearning assets such as course templates, icons, buttons, characters, and locations to personalize your rapid eLearning course as per your requirements. To name a few, it has 380+ personalized characters, 2300+ slide templates, 81k+ character pictures, 2500+ locations, and 3600+ icons & objects. Organizations also get to include their brand identity by either adding or redesigning the course player with their personalized brand color, logo, font, and other distinct identifiers.
6. Adaptive Player and Extensive LMS Compatibility
Learners tend to use multiple devices to access their eLearning courses so creating responsive and adaptive courses is highly advised these days. iSpring Suite develops courses in HTML5 format and thus they are accessible on the device of your choice, be it a 6-inch smartphone or 21-inch laptop screen. The courses are compatible with any LMS because it supports SCORM, xAPI, and AICC standards. Currently, there are around 150+ LMSs that are completely compatible with iSpring courses.
7. iSpring Space for Easy Course Storage and Review
iSpring Suite allows the developers to store their courses in the iSpring cloud space and share them with others through a link or embed the courses on your website or blog. To receive feedback from the subject matter experts(SMEs), or other involved stakeholders, you can simply upload the courses in iSpring space and send them the link.
Pricing and Support
iSpring provides live user support through email, phone, or chat available 24/7. Some considerable features are not provided in the basic version of iSpring Suite so it is advised to opt for iSpring Suite Max to access every feature you desire. There are 3 pricing models iSpring provides, they are under the name 'business', 'freelancers', and 'academic', and their pricing is shown below.
iSpring Suite –
Business – $770/user/year
Freelancers – $490/user/year
Academic – $470/user/year
iSpring Suite Max –
Business – $970/user/year
Freelancers – $690/user/year
Academic – $670/user/year
If you wish to get the lifetime access to iSpring, it comes at a special price and there are certain discounts for academic, non-profit, and government organizations. It also provides a 14-day free trial and even allows you to book a demo.
Wrapping Up!
iSpring is one of the best rapid authoring tools at this time because it is cost-effective and easy to use with a short learning curve. iSpring allows the developer to create rapid eLearning courses efficiently with the help of its various features, which makes it one of the most preferred tools in the eLearning industry. If you have decided to go forward with your rapid eLearning development with the help of iSpring Suite, you can refer to this eBook to get 116 design and development tips that will help you build the best quality rapid eLearning courses for your corporate training.