Introducing iSpring Suite Max: What Does this Updated Authoring Tool Offer?
iSpring authoring tool is out with a newly updated suite and we can't keep calm! Find what cool authoring tool features you can expect from iSpring Suite Max.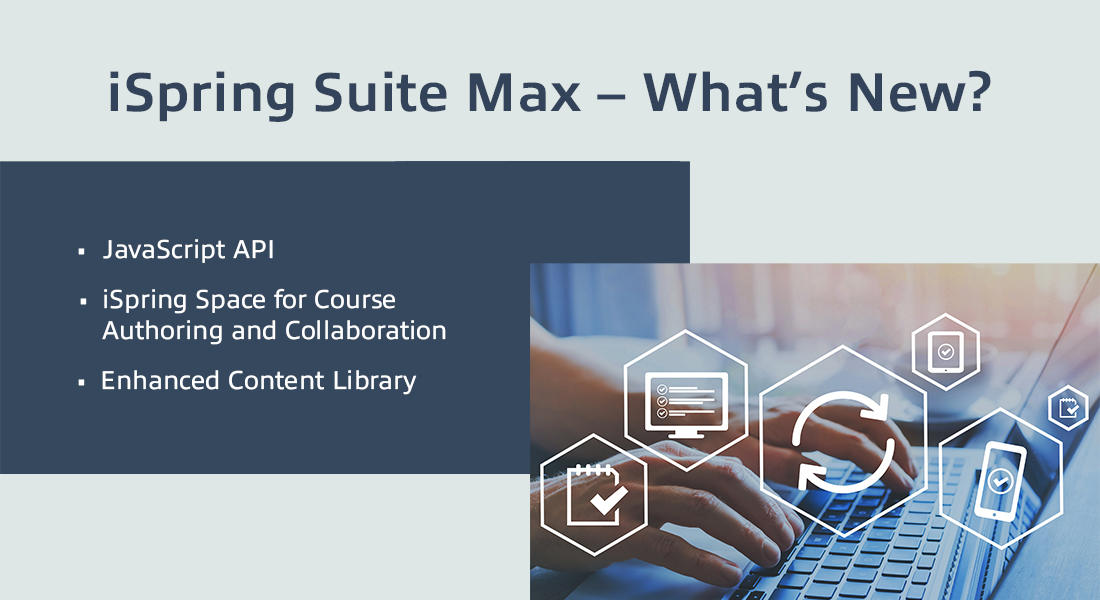 Much like fashionistas around the world eagerly waiting for the fashion week to get their haul of the latest couture of the season, we eLearning professionals wait with bated breath for new authoring tool updates to refresh our arsenal with the latest learning technology. This year thus far has been marred by great disruptions because of COVID-19, but the announcement about the latest iSpring suite update was music to our ears and has us excited and energized once again.
What's New in iSpring Suite Max Authoring Tool
iSpring Suite with open JavaScript API
iSpring Space for collaborative course review and course authoring
iSpring Content Library with additional stock images, characters, icons
The newly updated authoring tool suite is called iSpring Suite Max – an assorted package that comprises of:
iSpring Suite (the updated version of iSpring Suite 9.7)
iSpring Space (an online space for course authoring and collaboration)
iSpring Content Library (with added multimedia assets)
iSpring is yet to release all updates planned for this package. However, we could do a first-hand trial of this newly updated authoring tool and are excited to share what you can expect from iSpring Suite Max.
What to Expect from iSpring Suite Max
1. iSpring Suite
iSpring authoring tool has always been the champion of quick and cost-effective eLearning course development. Its features are especially focused on rapid eLearning design and development. All the interactive features such as QuizMaker and TalkMaster that made iSpring Suite 9.7 such a popular authoring tool are still a part of iSpring Suite Max – with enhancements that make for faster and more efficient functionalities. You can create insightful assessments with customizable scoring, record screen videos with two-way audio/video narration, generate dialogue simulations, and more much faster than before.
The new iSpring Suite Max has also taken some steps towards making learning accessible to all. Keeping in mind the learning difficulties of specially abled learners during the lockdown and work from home situation, iSpring has made creating slide-based courses and flipbooks using iSpring Flip compliant with section 508 standards.
However, the best addition to iSpring Suite Max is the open JavaScript API. For the longest time, iSpring has been the go-to authoring tool for the rapid conversion of classroom material to online training. But the one minor complaint that eLearning developers, especially experienced ones, had with iSpring was the lack of scope for customization.
The open JavaScript API however now provides developers a remedy to this problem. They can now customize the look and feel of the iSpring player, add extra buttons and options to make the player better reflect the subject, theme, or organizational branding, and even create their own customized player.
The open API also allows the customization of the player in such a way that allows more precise monitoring and tracking of learner interaction. This will be a great help to organizations needing to monitor learners progress.
2. iSpring Space
iSpring Space is a web-based platform for authoring collaboration and review. It allows you to upload your storyboard PowerPoint decks and eLearning courses to enable different eLearning authors to work on the same project (review content, add tests or role-plays, edit videos, or supply imagery). All you need to do is upload your PPT decks or courses to iSpring Space, generate a link, and share it with your teammates.
iSpring Space can also be used for online reviews. This feature has not yet been released but will be coming soon. This will make eLearning course and storyboard reviews much simpler and faster. Online reviews will save a lot of time for the Subject Matter Experts (SMEs), stakeholders, and your L&D teams. It will also streamline the entire review-feedback-implementation process so that issues can be resolved easily with no room for error.
iSpring Suite Max is offering 20 GB of iSpring Space in the package.
Cloud-based authoring tools have been gaining quite a bit of popularity over the past few years. The reason behind it is very simple – most instructional designers and developers prefer working with cloud-based tools that offer them the flexibility of working from anywhere on any device and collaborating with their teammates. Now, with Suite Max, iSpring too is offering a cloud-based authoring tool within iSpring Space as a platform for multiple authors to collaborate and design micro courses.
With iSpring Space, learners can access their eLearning projects whenever they need to, without having to access the computer system it is installed on. They can simply log into iSpring Space and access their projects, even on their mobile devices. This, along with multiple author collaboration, is bound to further speed up rapid eLearning design and development.
4. iSpring Content Library
We are all aware of the very important role an internal content library plays in rapid eLearning design and development. An internal stock library for media assets is a must-have when it comes to authoring tools. Without it, you will end up spending extra training dollars and effort searching for and licensing stock images from external sites. But luckily for us, iSpring has already provided us with a built-in library, and with this new update, has added considerably to its library resources.
With the iSpring Suite Max content library you get:
450+ professional looking templates for eLearning courses and assessments. Course design elements such as table of contents, a title slide, timelines, chapters, and info slides are part of each template. Blocks can be rearranged in the order that you like; simply add content and images, and you are ready to rollout your course.
65000+ character images of different genders, with different professional, racial, and ethnic backgrounds. These characters will be of great help while creating scenarios and to keep learners engaged in the eLearning courses.
1025 background images to help the online training environment reflect the training subject better. From office spaces to hospital receptions, to work from home scenarios, every background can be reflected with the help of these images.
A collection of 600 icons to serve as signs, symbols, or buttons. And customizable fonts and colors to reflect your organization's branding in your eLearning courses.
Summing it Up!
Are you now as excited about trying out iSpring Suite Max for eLearning authoring as we are? I hope this blog has given you a few ideas on what to expect from this new suite. Authoring tools are key for rapid eLearning design and development and choosing the right tool is extremely important if you want your training ROI to come up to your expectations. So, is iSpring Suite Max going to be the right rapid authoring tool for your training needs?
To explore more about rapid eLearning design and development, download our eBook.