5 Must-Haves for an Effective Corporate Training Environment
A healthy learning environment is key to effective corporate training. Learner interaction, motivation and engagement are among a few essential factors that make or break a corporate training program. Let's find more.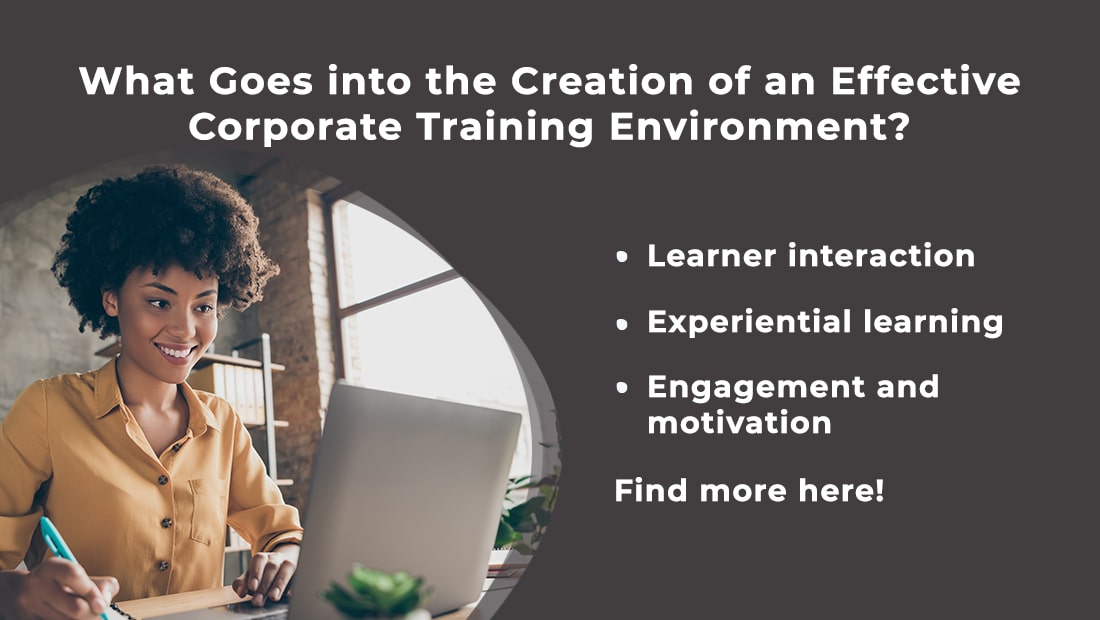 In the middle of long debates on 'nature vs. nurture', psychologists at least agree on one thing – our surroundings heavily influence who we are, what we learn, and what we become. Considering the ultimate aim of corporate training is to improve employee performance, we cannot ignore the role of learning environments on the efficacy of training. Be it classroom instructor-led training, eLearning, or blended learning, each provides its own unique environment for learners to learn and enhance their skills. But whatever the format, certain factors heavily influence the effectiveness of training.
5 Integral Elements of Corporate Training
Training content
Learner interaction
Experiential learning
Engagement and motivation
Post-training support
In her book, ' Learning Environments by Design' Catherine Lombardozzi defines a learning environment as "a deliberately curated collection of materials and activities to support the development of a specific knowledge base or skill set". She also says,

"Learning theorists and researchers have come to understand that we don't so much 'teach' as we create an environment in which people can learn."

There are five major components which come together for a productive and nurturing learning environment in the workplace – the training content itself, learner interaction, learning experience, engagement & motivation, and post-training support. In this blog, I will describe how each of these factors influences the learning environment and paves the way for an effective corporate training program.
5 Must-haves to Build an Effective Corporate Training Environment
1. Training Content
Training content is the fundamental element for any formal corporate training program. The key to build an effective learning environment is to ensure the learning content is of high quality, specific to the meet the challenges of learners, and relevant to the context. How can you ensure your training content serves it purpose?
First, you need to ensure the training content supports the set learning objectives. It is also equally important that the content doesn't just inform learners but also engages them to ensure a performance-driven effective learning experience.
Second, the content should be complete and devoid of any learning gaps. It should contain the latest and most relevant information for learners.
Third, you need to keep in mind learners' preferences and offer them flexibility to decide how and when they access training. 'Self-paced' is very important when it comes to adult training. You can achieve this by repurposing training content to different digital learning formats – eLearning courses, videos, audio podcasts, infographics, interactive eBooks & PDFs, and more.
2. Learner Interaction
When you think about it, a complete learning experience doesn't happen in isolation. We always need peers to help, compete, and measure against our knowledge and skills. People play an important role in building a healthy and nurturing learning environment. Even the 70:20:10 Learning and Development Model indicates social interactions are responsible for 20% of workplace training. It is surprising but true that social learning plays a prominent role in corporate training environment. Collaborative learning practices such as peer support systems, social media connections, group-based assignments, discussion forums, chatrooms, and online communities provide newer ways for socio-official interaction for exchange of ideas and information.
3. Experiential Learning
Learning and experiencing go hand-in-hand; there is no 'one' without the 'other'. Educational theorist David Kolb coined the term ' Experiential Learning' in his seminal work, 'Experiential Learning: Experience as the Source of Learning and Development'. In this research paper, he says,
"Learning is the process whereby knowledge is created through the transformation of experience".
The experiential learning cycle has four phases of knowledge acquisition.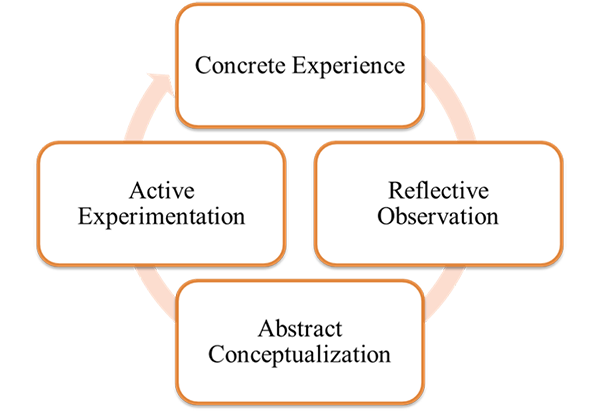 David Kolb's Learning Cycle
Engaging and interactive instructional design strategies such as storytelling, game-based designs, and learning through exploration and discovery (LEAD) help learners have an immersive learning experience.
Feedback and summaries encourage learners to reflect over the information just learned. Social learning formats – role playing, peer mentoring, discussion forums, online communities – encourage peer interaction and learning through collaboration (as learners gain and reflect on diverse opinions and perspectives).
Abstract conceptualization encourages learners to think about their decisions and the consequences of those decisions. Branching scenarios can be used very effectively to give learners a taste of how their choices can lead to various consequences in real life.
Active experimentation involves learners gaining hands-on experience in doing their job. Simulations and game-based courses are best suited for this type of learning.
4. Engagement &Motivation
Learner engagement and motivation also play a very important role in the corporate learning environment. They are two sides of the same coin – a motivated learner is more likely to be engaged during training and an engaged learner will certainly be more motivated to take and complete the training. There are several ways to engage and motivate learners before, during and after training. Here are a few of them that can help you bring that zing to your corporate training program.
Edutainment: Learning can and should be fun. Though not a new sentiment, this is definitely a new practice in corporate training. The best way to achieve it is through gamification and game-based learning. After all, nothing brings out the competitive streak in learners and gratifies them more than challenges that lead to points and rewards.
The Right Instructional Design: This is perhaps the most important factor that determines learner engagement. You can use stories, scenarios, avatars, and simulations to incite an emotional response in learners. This will help relate the training to real-life situations and also place the learning in long term memory, aiding recall.
5. Post-training Support
Learning is never "done"! More so because we have a tendency to forget new information rather quickly. According to Ebbinghaus' forgetting curve, 40% of newly learned information is lost within 72 hours if it is not reviewed.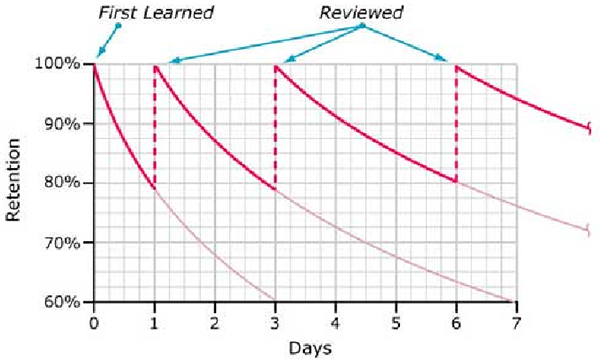 Ebbinghaus' Forgetting Curve What does that mean to your workplace training? Just this. Without proper post-training support, all your training efforts will be for naught. To enhance retention and ensure your learners transfer the learning to their jobs, you need to provide:
Refresher Training at Spaced Intervals: When learners re-visit training at regular intervals, it helps reinforce the learning and also enables them to apply it better to their job roles.
Job-Aids for Just-in-time Learning: According to a LinkedIn Workplace Learning Report, 49% of corporate employees prefer learning at the point of need. Job-aids have long helped employees to perform better by providing relevant information at the moment of need. You can use a variety of learning assets for this – micro videos, short quizzes, infographics, flash cards. They not only act as aids for just-in-time performance support, but also as a supplement to formal training.
Summing it Up!
An encouraging and healthy learning environment is crucial for effective workplace training. It results in skilled employees which in turn enhances organizational growth. I hope this blog has helped you get some insights on building a healthy, nurturing, and engaging training environment for your learners. On a different note, organizational training is facing a lot of challenges due to the COVID-19 pandemic and the ensuing lockdown. If you would like to know how to generate motivation and excitement in virtual instructor-led training, here's a free eBook you can download. It offers numerous suggestions, tips, and solutions for the same.