Cloud-based eLearning Authoring Tools: 4 Reasons to Make its Case
Cloud-based authoring tools have become a viable option for rapid eLearning development. Explore three popular cloud-based authoring tools in this post.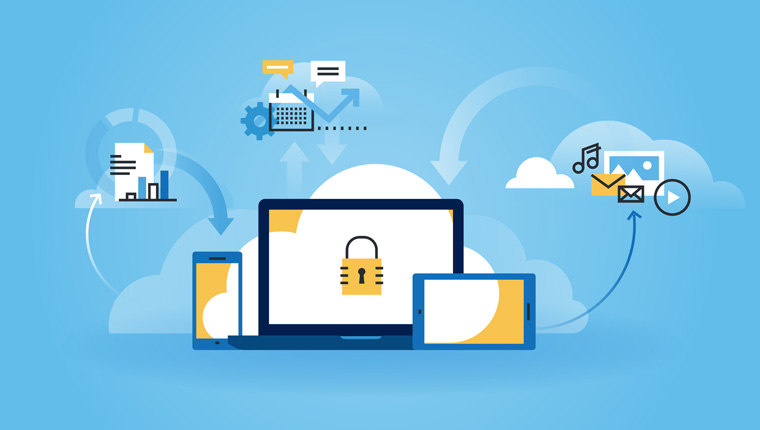 As training managers, you must have often had discussions about choosing the right eLearning authoring tool for your online training program. Considering how they are hosted, eLearning authoring tools can be classified into two variants: desktop-based eLearning authoring tools, and cloud-based eLearning authoring tools.
An Overview of Cloud-based eLearning Authoring Tools
4 reasons to opt for cloud-based eLearning authoring tools
Have lesser technical demands
Allow parallel, simultaneous eLearning development
Enable faster review and feedback
Offer safer content storage
3 popular cloud-based eLearning authoring tools
Articulate Rise
dominKnow One
Lectora Online
While desktop-based authoring tools are installed and accessed on desktops, cloud-based authoring tools exist online. Course developers are provided with login credentials which allow them to use the tool anytime, anywhere. Cloud-based or web-based authoring tools move beyond the rigidity of desktop-based eLearning authoring tools by allowing everything online – starting from the development of eLearning course publishing, user management, and storage.
Consequently, as organizations embrace rapid eLearning development to keep up with evolving business and learning needs, the growth for distributed and collaborative eLearning authoring solutions continues to witness growth. So, here are four reasons cloud-based eLearning authoring tools make for a viable option for eLearning development.
4 Reasons to Opt for Cloud-based eLearning Authoring Tools
In case you're wondering why your organization should care about cloud-based eLearning authoring tools when desktop-only authoring tools are working just fine, here's why. It's because everything boils down to dealing with the realities of scalability and the need for speed in eLearning development.
If your organization is looking for truly scalable eLearning development, you should opt for an eLearning authoring tool that is capable of leveraging the collective expertise and skills of dispersed and large eLearning development teams.
1. Have Lesser Technical Demands
No Software Installations: Conventional desktop-based eLearning authoring tools involve complex software installation and IT support, not to forget the need for constant maintenance and heavy downloading of files.
Cloud-based eLearning authoring tools however don't require any download. Access to the tool is practically instantaneous, dismissing the additional time required by conventional tools.
No Wait for Updates: Updates get applied automatically to cloud-based eLearning tools, hence there is no need to wait for the latest features and bug fixtures as in desktop-based authoring software. This is valuable when the cloud-based authoring tool provides in-built content libraries, since they will be updated automatically.
Also, updating a desktop-based authoring tool takes time, which is not ideal for faster course development.
2. Allow Parallel, Simultaneous eLearning Development
With conventional desktop-based authoring tools, developers have to work independently. This implies each developer is essentially an independent entity without having the ability to access or view other team members' work, apart from external communication channels.
Cloud-based eLearning authoring tools allow multiple developers to work simultaneously on the same eLearning file and share the same with other developers in the development team, making the development process convenient and flexible. This also allows eLearning course developers to compare slide designs and utilize the one which is the most learner-worthy. And all this without having to work from the same place.
Also, with cloud-based authoring, you need not worry about files and documents of an eLearning project being stuck in one desktop-system. Everything being online enables shifting of authorship when required. Additionally, cloud-based eLearning authoring tools make it simpler to create and manage shared central resources being used for the eLearning project.
3. Foster Faster Review and Feedback
In desktop-based authoring tools, the Subject Matter Experts (SMEs) and your organization's review team only reviews the eLearning course once it is compiled for review. This implies for each development version of the course, files have to be compiled and posted. This usually implies that development ceases in the Review cycle so that feedback and comments can be implemented in the next version of the eLearning course.
Also, for many SMEs reviewing a PPT storyboard turns out to be cumbersome which can entail taking printouts of the storyboard, adding their feedback in the hard copy, and sending a scanned copy of that document to the eLearning vendor.
Another challenging aspect is the communication between the development team, SMEs, reviewers, and QA teams – more so when the project has to be scaled up. However, cloud-based eLearning authoring tools allow you to ease the review cycle and enable handy takeovers. How?
With cloud-based authoring tools, you and your reviewers can conduct simultaneous reviews of the eLearning course while accessing it through a link shared by the eLearning vendor. You can feed in-context comments and even read each other's comments, resolve discrepancies if required, so that feedback is cohesive for the development team to effectively infer.
There is no need of multiple standalone versions of feedback documents going back and forth between your reviewers and the development team when everything can be done in the tool. Needless to say, this saves ample development time, leading to faster course completion.
4. Offer Safer Content Storage
Cloud-based authoring tools don't hitch on local data storage since everything is stored in the cloud. What does this imply? This means your eLearning courses aren't taking up space in the organization's servers and are protected from any unexpected hardware failure. So, even when the hardware crashes or falls prey to malicious system viruses, your eLearning is safe in the cloud.
Storing content in the cloud negates the possibility of content loss or having to save and backup work. It keeps the content and progressed work secure. Hence, your eLearning course development will seldom come to a standstill because of storage-related hindrances.
3 Popular Cloud-based eLearning Authoring Tools
1. Articulate Rise
This is a cloud-based eLearning authoring app available with Articulate 360 that allows course creation in a cinch! Articulate Rise app comes with in-built templates that make it easier and faster to create fully-responsive eLearning courses with an array of interactivities to choose from.
These extremely flexible template-like components called learning blocks can be customized and designed to create specific layouts. Course developers can choose from the Block Library in Rise to include a variety of blocks such as text, multimedia, statement, image, list, and much more. Courses developed in Rise adapt automatically to any device, without having to develop different versions for different devices.
Here's a beautiful coffee-themed example of an eLearning course developed in Articulate Rise by Phil Mayor.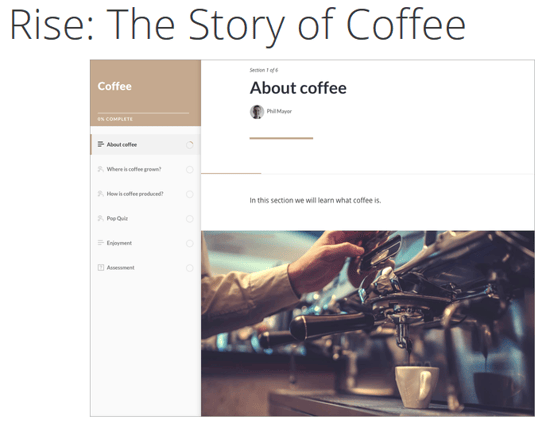 Source: Coffee by Phil Mayor
This eLearning course shows the history of coffee, while you experience the media-rich and interactive lesson types that can be used in Articulate Rise. Rise enables the easy creation of pro-quality eLearning courses, faster.
If you want to digitize your textbooks, then opting for Articulate Rise can be one way to go for! Much like how we used Rise for one of our clients, ranked among the world's largest medical associations whose primary way to disseminate learning was through PDFs which seldom gave visual respite. Hence, they wanted to digitize their curriculum to raise the engagement quotient. Apart from using blocks such as text and statement, we also customized and designed interactive blocks such as Flash cards, Accordion, and drag-and-drop in Rise.
Also, Rise provides for easy collaboration and authoring for the eLearning development team that allows different team members to develop and edit different lessons simultaneously or take turns to fine-tune the same.
2. dominKnow ONE
Apart from being an eLearning authoring software, dominKnow ONE is a powerful cloud-based authoring system that offers integrated access to authoring tools such as Claro and Flow.
Flow allows for the creation of different types of truly responsive content that adapts to every device without having to author multiple times.
Claro is a popular choice if you want to go for conventional eLearning. Claro courses are HTML5-based that can scale to fit any screen size.
Additionally, dominKnow ONE allows for easy creation, sharing, reusing and:
Collaborating in real-time using the built-in design and tracking tools
Streamlining the review process by leveraging review scheduling, review comments, and much more
Check this course developed in dominKnow that shows how to become a wine expert.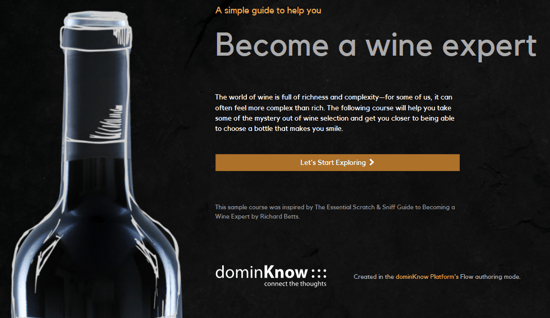 Source: Become a Wine Expert
What caught my eye is the hand-drawn style imagery and the intriguing upfront activities. The first activity itself is bound to attract your attention right away.
3. Lectora Online
Owned by Trivantis, Lectora Online combines the power of Lectora's desktop-based eLearning authoring solution with the freedom of cloud-based authoring. Project members including the development team, reviewers, and SMEs can collaborate in real-time for faster and smoother eLearning course development. It also offers automated versioning and backup, built-in workflows, and more.
Here's one of my favorite eLearning sample courses that was designed and developed using the sought-after feature – Lectora's Responsive Course Design (RCD).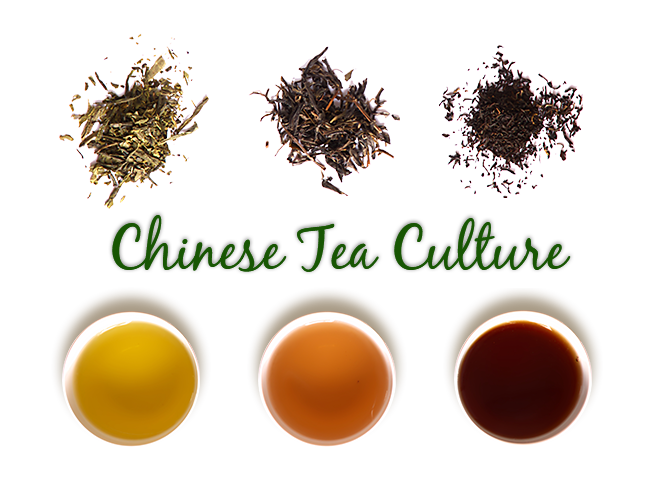 Source: Chinese Tea Culture
Being a responsive design course, it showcases swipe gestures for drag-and-drop interactions, navigation, branching navigation, multiple question types, and even the status indicator.
Does Cloud-based eLearning Software Cost a Lot?
When you see these courses, you might think that cloud-based eLearning authoring tools come with a heavy price tag. Well, to clear the air, cloud-based authoring tools come as a software-as-a-service (SaaS). This means you pay for the tool as you use it. Additionally, you will receive the latest updates without incurring any additional cost.
This is quite the opposite of desktop-based authoring tools where you have to bear the cost of licenses depending on the number of systems you plan to install the software on. In case of updates and new versions, there is an additional cost associated.
What's the Bottom Line?
Cloud-based eLearning authoring tools score in all aspects except when it comes to developing complex eLearning courses. If your organization is looking for highly interactive games or branching scenarios in eLearning, going by desktop-authoring tools still rules the roost.
However, cloud-based authoring tools are gradually creeping in as a viable option for rapid custom eLearning development and the training industry will witness an upsurge in their application. Do you want to know the eLearning trends that'll rule this year? Then, here's a free eBook, "eLearning Trends 2019: The View from the Trenches" for you to download and know everything we've predicted for 2019!