How Rapid eLearning Assessments Enhance the Impact of eLearning Courses
Assessments in this modern era don't work on mere guesswork, instead there are multiple layers to their design and development. Explore the different types of rapid eLearning assessments and how they enhance the value of eLearning courses.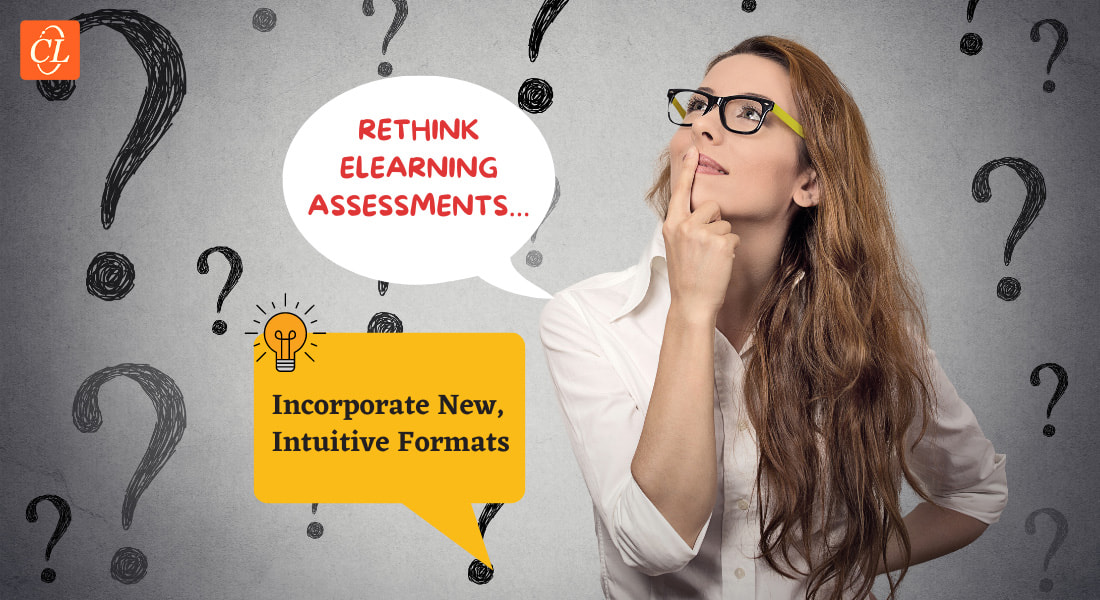 Rapid eLearning helps the organization deliver training to their workforce within weeks instead of months by leveraging the power of modern authoring tools and learning management systems (LMS). Assessments can keep the learners engaged with the course and improve the completion rates if they are interactive, informative, and don't get too complex. It is advised to assess the learners at every step, to ensure the results of their training and enhance their productivity at work. Assessments increase the overall training ROI because they improve the learner's knowledge retention and keep them motivated for their training.
Focused to Enhance the Impact of Your Rapid eLearning Courses?
Rethink eLearning assessments! Here are 3 popular types –
Polls
Microlearning quizzes
Standalone assessments and practice exercises
How Rapid eLearning Assessments Enhance the Value of eLearning Courses
1. Polls are a great way to facilitate continuous interactions
Polls are one of the most widely incorporated assessment types in a rapid eLearning course and they are highly impactful for virtual instructor-led training (VILT) sessions as it keeps the learners engaged. An LMS can help you host multiple polls between training modules to improve the engagement factor of training sessions and assess the learner's information retention. Rapid eLearning utilizes the power of modern authoring tools to add gamified assessments throughout the course to enhance interactivity. Polls can help the organization to –
Enhance the knowledge retention of their employees
Receive instant feedback
Initiate discussions and debates
To incorporate polls at the end of your learning program, an LMS can also integrate a few third-party tools such as Vevox, Poll Everywhere, and Polly.
2. Microlearning quizzes can make training fun and exciting
The primary aspect of an assessment is to mark the learner's progress and understand the areas of their strength and weaknesses. Learners might not give their 100 percent in the rapid eLearning assessments if they lack engagement. Assessments can lose engagement when they lack variety, to help with this issue, microlearning quizzes were introduced as a part of these rapid eLearning assessments. As the name suggests, microlearning quizzes are short, engaging, and can be provided in a variety of formats such as scenarios, video quizzes, simulations, and gamified modules.
An LMS can incorporate these microlearning quizzes into the course without complications and add the desired variety to your eLearning courses. Rapid eLearning can help you segregate the content and then use the various templates provided by the rapid authoring tools to quickly create a variety of quizzes. Rapid authoring tools have a lot of in-built assets like backgrounds, avatars, and images to make the quizzes interesting.
3. Standalone Assessments and practice exercises ensure knowledge acquisition and retention
Having a standalone assessment as a part of your learning program is important if an organization wants to refresh the knowledge of its employees periodically. There are 2 types of rapid eLearning assessments, formative and summative, and both are equally important to enhance the potency of your courses. An LMS can effectively roll out questionnaires and quizzes that would be randomized so none of the questions are attempted more than once.
When considering a rapid eLearning approach, a modern LMS can single-handedly reduce the manual efforts required to evaluate and assess learners. Learning analytics can generate your performance report, and suggest learning assets or in-person counseling sessions for topics you might fall behind. These results can help the organization to create or update the courses and help the learners to choose an adaptive learning path. Modern rapid authoring tools can help you create various interactivities and incorporate game elements required to make the rapid eLearning assessments interesting.
The Role of Surveys to Assure the Quality of Rapid eLearning Assessments
Surveys are probably the most standard format to gain feedback from learners. An LMS can help you host a survey easily after your course is finished. Feedback is an essential part of a training program and surveys allow the organization to understand learners' expectations, their current needs, their fields of expertise, and where they lack along with their suggestions to improve the overall course. You can even host a survey before starting the course to gain insights about what kind of learners you would have to deal with.
A few LMS have built-in survey features but if not, then surveys can be collected through multiple external platforms such as Survey Monkey, Alchemer, and Zoho Survey. To develop a rapid eLearning course efficiently, you need to have a clear idea of the organization's expectations, and a survey after the course can help to speed up the process.
The Importance of Learning Analytics to Create eLearning Assessments
When training managers get access to personalized reports generated by their LMS, they can decide what part of the course needs to be updated and what is engaging learners the most. An advanced learning analytics report can help organizations to align the training with their learners' preferences and create the perfect rapid eLearning assessments based on the provided data. Suppose an analytics report states that most learners didn't complete the compliance training because it lacked engagement. Now organizations can come up with multiple options like adding gamified assessments or role-playing simulations and make their compliance training fun and interesting.
Wrapping Up!
Rapid eLearning assessments play a crucial role to reinforce learning and measure the achievements of learners if they are created correctly. Rapid eLearning courses don't compromise on quality, save time and cost, and assessments are highly effective to ensure the learning objectives are fulfilled or not. Note that the eLearning assessments work best when they are performance-oriented and not in a direct question-answer format and should provide instant feedback to minimize knowledge gaps. To gain further insights about developing high-quality eLearning assessments for your eLearning courses, you can access this free webinar recording and maximize your learning value.