5 Features That Make Authoring Tools an Ace of Spades for Rapid eLearning Development
Rapid eLearning leverages authoring tools for efficient course creation. Let's take a look at 5 impactful features in modern tools.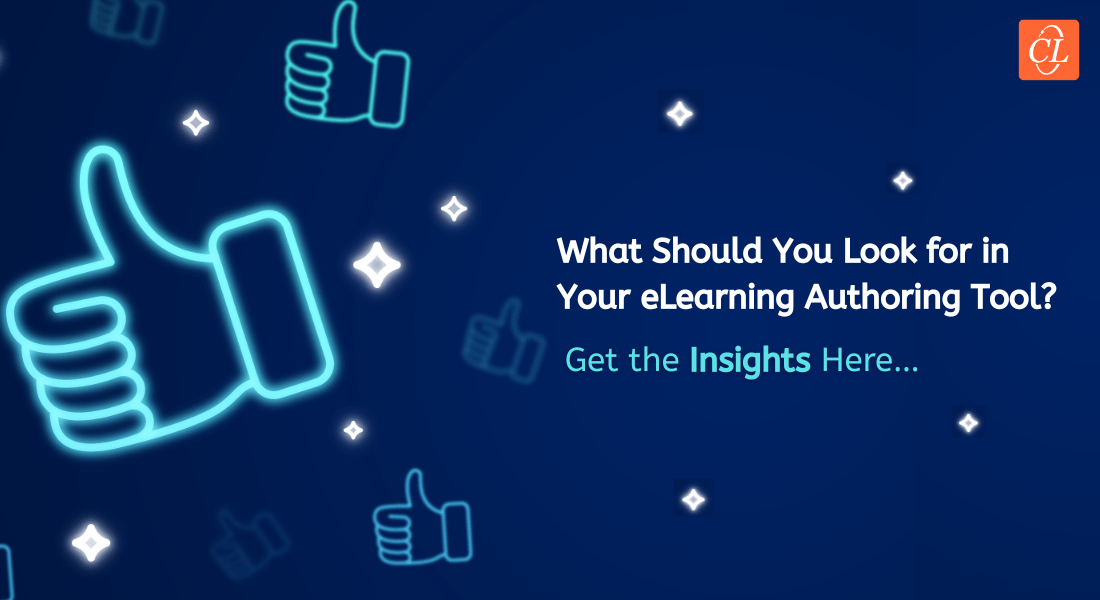 Rapid eLearning is a form of custom eLearning development where courses are developed quickly and efficiently while not losing touch with their quality. But, how does it successfully deliver eLearning courses in such a productive way? Rapid eLearning leverages the power of authoring tools to make it happen. Authoring tools are software programs that help you to develop and publish eLearning courses in easily accessible formats without the headache of coding. Modern rapid authoring tools have a lot of significantly beneficial features that make their use extremely important for rapid eLearning development.
Are You Struggling to Find the Best Authoring Tool for Your Rapid eLearning Development?
Make sure your authoring tool:
Includes Pre-Installed Media Library
Offers Customizable Templates
Allows Incorporating Multiple Interactivities
Enables Designing Responsive Courses
Facilitates Interesting Assessment Types and Quick Review
What Are the Types of Authoring Tools?
1. PowerPoint-based Authoring Tools
As the name suggests, this type of authoring tool works as external extensions or plug-ins for MS PowerPoint. Because it is not an individual program, they are pretty easy to use but have limited potential at the same time. The best use case for this type of authoring tool is to create basic eLearning courses that have beginner-level interactivities and involve only simple assets. Ex. Adobe Presenter.
2. Desktop-based Authoring Tools
This category of authoring tools is the most used one in today's eLearning development processes. Again, as the name suggests, these authoring tools have to be installed as an individual software program in a particular system like a desktop computer or a laptop. They come with a lot of features that can be used in the development of eLearning courses that require high-level customizations and multiple interactivities. They are a bit harder to learn when compared to PowerPoint-based tools, but once the developer gets their basic concept right, the advanced features can be explored in a lot of innovative ways. Ex. Articulate Storyline 360, Adobe Captivate.
3. Cloud-based Authoring Tools
These tools are the latest addition to the category of authoring tools that became popular due to the recent technological advancements in the cloud data and computing field. So, every tool or software that was originally an executable program in a dedicated system, would eventually have its own version of an online tool that can store all the user data on cloud memory. They allow simultaneous usage by multiple users which helps developers with enhanced collaborative work. Ex. Lectora Online.
Top Features of Modern Rapid Authoring Tools
1. Includes Pre-Installed Media Library
eLearning usually relies a lot on visual components such as pictures, videos, typography, color combinations, or animations to relay the required information. It's natural for designers or developers to find it problematic when these assets are to be created every time a new course has to be published, so what's the catch? A pre-existing media library that consists of different assets like buttons, click icons, characters, clip-arts, and quirky object designs can turn out to be influential. Since the assets are royalty-free, they save a lot of extra costs that might have been used to buy images and other assets from premium providers.
2. Offers Customizable Templates
The existence of pre-built and customizable templates makes the usage of rapid authoring tools the most efficient to create effective and engaging rapid eLearning courses. Templates can act as the foundation for eLearning course development and give them a professional new-age look and an impactful eLearning experience. Modern rapid authoring tools that include a huge collection of ready-to-use templates reduce the amount of time and development costs significantly. These customizable templates can have different layouts, various design elements, and multiple built-in interactivities, that would collectively serve the discrete categories of eLearning courses.
3. Allows Incorporating Multiple Interactivities
Creativity is probably the most important aspect to keep the learners engaged, so authoring tools cannot be limited to course development only. The new-age learning is heavily based on various instructional design strategies like storytelling, simulations, gamification, etc. to engage modern learners. Authoring tools can use different types of interactivities to indulge the learners in their training, like polls, quizzes, and branching scenarios. Recent technologies such as AR and VR can also be implemented using tools like CenarioVR to add an immersive eLearning experience for the learners.
4. Enables Designing Responsive Courses
The consumption of eLearning courses isn't limited to laptops or desktops in today's world, as the existence of smartphones has overtaken them as the most used device in workplaces. Due to the increasing relevance of mobile devices, authoring tools have incorporated the feature of responsive design in them. It ensures the eLearning courses are accessible on multiple devices with different screen sizes and resolutions and encourage mobile learning for a hybrid workforce.
5. Facilitates Interesting Assessment Types and Quick Review
After the completion of eLearning courses, what is the next thing a learner might have to do, most probably assess themselves, isn't it? To successfully assess yourself, eLearning courses are always followed by different types of assessments to verify whether the learners have achieved their training objectives or not. A lot of courses can even have mid-course assessments at regular intervals to evaluate a learner's progress. Rapid authoring tools have built-in assessment templates to help designers create assessments like quizzes, fill-in-the-blanks, and flashcards to save quite a fortune for the developers.
Review and feedback are other crucial parts of eLearning courses that can help the stakeholders, SMEs, and developers to clear any conflicting opinions and come to a solution in a collaborative environment. Everyone can share their feedback on a single platform to streamline the development and publishing process of the rapid eLearning courses.
Parting Thoughts!
Authoring tools are an indispensable part of the rapid eLearning development process, and their powerful features can help developers to create and publish immensely effective and engaging eLearning courses. There are a lot of rapid eLearning authoring tools available, and they all have their distinct features and limitations. To develop an eLearning course exactly as per your requirements, you need to have a clear understanding of these authoring tools. This free eBook can help you to decide on the best authoring tool for your eLearning course development.