How Mobile Learning Can Support Different Types of Corporate Training
Mobile learning has boomed recently due to the numerous advancements in the mobile technology and has a bright future ahead. This blog helps you understand the importance of mLearning and how it supports several types of corporate training.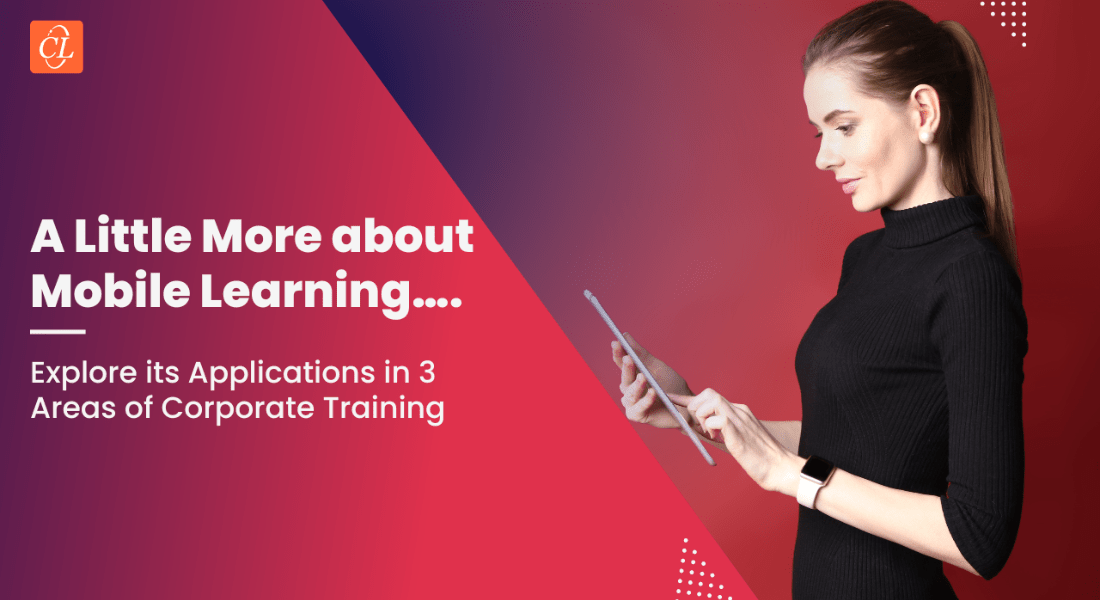 Smartphones have become an indispensable part of our daily lives today. Everyone utilizes the benefits of a smartphone to make their lives easier. The corporate industry does the same, they use the power of smartphones by incorporating mobile learning to support their training sessions. Mobile learning provides flexibility, accessibility, and interactivity to your training sessions which would result in improved employee engagement and higher training ROI for the organizations. Let's dive deeper into the mobile learning approach for corporate training and explore various types of training that can successfully be enhanced with the help of mobile learning.
Do you Wish to Incorporate Mobile Learning to Support Your Corporate Training?
Try to leverage its power in these training sessions:
Product training
Sales training
Compliance training
Benefits of Mobile Learning
1. Time-saver
When you consider the short battery life of smartphones, the courses and other training modules are specially developed where the nice-to-know content is ignored. This helps the learners to save some of their time, gaining only the necessary information, and the organization also has to spend relatively less time developing these mLearning courses.
2. Enhanced ROI
Learners are often required to regain any sort of information they received at some point due to the forgetting curve phenomenon, and mobile can help them access that information with respect to their convenience. Also, mobile devices are easy on pockets, so providing one instead of a desktop will help the training budget of a company. Due to the modules being interactive and short, learners are able to retain most of their knowledge through these devices. When the time needed to develop the courses is relatively less, but it provides the same or sometimes even enhanced productivity, it helps the organizations to potentially maximize their training ROI.
3. Ease of Access
Almost everyone has access to their mobile phones most of the time, and due to this, delivering training materials on their mobiles can make it accessible to the learners wherever and whenever they want. They can even download the courses and access them without an internet connection which makes mobile learning compatible with both, online and offline learning.
3 Types of Training Where Mobile Learning is Highly Supportive
1. Product Training
Business nowadays is inclined towards a customer-centric approach, and it won't be possible if the correct information about a company's products isn't relayed effectively to their employees. To deliver impactful product training, organizations can prefer mobile learning because almost every employee would probably have access to their mobile phones no matter where they are. Organizations cannot ignore the fact that a lot of their workforce is spread globally, and to deliver training to them successfully, they have to go for an approach that's flexible and interactive at the same time, which green ticks mobile learning into those criteria.
Mobile learning can provide just-in-time information to employees in case they forget anything they shouldn't. Quizzes, polls, and surveys can help organizations understand whether employees are retaining the knowledge delivered to them or not, and mobiles are quite handy to engage most of the learners in these interactive activities. Modern mobiles have in-built support for multiple languages so the translated courses for the hybrid workforce can be accessed easily as well.
2. Sales Training
Sales training and product training are very much linked to each other, so most of the ways in which mobile learning can support product training will support sales training as well. But there are a few distinct ways where mobile learning effectively supports sales training. The sales team is not always present at the workplace, but they might need access to a part of the knowledge they previously gained, and they are obviously not carrying their laptops everywhere. Mobile phones provide the ultimate flexibility and comfort to these sales employees, as they can be productive at their work and have access to the latest information at the same time.
Skill development is another major aspect of sales training, and the personalized approach of mobile learning can help employees develop the required skills even if they couldn't attend the real-time training sessions. Mobile learning leverages the impact of microlearning modules to deliver training to employees in the form of videos, infographics, presentation slides, and even video games to enhance employee engagement. Lastly, employees can access small how-to videos on how the product works or how to pitch a sale, and to sort them out, these videos can be embedded alongside their course.
3. Compliance Training
Modern learners tend to get bored quickly and drop the courses midway if they are asked to complete long and monotonous training modules, and that's exactly what the nature of compliance training is. Mobile learning can help organizations deliver compliance training in short modules that facilitate self-paced learning. So, instead of including all the laws and guidelines in one module, each of them can be explained in short microlearning modules that can even be made interactive with the help of scenarios and simulations. Adding gamified assessments after the regular training sessions can boost the completion rates of your compliance training and make it more fun and engaging.
Parting Thoughts!
The impact smartphones have made in the corporate industry is commendable indeed, and due to future technological inventions and upgrades preferring mobiles over other devices, mobile learning will only level up its approach in the upcoming years. The most important reason why mobile learning is here to stay is that the modern generation of employees has made smartphones requisite in their daily life due to their extremely flexible and versatile nature. If you haven't started mobile learning yet, you can access this free eBook and make your corporate training more engaging and effective for the modern workforce.