How Can Technology-Enabled Learning Harness the 70:20:10 Model for L&D?
Is it possible to use technology-enabled learning to apply the 70:20:10 learning model? Find out how technology-enabled learning can help in application.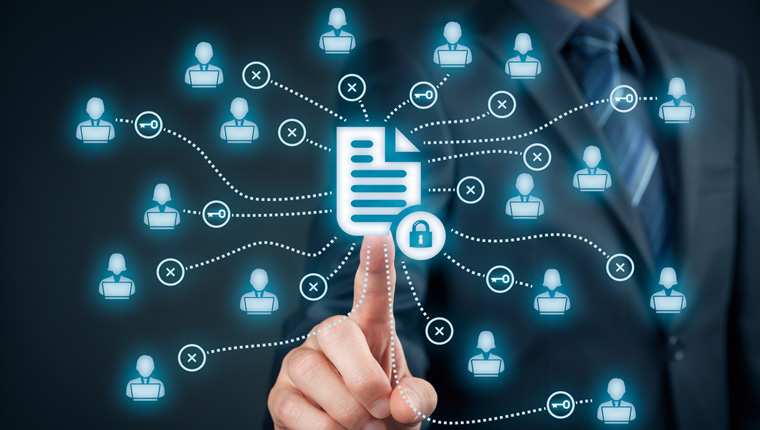 Are your corporate learning and development initiatives designed to meet your organizational goals? Do they help the cause of boosting employee productivity? There's good news as technology-enabled learning can help you in this endeavor. To help organizations in their strategic learning and development efforts, the 70:20:10 learning model was framed. However, is it possible to use technology-enabled learning to harness this popular learning model? Let's find out.
How to Apply Technology-Enabled Learning to the 70:20:10 Learning Model
Facilitate Experiential Learning and Skill Application
Promote Social Learning

Deliver Formal Training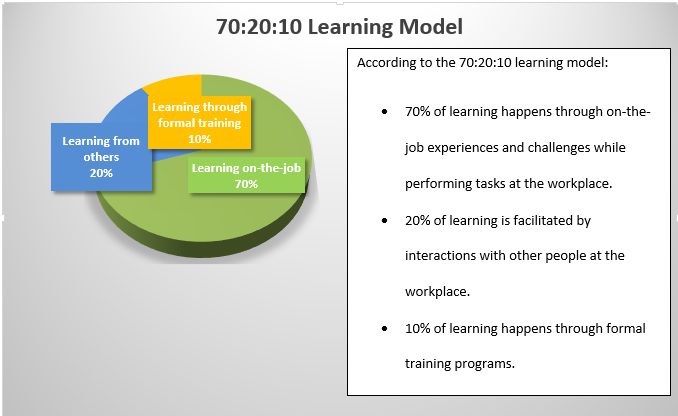 While the 70:20:10 learning model is all good theoretically, how do you apply this practically? You can't leave it to chance and assume employees will slowly learn on the job as well as from others. Especially when you're faced with the task of getting employees up to speed in workplace-related tasks.
What you can do as training managers and L&D professionals is design effective training experiences centered within the 70:20:10 learning model. And how can you do this? A great opportunity lies in technology. Just as technology has simplified our lives, it has simplified learning as well. Here's how technology-enabled learning can help harness the 70:20:10 learning model.
Technology-Enabled Learning and the 70:20:10 Learning Model
1. Facilitate Experiential Learning and Skill Application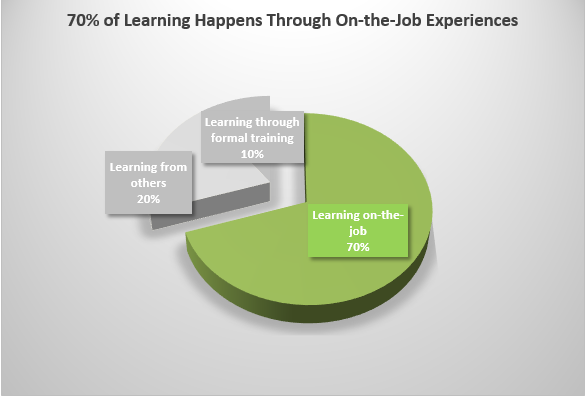 As the 70:20:10 learning framework rightly states, 70% of learning is experiential, which means learning happens through hands-on experience, challenges, and deliberate practice. Yet, putting employees to test in the real-world can be scary, especially when the job involves high-risk.
For example, employees working in a chemical industry need to be trained on handling hazardous chemicals. Another example would be training employees on operating machinery. Not providing training can pose a risk to employees in the form of injuries or even loss of lives. In such cases, technology-enabled learning can be effectively leveraged to provide training that mimics the real-world experience.
Did you know that the Chernobyl nuclear reactor incident that took place in 1986 was partly a result of inadequate training? The reactor had a flawed design and it was operated by plant workers who were unaware of the safety procedures to be followed.
There are different experiential learning experiences that you can provide with technology-enabled learning. Consider the example mentioned above on training employees to handle hazardous chemicals. You could use immersive scenario-based eLearning to bring high-risk incidents to life. When employees are able to see the big picture of how a small mistake can put their life or others' lives in danger, they are likely to be more receptive to the training program. You can also use immersive learning experiences to demonstrate business risks. For example, having untrained employees working on a business critical software.
Now what if you had to train employees on a workplace-related task that's not high risk, but is frequently performed? You could make use of technology-enabled learning here as well. For instance, if you had to train employees in the procurement department on the steps to create a purchase order using a purchase order software, you could do that by using online software simulations. By using technology-enabled learning, what you are able to achieve here is giving employees an opportunity to apply skills in a simulated environment.
When talking of experiential learning, we cannot skip the importance of performance support solutions. Why? Performance support is an informal way to deliver experiential learning as it helps employees use and retain information. Also, performance support solutions are focused on a task employees need to complete. This again can be facilitated by the use of technology. Think of a simple how-to-video a service technician can access on his mobile phone to troubleshoot a product. You could also consider using microlearning modules to provide just-in-time training. The added advantage of using technology-enabled learning is that you get to cut down the time spent in full-fledged classroom training programs.
More recently, the use of technology has given rise to augmented reality (AR) and virtual reality (VR) in training. Florida's Fire Rescue Department in Palm Beach Gardens is one of the first in the State to use VR to train its firefighters. Paramedics in the fire department can practice their emergency responder skills in the world of virtual reality.
Key Takeaways
A few ways to facilitate experiential learning with technology:
Scenario-based learning
Online software simulations
How-to-videos
Microlearning
Augmented reality
Virtual reality
2. Promote Social Learning
20% of workplace learning happens when employees interact and learn from other employees. Remember the time when a coworker gave you tips to complete a job task quickly or when you received mentoring from a supervisor? That helped you become more efficient at the workplace, didn't it? Again, you can't hope this kind of learning will happen always, at every workplace. So why not make a conscious effort to integrate social learning in your training programs?
If you're wondering how to get started with implementing social learning at the workplace, look no further than your organization's Learning Management System (LMS). Technology-enabled learning through your LMS can promote social learning in the following ways.
Ways to Use the LMS for Social Learning
Facilitate learning through discussion groups
Provide access to SMEs by providing an opportunity to 'Ask the expert'
Incorporate a live chat functionality that lets employees ask questions to a specific person
Make use of user-generated content to share knowledge
Provide opportunities for friendly competition through leaderboards and badges
By making use of user-generated content, you'll be encouraging employees to share what they know and contribute to learning and development. Scheduling webinars and giving employees' opportunities to ask questions based on the topic of the webinar is another idea to implement social learning.
When you think of social learning, you tend to conjure up an image of informal learning. But this need not be the case. You can blend social learning in your formal training programs as well. For instance, in a blended learning program for leadership training, you could set aside time for group learning activities in the classroom or provide time for one-on-one interaction with a mentor.
Key Takeaways
A few ways to promote social learning with the help of technology:
Discussion forums
Live chat
User-generated content
Leaderboards and badges in LMS
3. Technology-Enabled Learning to Deliver Formal Training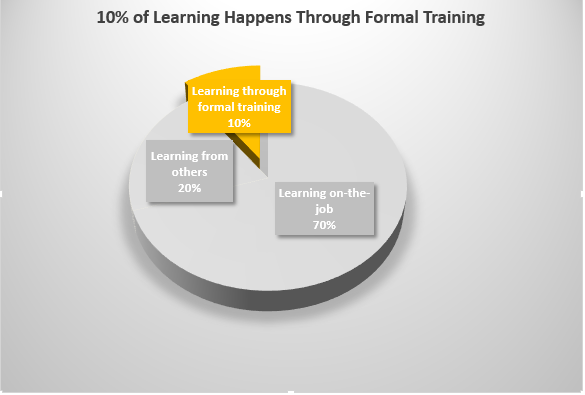 According to the 70:20:10 learning model, roughly 10% of employee learning takes place through formal training programs. Using technology to deliver formal training has done away with the need to restrict training to the classroom. If an instructor is required, and employees are spread across various geographical locations, you could try a virtual instructor-led training (VILT) program.
To facilitate self-paced learning, opt for an eLearning course. When you need employees to achieve a specific performance-based learning objective at a time, you could try bite-sized nuggets of learning. Not only does microlearning help get employees up the learning curve quickly, but also facilitates practice and application of learning.
Employees on-the-go or the deskless workforce in your organization can benefit from mobile learning that lets them access learning content on their smartphones or iPads. Microlearning can also be used for effective reinforcement of learning.
Key Takeaways
A few ways to deliver formal training with the help of technology:
VILT
eLearning
Microlearning
Mobile learning
Reducing training cost, driving scalability of training, and devising innovative methods for employee learning are all possible, thanks to the use of technology-enabled learning. So, if you're planning to harness the magic of the 70:20:10 learning model in your training framework, think of ways to strategically integrate this model in your L&D programs by making use of technology.
What's more? To understand the top trends in technology-enabled learning that are practical and cost-effective, grab your copy of our eBook eLearning Trends 2019 – The View from the Trenches now.