The Top 3 Authoring Tools Making it Easy For Legacy Course Conversion
This blog highlights the necessity to convert legacy courses to HTML5 as well as the authoring tools used to rebuild legacy courses to HTML5.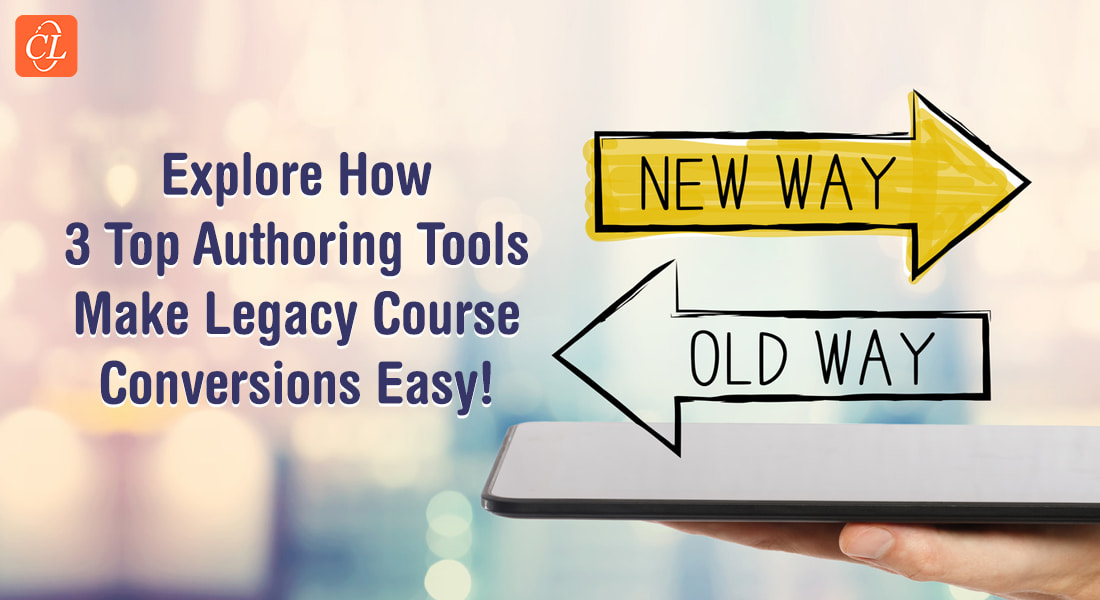 Before the year 2020, a legacy eLearning course was developed using Flash, JavaScript, XML, Dreamweaver, or any of the earlier versions of rapid authoring tools. The main problem with old and outdated legacy courses is that they don't work on mobile devices. These authoring tools were since upgraded, and yet they cannot meet current technological standards.
Most learners today use their smartphones for upskilling and self-development. Now that your learners are accessing learning material on a variety of devices and using many updated browsers, it's time to revamp your legacy eLearning courses so that they are accessible on every device.
A mini guide to Authoring Tools
The Top 3 Authoring Tools used to Rebuild Legacy Courses
Articulate Storyline
Articulate Rise 360
Lectora Inspire
Why Do We Need to Convert Legacy Courses into HTML5?
Converting a legacy course to HTML5 can be a challenging task. However, there are, fortunately, several authoring tools in the market that can assist you with this kind of conversion.
Nowadays, many organizations are looking for courses that are multi-device compatible. It is extremely convenient to learn things on one's mobile device, The current generation is more accustomed to using mobile devices and they desire to perform their daily tasks and activities on their personal mobile devices. Moreover, corporations believe it is necessary to transform their outdated legacy courses into courses that are compatible with mobile devices. Consequently, organizations are gradually transitioning their outdated legacy courses to HTML5 to expedite this compatibility.
You can use rapid authoring tools to rebuild and redesign your legacy courses into HTML5 only after examining the original course's learning outcomes as well as the authoring tool's limitations.
Top 3 Authoring Tools to Rebuild Legacy Courses
Articulate Storyline
Articulate Storyline is an eLearning authoring tool that helps you create built-in and customizable course content with gamification. It is user friendly and accessible on any device. In the eLearning industry, most learning and development professionals prefer this tool to create their courses.
Articulate Storyline is considered one of the most favored and most used software to effectively create interactive courses. It is known for:
Developing short and highly engaging courses.
Being extremely easy to use, as well as reducing the cost and effort to develop training materials.
Containing several ready-to-use templates that come with a predefined set of interactivities that can be used to develop or modify your courses and you can also use it to create individual templates.
Several design elements that allow you to create interactivities, games, and scenario-based courses with important features such as "triggers" and "variables", as well as it can also be used to transform tedious compliance training courses into fun and engaging learning activities with drag and drop interactivities.
Creating and publishing courses easily to be compatible with multiple devices such as- mobiles and tablets, as well as converting courses from a single source into Flash, HTML5 and iOS platforms.
Exporting training content into XML or Word to localize and translate courses, as well as supporting the translation of right-to-left languages.
Articulate Rise 360
It is a part of the Articulate 360 suite of rapid authoring tools and applications . Rise 360 is the easiest rapid eLearning authoring tool to use amongst the set of Articulate 360 applications. It is known for:
Multi-device compatibility being compatible with various mobile devices, PCs, Laptops, iPads, and Tablets.
Developing legacy courses with speed.
Containing predefined templates, and an image library with well-structured folders.
Supporting all the top LMS standards such as SCORM 1.2, SCORM 2004, AICC, xAPI (Tin Can API), where you can track your learners progress. .
Localizing and translating your courses easily by duplicating the course you want to translate, exporting the XLIFF file, importing the translated XLIFF file, and finally translating the course's buttons and labels.
Lectora Inspire
Lectora Inspire is a powerful eLearning authoring tool, and its main motto is to "Design once and distribute everywhere".
This tool has a responsive course design feature, which adjusts the content automatically and displays it well on a variety of platforms. It is known for:
Designing text-heavy courses as well as being responsive and multi-device compatible.
Being the first eLearning authoring tool to support HTML5 and deliver courses that are compatible with diverse devices, as well as developing eLearning courses that can be viewed across devices, as well as on a plethora of operating systems and browsers.
Containing mobile learning templates.
Rendering shapes to scalable vector graphics with the help of SVG technology that alters fuzzy-edged shapes to look clear and crisp, even on devices with a higher screen resolution.
Developing courses to be easily integrated with SCORM-compliant LMSs.
Wrapping It Up!
Before starting your journey of redesigning legacy courses for improved mobile compatibility, it is important to find out which tool is the best for you. You need to make the right choice of tools and applications that will help you convert all your old legacy courses into attractive and engaging courses.
Unleash the power of rapid authoring tools and make sure that your legacy courses stand out by getting your hands on this practical guide on – "How to Select the Right Rapid Authoring Tool". Download it now!
This blog is co-authored by Pratyusha Marreddy.