How to Breathe Life into Your Legacy Courses? Convert them to HTML5
HTML5 is the most prominent format to create eLearning courses. So converting your legacy courses into HTML5 can actually enliven them. This blog highlights various important aspects of legacy course conversion into HTML5.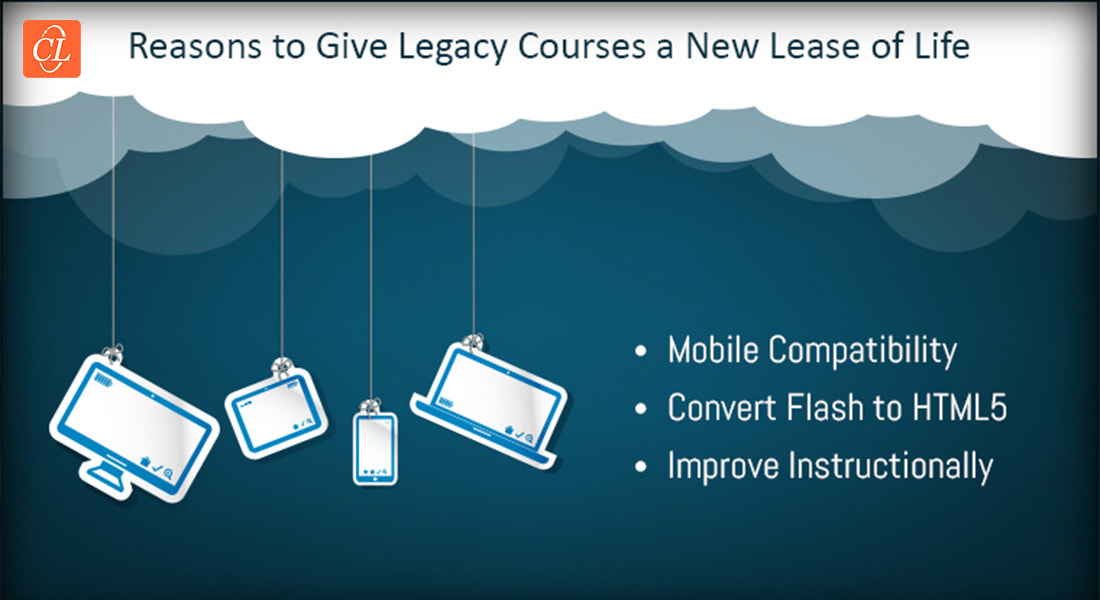 The year 2020 began with a pandemic, not just for us, but for legacy eLearning courses as well, as one of the most popular software used to create legacy courses i.e. FLASH was put on lockdown by Adobe. Not just FLASH, but other platforms where legacy courses were developed such as Dreamweaver or the early versions of authoring tools are either shut off or upgraded to modern versions, thus the legacy courses are left stranded. Scrapping off these courses isn't a solution, but converting them into HTML5 definitely is and this blog will help you understand why.
Are You Still Confused About Converting Your Legacy Courses into HTML5?
Well, don't be, here are some impactful benefits of HTML5 to help you decide
Helps develop mobile-friendly eLearning courses
Incorporates creative and interactive content
Minimizes language barriers
Read on to understand how you can convert your legacy courses into HTML5 format.
Why Convert Legacy Courses to HTML5?
Legacy courses are defined as eLearning courses that were developed using obsolete and outdated software such as FLASH and Dreamweaver, or through earlier versions of authoring tools. Languages such as HTML and Javascript had major updates that have enhanced the potential and features of eLearning courses to align training goals better with modern technologies and learner preferences. Suppose these legacy courses are to be accessed today. In that case, they are at a very high-security risk due to increased trespassing of malware, viruses, and scammy popups through it due to not being updated for a while now.
Here are 4 reasons to prove why converting legacy courses to HTML5 is one of the best solutions for creating modern eLearning courses that are interactive and responsive.
1. Maximizes investment
Organizations can use their existing legacy courses to develop completely fresh-looking courses in HTML5 format and this way, they can get the most returns out of their investments. They don't have to put their efforts and resources to build courses from scratch, saving a lot of their time and money. To save more time and money, they can even re-use some parts of their legacy courses such as audio lectures, video lessons, diagrams, etc. directly by recording and incorporating them within the courses before starting the conversion.
2. Helps develop mobile-friendly eLearning courses
This is one of the most important reasons organizations wanted to upgrade their legacy courses because, in the past 10 years, the evolution of mobiles is one of the greatest technological advancements we might have witnessed. Legacy courses that were created earlier using obsolete software aren't compatible with mobiles. As the preferences of modern learners are considered, their training should be remotely accessible on multiple devices without quality degradation. HTML5 hit the jackpot when it preferred responsive design for various device screens and even allowed developers to create mobile-first courses, making it the first choice for L&D teams across the globe to design their eLearning courses.
3. Incorporates creative and interactive content
When it comes to eLearning, the most important thing is learner engagement followed by proficient productivity and information retention. HTML5 allows developers to easily incorporate various types of creative and interactive content such as quizzes, animations, games, videos, graphics, and other elements to make the courses learner-centric. Thus, it is advised to convert your legacy courses into HTML5 and modify them with so many advanced features, all available in any modern authoring tool such as Adobe Captivate, Articulate Storyline 360, Lectora, etc.
4. Minimizes language barriers
Legacy courses have always been a hassle when it comes to providing training globally. HTML5 provides a better translation of eLearning content because of its semantic code structure leading to clean and simplified codes that eventually help the web crawlers to sort the content accordingly. This helps the eLearning courses not only be translated but to be search engine optimized as per regional preferences and region-specific terms.
How to Convert Legacy Courses into HTML5 Format?
Segregate and organize the content
This is the most troublesome manual task here, as you might have a lot of training resources such as videos, text manuals, PPTs, and PDFs other than legacy courses as well, isn't it? Take them all out of your closet and hard drives, and segregate the content you feel can still be relevant. Organize the content as per the subject they belong to, and create a raw collection of eLearning content to streamline the remaining conversion process.
Convert easily using authoring tools
Once you are done with the segregation and organization of content, you can start the conversion process. Modern authoring tools have a simple option to select the output format as HTML5 so they can help you convert legacy courses without wasting a lot of your time and training costs. You can either convert the legacy courses that were previously developed using the older version of the same authoring tool you use now or even different ones. Authoring tools can make the courses responsive, interactive, learner-centric, and translation-friendly while saving you a considerable amount of time and cost.
What Updates can be Done While Converting Legacy Courses into HTML5?
1. Modify the content, design, and interactivities
You can add any sort of relevant content like updated information, data graphs, etc. while converting your legacy courses. Revise the instructional design of your course and decide on the level of interactivity such as animations, assessments, and various ease of accessibility features. Almost every modern authoring tool has a lot of pre-designed templates, course structures, huge media libraries, and multiple advanced features to create engaging and interactive HTML5-based eLearning courses. Reduce the duration of lengthy content by reconfiguring them into small chunks of information to create performance-support microlearning assets for just-in-time training and refresher courses.
2. Update multimedia, branding, and assessments
There must be a lot of visual media like diagrams, infographics, or simple illustrations that need a revamp because they consist of outdated information or feel visually unappealing. You can add or update the courses with new and latest multimedia and give your courses an upgraded touch. Additional elements such as scenarios, sandbox simulations, podcasts, or game elements can also be added along with your updated content to make the courses immersive and maximize learner interaction.
The fact that you changed your content, and multimedia, your assessments need to be reconsidered as well. Add gamified interactive assessments such as quizzes, polls, and practice questionnaires to align them with the preferences of your learners. Apart from multimedia elements, there is a possibility that either your brand's logo, tagline, color, or even services are changed, so you can easily incorporate the new and updated ones with the help of authoring tools, with just a few clicks.
3. Get your courses reviewed and use the feedback for necessary updates
Once you are done with the design, development, and branding of your course, it is advised to get them tested thoroughly for possible upgrades. Tests like whether their responsive design is effective or not, or whether the final product has got the specifics of your design right or it needs a revision. Technical issues such as bugs and glitches can also cause problems later on, so it is advised to double-check everything.
If your checklist ends up with all green ticks, you are all ready to publish your legacy courses that are successfully converted or let's say reincarnated into HTML5-based interactive eLearning courses to all your employees.
Parting Thoughts!
Converting legacy courses into HTML5 is one of the most important aspects for modern eLearning courses to be productive for organizations. HTML5 is reliable, optimized, fast, and secure, so it shouldn't be a choice, but rather decision organizations should prioritize. Converting to HTML5 isn't as hard as it may sound, all thanks to modern eLearning authoring tools. You must be confused as there are so many tools to choose from, but don't worry! we got you covered here as well, access this free eBook to figure out which authoring tool is best for your eLearning development.