5 Top FAQs on Converting Flash to HTML5
Organizations ought to convert Flash to HTML5 to salvage their legacy courses. This blog answers 5 pertinent questions on converting Flash to HTML5.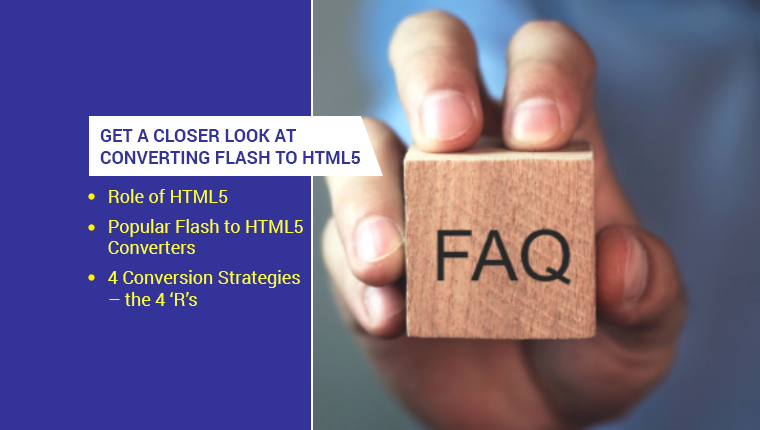 The multimedia software platform, Adobe Flash, came out in the mid-90s, and was quite a popular tool among eLearning developers. The tool was known for its high-end interactivities, animations, and audio and video playback. However, for quite some time now, there has been incessant chattering among L&D professionals around Flash and its future—and for good reason. Flash-based online courses will cease to work post-2020 due to their incompatibility with mobile devices and browsers, and organizations with hordes of Flash-based eLearning courses have every reason to be worried. The solution for these organizations is to convert Flash to HTML5.
In this blog, let's take a hard look at the state of Flash-based courses in 2019, the looming "2020 deadline", and what organizations can do to salvage their Flash courses (and their investment).
5 Q&As to Better Understand Flash to HTML5 Conversion
What is the State of Flash-Based Courses in 2019?
Difficult to access due to incompatibility with mobile devices and browsers.
What Does the 2020 Deadline Mean for Organizations?
The death of Flash can interrupt learning, and employee performance takes a hit.
Is There a Way to Salvage Flash-based Courses?
Convert Flash to HTML5, using rapid authoring tools.
What are the Conversion Strategies Available?
The 4 'Rs – Record, Republish, Rebuild, Redesign.
Do You Convert In-house or Outsource?
Outsource if in-house team lacks the expertise or project management is a hassle.
5 Q&As to Better Understand the Why and How of Converting Flash to HTML5
1. What is the State of Flash-based Courses in 2019?
The run of Flash's popularity slowed down in 2010 when Steve Jobs, in his article 'Thoughts on Flash', listed several reasons for Apple withdrawing its support to Flash on all Apple devices — including iPhones, iPods and iPads.
Flash-based courses simply cannot run on a mobile device — a platform most modern learners seem to be comfortable accessing their content on. Having said that, there are quite a few lesser-known reasons for why Adobe Flash lost support. Here are a couple of them:
Plugin-dependent
Flash relies on a plug-in application-based web object to control and communicate with the web pages/courses and the browser. Adding and updating a plug-in often while accessing a Flash course becomes clunky, time-consuming, and unmanageable.
Less Stable and Less Secure
It is less reliable, less secure, and performs poorly on devices which rely on small and delicate hardware chips.

It has been a prime target for malware, too. For example, in 2015 alone more than 300 vulnerabilities were found in the Flash software. (Source)

Bandwidth Hogger
Flash content is unsustainable in terms of battery life. The content eats up a fair amount of bandwidth, and for this reason, battery drains profusely on devices that play Flash-based content.
2. What Does the "2020 Deadline" Mean for Organizations?
For those that have a repository of Flash-based courses, the death of Flash creates an atmosphere of interrupted learning in their organization.
Interrupted Learning
Your Flash courses—replete with valuable, relevant content—are going to be rendered obsolete when the 2020 deadline arrives. Flash content that cannot be accessed on mobile devices can fall under the following three categories.
Courses developed in native Flash
Courses developed using an authoring tool that produced Flash output
Courses with Flash elements such as interactivities, graphics, and animations
This will leave out a major chunk of your workforce—the millennial workforce—that prefers learning on-the-go and likes having access to the training content on their mobile devices including smartphones and tablets. This missed opportunity is likely to leave a gaping hole in your training program, thereby affecting the overall training return-on-investment.
Employee Performance Takes a Hit
When learners cannot access content at their convenience or at the moment of need, it leads to a slippery slope of bad performance. In an age when businesses fight it out in a cut-throat environment to remain at the top and above their competition, employee performance is central.
As a result, learners are expected to remain up to date with the latest information, which is only possible if the training goes where the learner goes. In other words, unless learning is facilitated beyond computer-based learning and learners are not forced to wait for the next training session to access job-solving information, their performance will take a hit.
Not to forget, learners have lower attention spans today than, say, a decade ago. Flash courses are often hour-long courses, and will not appeal to modern learner anymore. They are more likely to retain training knowledge if courses are short, spaced between regular intervals, and readily available on their mobile devices—such as bite-sized, microlearning modules. All good reasons to convert Flash to HTML5.
3. Is There a Way to Salvage Flash-based Courses?
What if you already have courses and other content published in Adobe Flash? Does that mean your courses are doomed? Not really. There's still a way to breathe life into your Flash-based legacy courses— convert them to HTML5-based eLearning.
Why HTML5?
The biggest advantage of HTML5 for organizations is that it allows responsive design for mobile devices—the content dynamically resizes/adjusts based on the size of the browser window. By converting Flash to HTML5, organizations can quite easily meet the learning needs of "multi-device" learners.
HTML5 content is easier to edit than Flash content. Course content can be updated using rapid authoring tools (more on this below) as and when required, making rapid course delivery a breeze. Also, by moving to a platform that won't go obsolete anytime soon, you are essentially future-proofing the courses.
What are HTML5-based Authoring Tools?
Converting Flash to HTML5 wouldn't be possible if it weren't for rapid authoring tools, unless you opt for pure HTML5 coding and that can prove to be time-consuming and expensive. The tools come built-in with ready-to-use templates, media assets, and template libraries. Pre-built templates have the design framework already baked in, allowing you to simply integrate legacy course content within the framework.
If you are worried about any design inconsistencies in the converted courses, the design of the templates can be tweaked according to your style guide or corporate branding. You can create an 'e-library' of sorts and reuse these templates as and when required, saving valuable development time and cost.
Similarly, having access to the tool's library—which includes a wide variety of layouts, even including inbuilt games and interactive scenarios—means that interactive scenario- and game-based learning can be created without any hassles. The following is a list of authoring tools that are used to convert Flash courses to HTML5:
Articulate Storyline 360
Adobe Captivate
Lectora Inspire
iSpring
Claro
Elucidat
domiKnow
Adapt
Gomo
Easygenerator
Composica
Out of these, Storyline 360, Adobe Captivate, Lectora Inspire and iSpring are considered the popular rapid authoring tools.
4. What are the Flash to HTML5 Conversion Strategies Available?
Depending on the status of your legacy courses, there are four conversion strategies available, namely Record, Rebuild, Redesign, and Republish, or the 4 'R's of Flash-to-HTML5 conversion.
Below is a short breakdown of the four conversion strategies.
RECORD
Organizations can opt for the Record conversion methodology if they satisfy either of the requirements mentioned below:

– Legacy courses are light or self-explanatory and don't need heavy interactivities

– The Flash-based courses lack source files

REPUBLISH
Under the Republish methodology, old source files of courses published using an older version of an authoring tool (say, Articulate Storyline 2) can be used to create new courses and made HTML5-ready, using the newer version of the same tool (Articulate 360).
REBUILD
This conversion strategy ought to be opted for rebuilding courses developed in software now obsolete, using a new authoring tool, while retaining its relevant media elements
REDESIGN
Companies can opt for this methodology to redesign the course using a new tool – update instructionally, reconfigure to microlearning, or infuse new interactivities
To learn more about each of the strategies to convert Flash to HTML5, register now for the webinar 'The 2020 Phase Out Of Adobe Flash – What's The Impact On Your Training?'. Get insights into the tips, tricks, project management processes, and more.
5. Should you Convert Flash to HTML5 In-house or Outsource it to a Vendor?
Check if your internal development team has the expertise in instructional design and in using rapid authoring tools to pull off the conversion in the most cost-effective way. If the internal team is partially skilled and needs to be trained on the tools, you may have to incur additional costs. It all boils down to that one factor—cost.
When the conversion is outsourced to a Flash to HTML5 conversion vendor, you get access to their:
Pool of learning design experts, expert instructional designers, authoring tool experts, reviewers
Tried-and-tested agile project management processes that scale up the conversion project as and when required
Therefore, when time (and money) is key, outsource the conversion!
Concluding Remarks
There you have it. Despite the phase out of Flash in 2020, there is still enough time for companies to salvage their legacy courses and ensure learning isn't interrupted. However, assuming Flash to HTML5 conversion is as simple as taking legacy courses and dumping them in a rapid authoring tool to produce HTML5 output would be WRONG.
The conversion requires a good amount of planning and strategizing – especially in terms of relooking the instructional design of the courses to make them up to date, choosing the right authoring tool, and picking the right conversion vendor, among other things. Ensure you have everything in place before getting started with converting Flash to HTML5.