6 Tips for Designing Learner-Centric eLearning Courses the Right Way
eLearning courses should be learner-centric to engage and encourage learners to complete them. eLearning design is critical to help increase learner engagement and performance. Let's look at the top 6 learner-centric eLearning course design tips.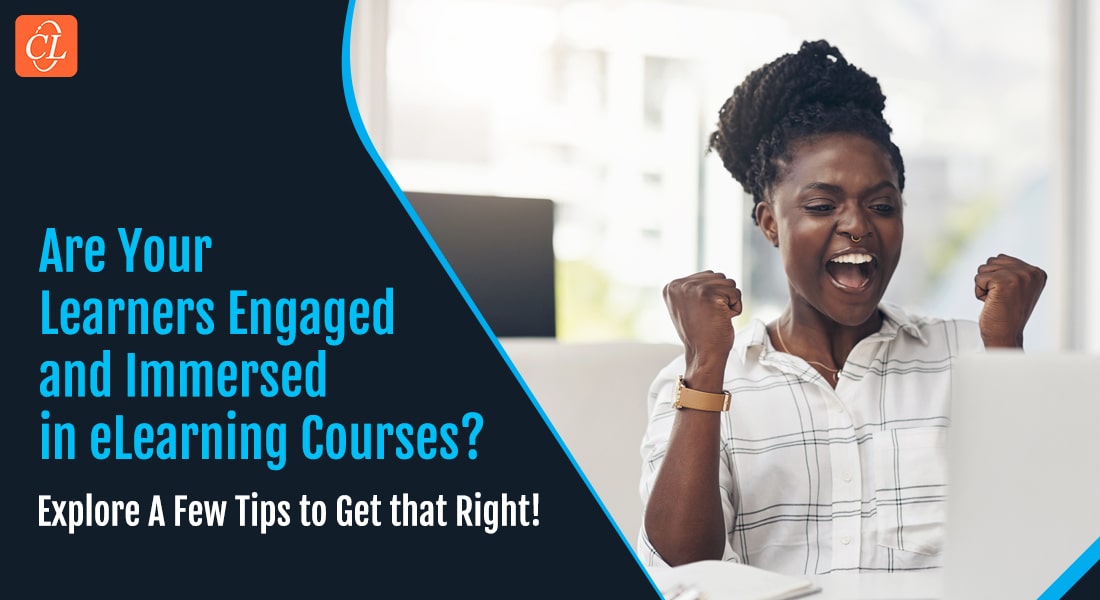 Every firm should ask themselves this one question before creating an eLearning course: "What information, skills, or attitude are learners expected to gain because of this online course?" All training is designed to foster changes in learners, allowing them to apply the information they've received in their work. Another aspect of this strategy is to personalize courses for learners. This way they can acknowledge and answer the 'why' question. Why are they learning and how will it benefit them?
Do you Want to Create eLearning That is Centered on the Learner?
If so, then follow these 6 tips:
Get to Know the Learner
Determine What Learners Need to Know
Give Learners Control Over Their Learning
Create a Unique and Personal Learning Experience
Design Responsive eLearning Courses that Work on Any Device
Support Learners' Performance
As a result of this inquiry, the learner is placed at the heart of the eLearning design process. Knowledge is certainly at one's fingertips in today's world that is constantly connected. Learning has evolved into a dynamic experience, with learners expecting immediate and unrestricted access to information. If they don't find what they're looking for in one place, they'll keep looking for it elsewhere. As a result, it's critical to attend to the learners' needs and work towards captivating their attention. However, getting them to focus on and consider your eLearning course isn't enough. This blog will go over six useful tips that you can use to make your eLearning courses more learner centered.
Learner-Centric Courses: Top 6 Practices
1. Get to Know the Learner
Recognize your target audience. Learn more about them and discover what they need to learn from your course. Learn about your audience's educational background, prior knowledge, as well as their reasons for participating in the course. You'll also need to figure out where they'll be taking the course, so that you can choose the appropriate format. This will help you to identify the performance gap between what learners already know and do and what they need to know and achieve.
2. Determine What Learners Need to Know
Learning objectives should specify what learners should comprehend and be able to accomplish after completing the course. They should clearly indicate what the learner will achieve at the conclusion of the course in concrete and quantitative terms.
Ensure that your objectives are relevant to learners and learner centered. Use surveys, questionnaires, and interviews to learn more about your learners. This will assist you in matching your learners' demands with your course's objectives.
Learning objectives should help learners realize what they will achieve at the conclusion of the course, and if they are clearly stated, your learners will be motivated and actively engaged.
3. Give Learners Control Over Their Learning
Learners desire to have control over their own learning. This means that you need to provide self-paced training, in the form of tracking tools, and, where possible, you need to give your learners many activities to choose from. Visual learning through films or online presentations might appeal to one learner, while auditory learning vis-a-vis podcasts or webinars may appeal to another.
To appeal to different kinds of learners, you need to use a variety of learning aids. Similarly, not all learners will begin a course with the same level of knowledge. While some learners may be more informed, others may want to gain further knowledge.
Identifying the performance gap can assist you in determining what you need to include in your course, and it can also help your learners discover more and thereby grow and perform better at work.
4. Create a Unique and Personal Learning Experience
Learner-centered courses focus on learners who have varied learning styles. It's better to tailor your online courses to the learners' preferences rather than expect them to conform to your course. The extent to which you match the course to your learners should be included in the eLearning design process.
Here are some pointers on how to make learning more individualized.
Add a "personal" touch by asking for the learner's name at the start and addressing them as such throughout.
Do not lock down the course's navigation, as this might be extremely frustrating and cause your learners to lose interest.
Use a variety of features, such as videos, infographics, quizzes, and activities, and allow learners to select the format that best suits them.
If the course includes a video, then allow your learners to choose from watching videos, listening to audio clips, or downloading video transcripts. Incorporate relevant scenarios or short videos into your eLearning course to make it more distinctive.
5. Design Responsive eLearning Courses That Work on Any Device
You need to give your learners a choice of devices to access the course and enable them to have a consistent and seamless learning experience. Learners are no longer restricted to a desktop computer. The millennial workforce uses a range of digital devices to obtain information, including learning material. Therefore, no matter where they are, learners have constant access to training information on the device they have at hand.
Thanks to responsive design, training content can be accessed on Android smartphones and tablets, iPhones, iPads, computers, and desktops. Responsive design, often known as Responsive Web Design (RWD), is a technique used to create websites that are "responsive" to the screen sizes of various devices, such as computers and mobile phones. HTML5 is the technology that allows this to happen. As learning components will adapt themselves to fit the screen, the learner does not have to zoom in or out to view the content on screen.
Here are a few pointers to keep in mind to guarantee responsive courses:
It's a good idea to keep modules brief and focused when creating responsive courses. During the development process, cut out as much unnecessary information as possible.
Keep in mind that mobile-device screen sizes need to ensure that learners absorb the most from a single presentation. Maintain a clear layout and emphasize only what is essential to the course.
When learners utilize their mobile devices to access well-defined modules, their focus grows. If there is too much information, the modules can easily multiply, and you can lose your learner.
6. Support Learners' Performance
We are continually challenged to expand our capacity and assimilate new information. Knowledge retention is impossible to achieve without repetition and reinforcement. You need to consider that performance support is an ongoing organizational pillar, which makes on the job training a constant, evolving process Performance Support is easy to access, as it saves time, empowers learners, and can be provided in a variety of formats such as:
Mobile Apps
Videos, animations, and infographics
Webcasts or podcasts
This provides you a one-of-a-kind opportunity to make the entire learning process more learner centered. After all, giving learners the option to select how they learn is certain to make a difference. They will thank you for it and become more efficient and skillful in the long run.
Summing it up!
As learning professionals, we need to move away from viewing eLearning courses in technical terms of user interfaces and information sequencing. In an ideal learning environment, people seek for knowledge, and explanations. They try out new ideas and activities, learn from their triumphs and mistakes, and observe and engage with each other. This not only improves learning outcomes, but it also inspires learners, increases their performance, makes learning more enjoyable, and enhances the personalization of learning.
Use these five fundamental eLearning design tips to put learners first and consequently revolutionize your training. Check our eBook on "Using eLearning to Achieve Business Goals" for a more in-depth look at eLearning's impact, its different benefits, and how eLearning enables effective software training. Download this free eBook now!