Top 5 Rapid eLearning Authoring Tools for 2023 to Transform your Corporate Training
2023 is about to start and organizations are already looking to design interesting eLearning courses, and there are plenty of authoring tools to bet on. This blog highlights our top 5 picks for rapid eLearning authoring tools in 2023.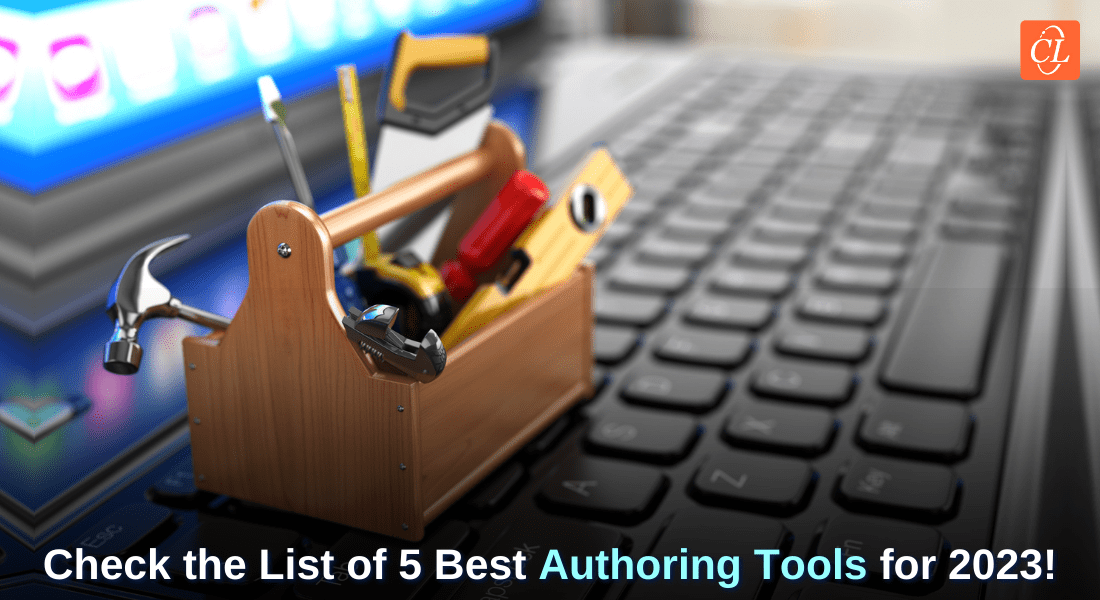 Rapid eLearning has been constantly leveling up its impact and the main reason behind that is the advancements in modern rapid authoring tools. There are so many tools and each of them has been coming up with great features as per the latest technological upgrades and innovations, making the rapid eLearning design and development easier. This blog will help you explore the top 5 rapid eLearning authoring tools for the year 2023 so that you can choose one for yourself and start creating engaging and interactive rapid eLearning courses for your modern workforce.
Trying to Choose the Best Rapid eLearning Authoring Tool for 2023?
Here are our top 5 picks to help you out:
Adobe Captivate
Articulate 360
Lectora
iSpring Suite
dominKnow | ONE
Read on to understand why they are so influential for your rapid eLearning development.
Top 5 Rapid eLearning Authoring Tools for 2023
1. Adobe Captivate
Adobe has been one of the biggest providers of various tools and software for about two decades so they have products useful for almost all departments such as photo & video editing, music production, documentation, animation, cinematic VFX creation, and many more. And similarly, to help the eLearning developers author engaging and interactive rapid eLearning courses and other types of learning content, Adobe has a rapid eLearning authoring tool called Adobe Captivate which is probably one of the most popular desktop-based tools in the market.
Adobe Captivate has a lot of advanced features, and the latest major version was released in 2019, so let's discuss the latest additions to the product.
Ready-to-go slides & Quick start projects
Simplified branching workflow
Automated click-and-replace interaction & Image swap
Image and SVGs as buttons
Multiple theme support & Theme fonts
Automatic and live device preview
360° learning experience
Smart video recording – webcam + screen
Apart from these features that were newly added, a lot of existing features were enhanced or upgraded as well, you can check all the new, enhanced, or existing features of Adobe Captivate on their website along with their pricing model. If you want to try it first, they provide a 30-day free trial as well.
2. Articulate 360
Articulate 360 is another industry-leading eLearning authoring suite that is preferred by organizations around the globe and it's a strong competitor of Adobe Captivate. Articulate 360 has a lot of products such as –
Storyline 360 – This is the main authoring tool to get started with full-fledged eLearning authoring, to create interactive standalone rapid eLearning courses.
Studio 360 – It is mainly used to create and add various interactivities like quizzes, polls, buttons, etc and enhance the engagement of your course.
Replay 360 – It is used to record screen activity, webcam, or both at the same time and edit your videos, you can use this tool as it has all the required features a video editor is supposed to have.
Peek 360 – This is quite similar to Replay 360 but used only for creating professional-looking screencasts.
Rise 360 – When you are looking to design truly responsive courses that are preferred more for mobile access, you can choose Rise 360 instead of Storyline 360.
Review 360 – Use this to gather the review and feedback of all the involved stakeholders and collaborate efficiently with your other teammates.
Content Library 360 – You can access 9M+ multimedia eLearning assets such as templates, images, characters, and videos to match the preferences of modern learners and speed up the course development process.
Training 360 – The platform also provides Live On-demand training so that the newbie developers can understand all the advanced features of all the products and start developing interesting and engaging rapid eLearning courses.
Authoring becomes really flexible and personalized with the help of Articulate 360 because the learning curve is non-existent here, which means all the features are easily understandable and accessible. They provide a free trial for 30 days and there are various pricing models, you can visit their site and select the best plan for yourself.
3. Lectora
It was recently acquired by eLearning Brothers in 2020 along with CenarioVR, but Lectora has been in the eLearning development industry for the past 21 years. The best part of Lectora is that it allows both cloud authoring through Lectora Online and desktop authoring through Lectora Inspire. It has all the advanced features an authoring tool is supposed to have, and the rapid eLearning courses can also be embedded with VR scenarios created in CenarioVR. It has a built-in asset library that consists of more than 120 million eLearning assets to design whatever you want without any boundaries.
Apart from this, you can also create an arcade game in "The Training Arcade" and embed it with your courses to enhance their interactivity. You can also write custom scripts and include custom libraries, fonts, and styling through HTML, CSS, and Javascript coding. Let's take a closer look at the major notable features of Lectora that make it one of the most powerful rapid authoring tools to create immersive eLearning courses for various types of training.
Interactive wireframe templates with mobile-ready themes.
ReviewLink to share projects and gather reviews and feedback.
BranchTrack to collect actionable learner data through digital branching scenarios.
Screen recorder and A/V editor to create professional screencasts.
Virtual reality and arcade games integration with courses to maximize interactivity.
Just like the other authoring tools we mentioned, Lectora also provides a free trial for 30 days or you can request a demo as well before you choose from the three subscription models it provides and you can check the detailed pricing structure on their website for more clarity.
4. iSpring Suite
iSpring is another popular cloud-based rapid authoring tool that is very popular to design interactive rapid eLearning courses without any advanced tech skills. One of the unique features of iSpring is that it can be entirely integrated with MS PowerPoint so newbie developers who feel overwhelmed when they are working in a new User Interface can feel at home with the forever familiar MS PowerPoint UI. Apart from this, just like other tools, it has a huge content library consisting of pre-built templates, images, icons, background locations, and characters to add the required interactivity to your courses and enhance their engagement and visual appeal.
You can share your rapid eLearning courses for review and feedback with a simple link because the course can easily be saved in the cloud storage on their servers, making it easy for everyone involved with the course to share their opinions and work together to come to a conclusion. Unlike other tools we mentioned, iSpring Suite provides a 14-day trial instead of 30 days. You can also book a demo to understand the tool better. You can check out their pricing plans on their website.
5. dominKnow | ONE
Like iSpring and Lectora, dominKnow is also a cloud-based eLearning authoring tool where all the course assets and other pieces of content are managed centrally for easy access and collaboration. Using this authoring tool you can create assets for all types of training whether rapid eLearning courses, microlearning content, or other informal learning formats like social media learning content. Its large repository of eLearning assets such as photos, icons, buttons, and various pre-designed templates helps you add any sort of customizations for your course and give it the look you desire.
Apart from multimedia eLearning assets, it also has an authoring tool set to add game elements and other interactive assets to the course, along with a simulator app to add various simulation training environments without creating them from scratch. Just like Articulate 360, it also has two separate tools called Flow and Claro integrated into a single platform, and the narrative is quite similar as well. Claro is used for the full-fledged development of rapid eLearning courses and other types of eLearning and content while Flow is used specifically for responsive authoring.
Other services such as reviews, accessibility, and ease of access are also taken care of as per the latest eLearning standards. Just like iSpring, dominKnow also provides a 14-day trial and has 5 subscription plans to suit your requirements accordingly.
Honorable Mentions
There are a lot of rapid authoring tools but these were our top 3 picks. But if you need more options to choose from, here is a list of 3 other popular authoring tools that have their own benefits, features, and limitations.
Parting Thoughts!
Rapid authoring tools are the game changers for eLearning developers to acreage engaging and interactive rapid eLearning courses efficiently. Organizations can leverage the power of these rapid authoring tools and create any type of online training course. The constantly developing technologies have innovated the way eLearning works and it is safe to say that the future is heavily packed with even more impressive inventions and creativity. To secure your future in eLearning, you can refer to our eBook and have a peek at the latest eLearning trends for the year 2023.